PRECIOUS GREATER SWISS MOUNTAIN DOGS and Sharyl's Organization of "Mayhem"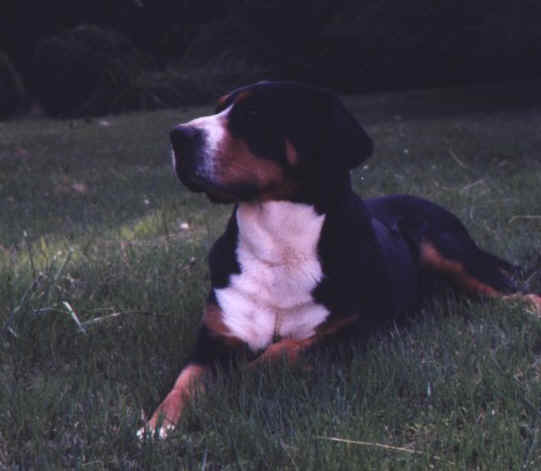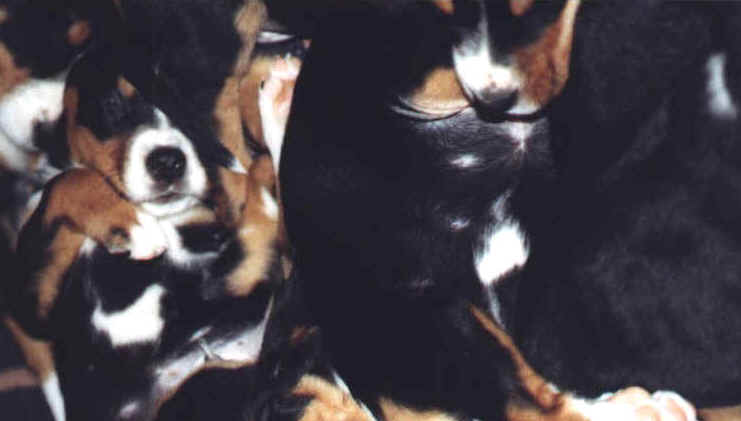 Have a seat, get comfortable, stay a while........
I am Sharyl Mayhew and this is my page devoted to my Greater Swiss Mountain Dogs and my other family pets. My life has "gone to the dogs" -- I wouldn't have it any other way!! My brother, Norman Van Bogart, and my husband, Gary Mayhew, and I live here in Haymarket,VA USA with several Greater Swiss Mountain dogs and a few other fantastic dogs, in a nice house surrounded by lots of protected wetlands (that means our yard is muddy but no one can build behind us (GRIN)). Click to see our yard in the winter, in the summer, and our house in the snow.
We have quite a few dogs (as you will see) so the only time I have a chance to play on the computer is in the middle of the night, so bear with me!! Below are links to lots of different things, from pictures and training pages, to carting pages to articles on breeding, ethics, showing, etc. Get some tea and a snack and have some fun. Some Pages are loaded with Pictures and may take some time to load -- Also, some links won't work yet, I am still working on them, check back later....
| | | |
| --- | --- | --- |
| | | There is nothing so strong as gentleness, and nothing so gentle as pure strength |
Click Here to Email me with any Suggestions or Comments or here to find me the old fashioned way Address and phone number
NEW!!

Nox/Rosalee Puppies

Newborns
My Best Friends: some are dogs and some are people!
Intro to Carting with Pictures
Training Philosophy and Links
Greater Swiss Mountain Dogs QUESTIONS TO ASK BREEDERS BEFORE YOU BUY
Alzheimer's Memory Walks - with Swissies in carts, 1996, 1997 and 1998
GSMD Type, Structure & Movement-- Illustrated "Standard" with Comments
Pedigrees, OFA, CERF, Rankings, etc. -- ALL the Good Stuff
Puppy pics...Cuteness alert
Cats and other little beasts (GRIN)
Veterinary Links, Procedures and Descriptions
What you need to know about BLOAT
Dog Foods, Natural Diet and Supplements
GSMDCA Home Page
Other Great(er) Swissy Sites and how to Join Swissy-L Discussion List
GWGS Code of Ethics Club
Swiss Fair 1996, VA, Tons of Swissy fun
Swiss Fair 1997, Helvetia, WV, More working dogs!
Compare The Standards
Mastiff Links, Mastiff-L Discussion List and Profile and Picture Pages
Rottweiler Links, Important Legislative Links, and Rottie-L Discussion List
Havanese --My little Frufru dogs!
My Other Interests: Wolves, Sharks, Manatees and MORE!
Memorials.....get some tissue first....
Dog Shows, where they are and who won?
Thank you for your support at the PRA Walk, Mastiff National Specialty 1998
FANTASTIC SWISSY SITE IN DENMARK, Pedigrees and worldwide Swissy Info

*TEMPORARILY DOWN

Swissy FAQ's
Herding WITH YOUR SWISSY!!!

NEW STUFF 10/98

Historical Pictures of Draft Dogs Pulling Carts
HAVE FUN and Come Again Soon!!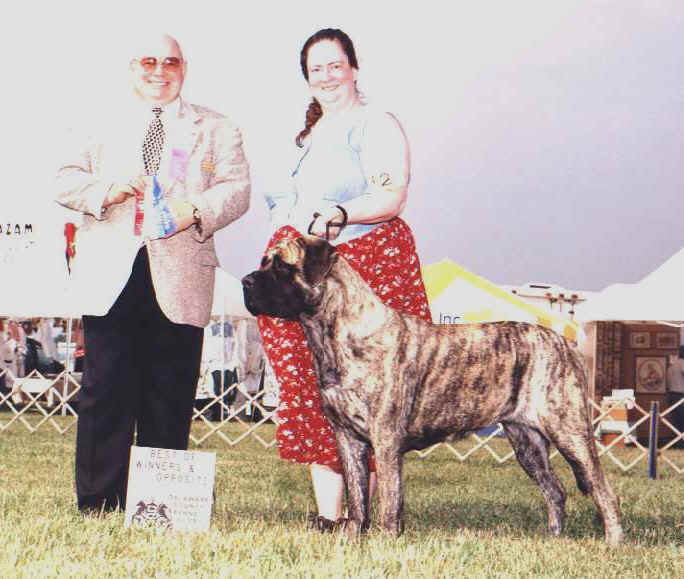 Miss Kitty in June 98 winning Winner's Bitch, Best of Winner's and Best of Opposite.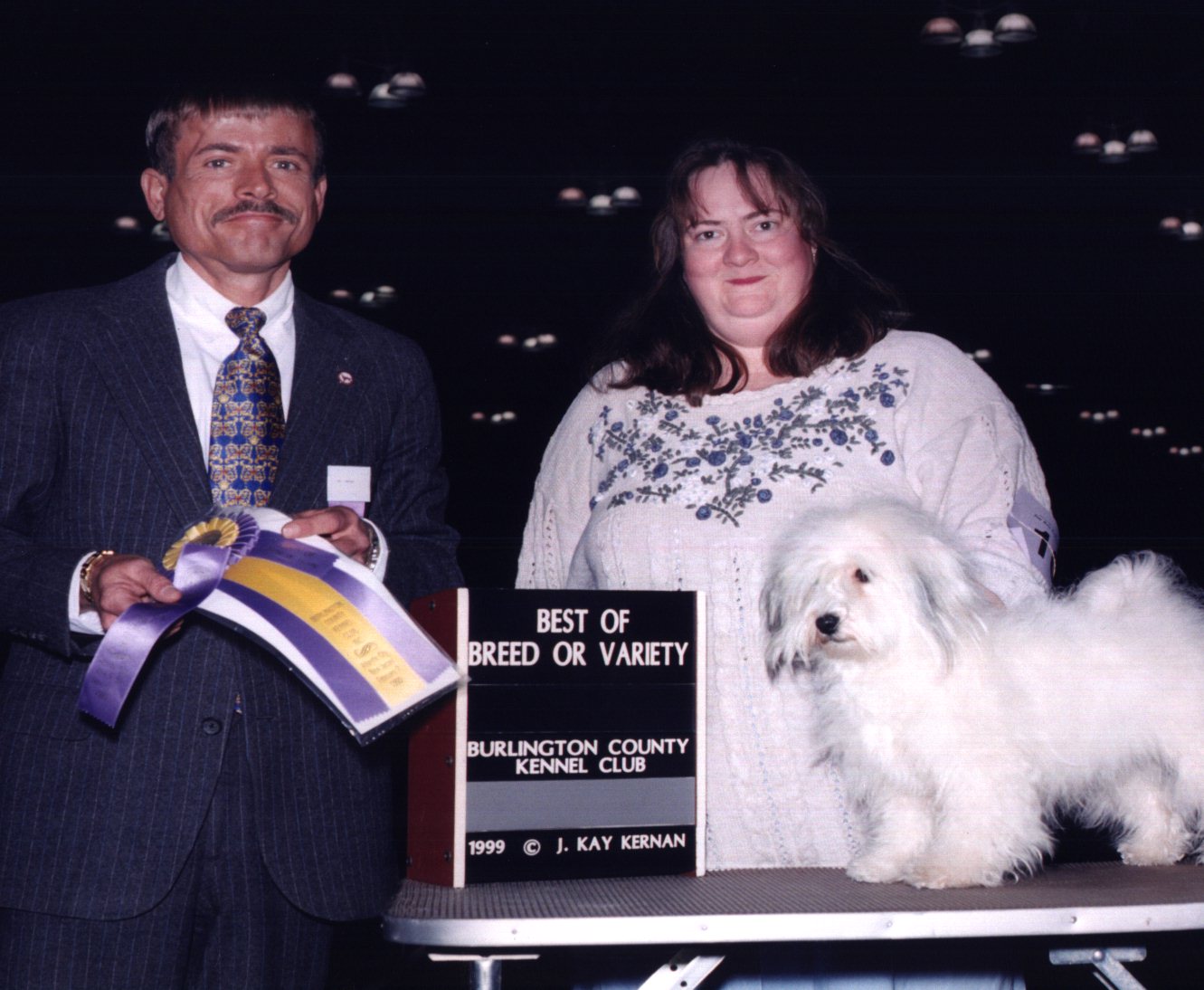 Mercy winning Best of Breed in Atlantic City in Feb 99. Can't let the big dogs have all the fun:)

Webrings:

<! START OF DRAFT DOG RING RING HTML!> <! END OF DRAFT DOGS RING HTML!>
This is a Herding Dog Webring site!

Want to join the Herding Dog Webring?

[Skip Prev] [Prev] [Next] [Skip Next] [Random] [Next 5] [List Sites]