Swiss Fair 1996 in VA
On October 6, 1996, several members of the GWGS attended a regional Swiss Fair by invitation to demonstrate our Greater Swiss Mountain Dogs and especially their Carting ability. We gave a carting demonstration and then stayed the day and participated in and enjoyed the music, the heritage, the history, the stories, THE FOOD and of course the GREATER Swiss FUN!!!
I shrank the photos to save loading time, click on the image to enlarge it.
| | |
| --- | --- |
| | click on photo to enlarge! |
| Memory may fail me, but some of the GWGS members who attended this event were: Sue Kittler (dressed in Swiss costume!!) with Tessy, Colleen and Tim Darnell with Nox and Boomer, Sharyl AND Gary Mayhew (I know he was there it was our anniversary and I asked him if he wanted to go to a Swiss picnic:) with Rex, Ace and Samson), Bette Greenspan AND Bernie Leibler with Mak, Sue Kittler, Ellyn Signet with Seany, the Evans Family-with Hope, the Greenway Family with Kaillee, the Levin Family with Ginger and Maribeth Keitz and anyone I can't see in the photo or forgot they were there!! | |
The Carting Demo was a huge success and our dogs were the hit for the little kids, they gave so many rides that day!!!
| | |
| --- | --- |
| | |
| This fantastic dog is Ch. Sarmac Precious Balthasar, CGC "Samson", he is owned by Don Strobel from Michigan. Samson is shown here just days after finishing his Championship and he went home to Don about a week or so after this event. Samson stayed with me to be shown and get his Championship as well as to have some fun carting (he also met a couple of girl-dogs during his stay:). Samson like his father and brothers, is a FANTASTIC and naturally acclimated draft dog!! | |
| | |
| --- | --- |
| | |
| See I told you Gary was there!!! he is in the middle of this photo holding tightly onto Rude Rex, who is trying desparately to get to me and/or to Ellyn so that he can pull a cart--he doesn't know he is an old dog!!! | |
This is Bette with Mak with the farm house in the background the countryside out there is just breathtaking. Mak is wearing his Swiss Collar and a handpainted Swiss cowbell!!

This is Mak again, checking out the Alpenhorn, you know funny sounds come out of that thing!!!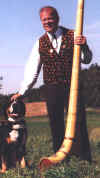 Rex thought this fellow with the Alpenhorn was the greatest, he liked that funny noise!!!