Cute Puppy Pics (click on some of the images to enlarge them)
This page takes forever to load......
Finally the pics of Anthony/Chance Puppies-at 5 weeks!! More to come as they age we are using rolls and rolls of film!!!
| | | |
| --- | --- | --- |
| Time for a nap!! | Chance providing a quick snack | Time to play again and again and again!! |
Here are some at 7 weeks, they went on their first roadtrip!!! we attended a CERF clinic, Fall Fun/Bonfire and Hayride out past Winchester with the Potomac Valley Bernese Mountain Dog club. What a GREAT DAY, This was THE place to take puppies to help socialize them!!! The four babies were held by adults and children and they played with dogs and on the way home they were sleeping soundly and dreaming of their next big adventure.
| | | | |
| --- | --- | --- | --- |
| RudeRex driving the TRACTOR for the hayride!!! I hope he never learns how the keys work!! Can you picture him as the "rude" baron in a bi-plane?? | This little girl thinks she is a pointer!!:) (Marzipan) | pups with berner: | pups playing |
| Chester (Fluffernutter) | Bright male (FUDGE) | Bright Female (Marshmallow) | Dark Female (Marzipan) |
Click here to see the Sean/Rika litter, possibly the best litter I have ever seen-here or anywhere:

Here are some other Swissy Puppy pictures from years gone by.
The Magi puppies, named for the Three Kings as they were born near Christmas time

They are Circus/Abbie puppies see pedigree pages

three pups with their dad, Circus
They are about 3.5 weeks in these photos
Rex and his 11 week old son, Dogwood Precious Devon, "Boone" is now owned by Eileen Walbridge
This is what is known as a "puppy pile" -- These are the Psyche/Polly pups at about 6-7 weeks clumped between my couch and the coffee table:)
Queen of the "puppies" -- Peaches sharing a bone with puppy Devon
This is Rudi having her first Swimming lesson at Penny's pool, if you teach them to have fun while they are puppies they like water as adults
Piccadilly at Poolside!!, some never get the interest in the water, this puppy is genetically programmed to avoid it:) Circus, to Sean, to Piccadilly -- stay away from the evil water!!!!
This is Peaches at about 3 months, she preferred to float rather than swim!!
This is the Tye/Garth Litter, Anthony is the second from the right(he is the sire of the new puppies. He will be three spring 98
These are Grace and Anthony as 9 week old puppies
Ollie and Gus
Again Gus and Ollie

Gus is Garth/Echo and Ollie is Garth/Hillary
Just some cute photos of puppies, too cute to put anywhere else:
| | | |
| --- | --- | --- |
| | Too cute! | This is Mercy, she is about 4 weeks, she is FruFru and Fivel's puppy and she is a Singleton puppy but she will be raised with Swissy babies so she will learn to be good |
Of Course, Mercy (at six weeks) is Kitty, the Mastiff's, best buddy, everyone needs a body guard!
| | |
| --- | --- |
| | This is Mercy at about 10 weeks, is there anything cuter? Just wait until you see her with the Chance puppies - talk about contrast. Since Mercy is a singleton, we put her in with the younger (but larger) Swissy litter, she is their leader!!! |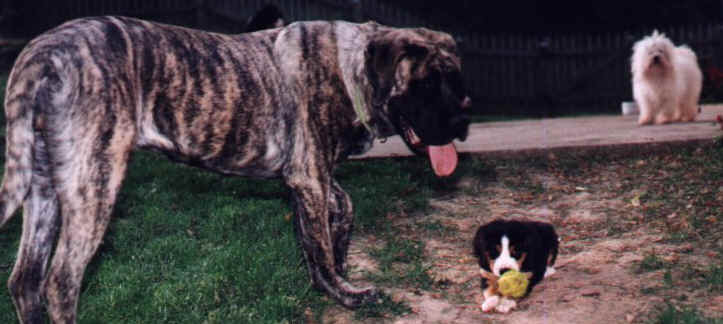 I would crop this photo, but it gives you too much size comparison. Kitty the Mastiff, "helping" teach Piccadilly at 7 1/2 weeks how to chew on a tennis ball, and in the background you get the supervision from "the FRU"
| | |
| --- | --- |
| I just had to include this old pic, it is of course, my little "RandonBred" Duchess who is now 11 years old!!!!!!!! too cute still!!! If it weren't for her, the Swissies would not know when it is time to BARK!!!, the second photo is Duches doing her "hold the bone on the nose" trick for an audience at Camp Gone to the Dogs. | |
| | |
| --- | --- |
| This is the proud daddy, Sean, with two boys from his first litter, Oakley and Piccadilly at about 3 months old. | |
| | |
| --- | --- |
| This is, of course, the cutest puppy pic of the century, Vixen has grown to be a good dog even if her mommy thinks she is bad!! | |