Welcome to Neal's Home Page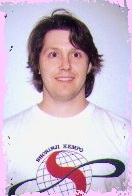 Thanks for visiting my homepage. Click on the Z logo above to go back to the main page of this small webspace.

---
Sorry, this page is still under construction.
Here are some of the activities I spend time on when I'm not at the computer.
Shorinji Kempo

Since 1987, I've practiced a Japanese martial art named Shorinji Kempo. It is essentially a defensive art, where practice is dedicated to improving the individual and the relationships between all people. My present rank is 2nd Dan (level 2 black belt). If you are interested, visit my Shorinji Kempo Page.

Classical Guitar

I've been playing guitar intermittently for about 14 years. For the last few years, I've been taking weekly classical guitar lessons from an excellent professional guitarist named David Gorrie.

If you have MIDI capability (if you have a PC with soundcard, then you have MIDI) then you can listen to one of my favorite classical guitar scores, just click to download Villa-Lobos's Prelude No. 3.
MIDI score produced with QuickScore (v4.0), by Sion Software.

Playing Computer Games

Like many other PC owners, I spend too much time playing computer games. Visit my DOOM page to learn more about my all-time favorite. Visit my MOO2/Stars comparison page to learn about two popular strategy games that I play. I've also enjoyed Starcraft and Final Fantasy VII and Diablo II.
---
I went to college at Washington University in St. Louis. I spent over five years there, and got the following degrees:
BS in Electrical Engineering, 1985
BS in Computer Science, 1985
MS in Computer Science, 1986
All of my degrees are from the university's School of Engineering and Applied Science.

After graduating, I worked for two years at AT&T Bell Labs, Transmission Systems Laboratory.

I am a member of the Association for Computing Machinery and the American Association for the Advancement of Science.
---
I work for the U.S. Government. My title is "Technical Director." If you need to contact me about a work matter, my email address at work is given below.
In my job, most of my time is spent programming or working on security or computer network problems. I also teach programming. For more information about what kinds of computer stuff I do, check out my Professional Page.
---
Here are some random points about me with links to relevant sites.
I give blood fairly regularly, my lifetime total is 46 units (>5 gallons). Blood banks and blood donations are administered by The American Red Cross.
I'm a big fan of J.S. Bach (1685-1750), the famous composer. My favorite work by him is the Goldberg Variations. (Read about J.S. Bach at Classics World and get links at Sven's Bach Page)
---
You can send me e-mail:

---
Here are links to my pages in the Ziring Microweb:
Here are some links I've found useful or interesting. This list changes occasionally.
National Public Radio
Home page of one of the world's finest radio broadcasting networks. A pretty good place for news and interesting information. Note: lots of the stuff at NPR's site requires RealAudio.

Tree of Life Root Page
An incredibly cool WWW information resource, albeit an incomplete one at this time, the Tree of Life will eventually contain information on all groups living thing. The information is organized according to current biology's notions of phylogeny. Individual pages are well designed and fairly informative.

The NCSA Home Page
The National Center for Supercomputing Applications is the home of the Mosaic Web Browser, the killer app that really kicked off the WWW.

The SIGGRAPH Home Page
Main page for the ACM Special Interest Group on Computer Graphics.

Space Telescope Electronic Information Service
Tons of cool astronomy images and links to other astronomy resources.

The RSA Security Home Page
An interesting company web site, also has links to web resources having to do with data security and cryptography. They also have a nice annual conference that I've attended several times.

Gallery of On-Line Geometry (UNM)
A really cool site where you can play with multi-dimensional geometries on-line.

Mr. Showbiz
An amazingly glitzy but informative site with entertainment industry news, gossip, and links.

Stars! Home Page
Site for the interstellar conquest strategy game "Stars!"
(Arguably the best sci-fi strategy game ever made - for Windows 95,NT, new version, Stars! Supernova, available soon from Empire Interactive)

Master of Orion 2
Official site for MOO2 - Battle at Antares, another excellent sci-fi strategy game, for DOS and Windows95.
---
Here is a picture of me with my father, Marshall Ziring.
(The picture on the left is a Japanese silk handkerchief given to me by a Japanese executive after I saved face for him in Colorado in 1985. Cool!)
---
[Ziring MicroWeb Home] [Neal Ziring] [Julie Ziring] [Sign Guestbook]
This page written by Neal Ziring, last modified 2/2/01.