Tiger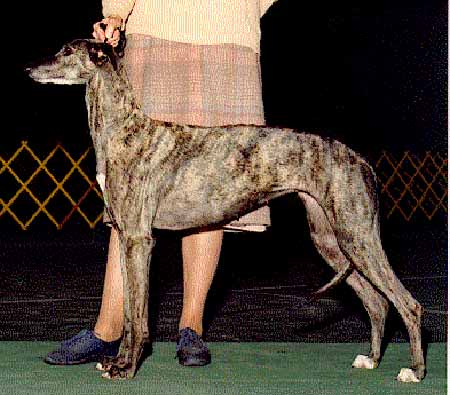 Ch. & F.Ch. Morley's Sue, CD, LCM II, VCX
1981 - 1997
Tiger was a wise and considerate dog. She had innate good manners. Even my parents, not natural dog lovers, said of her, "She's not like a dog, she's more like a person," and when we visited, she would get privileges they did not extend to the other dogs.
She was a great runner, with good endurance. I liked to run her on long courses, because she had a lot of 'bottom'. She was a very mild dog in temperament, so the intensity and determination she would get at lure courses was a marked change from her usual calm demeanor. A friend of mine called her "solemn" but that wasn't true. She was a serious dog, but she had her playful moments, though the games she liked best involved running. (She liked to play "chicken" with people - run straight at them and then veer off at the last minute.) She was sincere, dependable, and she did all I ever asked of her - except for living forever, and she came pretty damn close to that. She lived to be sixteen years old, and that was still not long enough for me.
When she young, Tiger was the top lure coursing Greyhound in the country. She finished her Field Championship, Companion Dog title, and first Lure Courser of Merit title in the same calendar year. She stayed in the top four in lure coursing for three consecutive years. Tiger won five Best in Field awards, the Best in Field at the Grand Prix, and the New England Cup for Greyhounds. She was pretty well retired by the time the AKC started its lure coursing program, but two of her daughters, Rosie and Suki were AKC Dual Champions, Companion Dogs, and had ASFA Field Championships.
Here's a photo of Tiger, Rosie, and Suki.
---
Golightly Greyhounds - P.O. Box 234 - Smithtown, NY 11787