Suki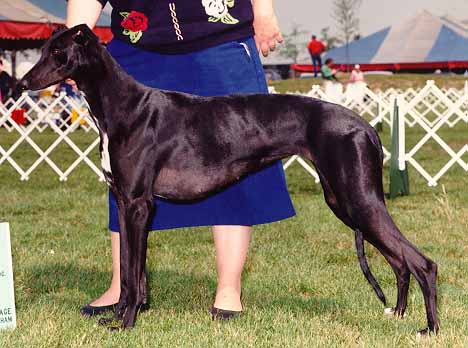 Dual Ch. Golightly Runaround Sue, F.Ch., CD, CGC
1987 - 1997
Suki was such a cool dog. She was different from the other dogs even as a tiny pup. I'd get into the puppy pen for some puppy loving, and the other pups would rush up and mob me. I'd sit down with them and they'd all nibble and lick and swarm and push forward saying, "Me! ME! Pay attention to ME!" Suki would hang back until the others had cleared away and then she'd saunter up to me without that manic puppy intensity and say, "Now that the others have gone, we can have some time alone."
She was so much more laid-back than the other pups, I worried something was wrong. I took her to the vet long before the other pups were going, so that he could check her heart. He took a listen, checked the rest of her vitals, and said, "She's fine, she's just mellow." And so she was.
She was the hippest dog I've had. Much more sophisticated than the run of the mill Greyhound (and that's really saying something - Greyhounds are a more dignified lot than your average Rover.) She wanted what she wanted, but she wasn't the kind to grovel to get it, nor was she the kind to challenge you for it. If I asked for something she thought was unreasonable, she'd just pleasantly ignore me. When she was very small, I remember scolding her for something, and instead of looking chastened and impressed, her expression was rather sad and condescending, and her attitude seemed to be, "I'm really surprised at you for losing control of your temper in this way." And she was right.
No fence could hold Suki if she wanted out. When she was a tiny pup, she was the only black dog in a litter of brindles, and I discovered that color did matter to the dogs. The other pups would persecute her. She learned to climb out of the puppy pen, but then she'd come to the door and ask to be let in. Her fence vaulting ability didn't really cause many problems, though, because she'd only use them to get away from problems. After she had her litter of puppies, when she would decide it was time to wean them, she was out of there! She liked them fine, but hey, they were developing teeth. And once she decided something, that was that.
She was a fine runner. She earned Field Championships in both ASFA and AKC lure coursing, and I dearly wanted to put a Companion Dog (CD) title on her (to complete the set of show/coursing/obedience titles.) But up to that time, I had basically trained my dogs with traditional obedience methods that used force, and Suki realized that I could not correct her in the ring. She developed an embarrassing routine where she would suddenly be stricken with deafness on the "recall" part of the Novice obedience routine...only at trials, of course. I would call her and she'd swivel her head away at that moment as if there was something intensely interesting in the next ring, She was clearly saying, "You think you can make me do this? Guess again."
So I went back and retrained her from scratch using inducive methods. I went to a very accomplished teacher who has won many perfect scores with his dogs. My goals were much more modest - I wanted a CD on Suki. We went back to the beginning and showed her that she'd get food if she did a little bit of work. I gave up on thinking of this as something I was going to make her do and started thinking of my part of it as making her WANT to do it. While her scores weren't anything special, I could never get that excited about straight sits. The important thing to me was that she was happy in the ring. She looked forward to the training and the showing, and she came to me like a rocket in the ring.
Well, it's hard to describe the essence of a dog, and I'm afraid I haven't really managed it here. She was a really unique soul, and I miss her a great deal. Her son is something like her, and now her granddaughter, Karma reminds me of her as well.
Suki was a Best in Field winner, and in one of her two forays into the open field, she placed second in a mixed hunt, so she's NOFCA pointed as well. She did some modelling, appearing in the German edition of Elle and an ad for the European version of diet Coca Cola.
---
Golightly Greyhounds - P.O. Box 234 - Smithtown, NY 11787