shamelessly exploiting tragic events, human foibles, and the absurd
through loud music and other media for fun and profit




the Shrunken Headbangers, shock-and-roll band:
(L-R) Ratko Serin (guitar), Caligula (keyboards, vocals),
Akira the Death Merchant (viola,bass,mandolin), The Chicken Wing (drums)

The Shrunken Headbangers' BAND HISTORY page is long but highly
recommended. It includes dozens of photo links not found on the PHOTOS
page and explains how this outrageous band got more than its 15 minutes
of fame. The DISCOGRAPHY page has the band's complete,
unexpurgated lyrics, including the stuff they wouldn't play on WHFS.

Shrunken Headbangers news:


The SHRUNKEN HEADBANGERS'ANTHOLOGY! is now available from
Brain Damage Records! This beautiful three-CD set includes every significant
studio recording ever made by "the band with no shame." Containing over
215 minutes of Shrunken Headbanger creative brilliance, the ANTHOLOGY
is a must for any audio collection. It also makes a great holiday gift
for any fan of insane music. Click here for more information.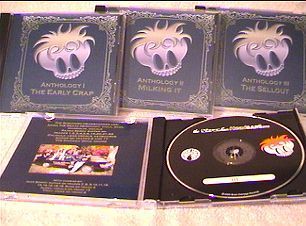 Of course, the Shrunken Headbangers' four studio disks COLDCOCK,
SPECULUM, STINK, and SPEW also remain available. Each of these CDs
includes bonus tracks of previously unreleased material, such as
the infamous WHFS Lunch Songs. Click here to order
yourself some Shrunken Headbanger CDs today.



The Shrunken Headbangers' sound bites page includes MP3 files so
you can download samples of your favorite band that are louder than ever!

In an egregious violation of constitutional rights, the Shrunken
Headbangers' hit song "Reasons Di Died" was BANNED by officials at
a New Jersey elementary school. Click here for the shocking details.

On September 12, 1999, the Shrunken Headbangermobile was destroyed
in a demolition derby! Here's the story, including damage pictures!

Shrunken Headbangers' guitarist Ratko Serin was returned from his
abduction by aliens unharmed! However, his captors planted their
extraterrestial spawn in both Ratko's and Chicken Wing's wives, so
the Shrunken Headbangers were forced to stop performing while they
battled this alien menace. For fear of further alien attacks, the
Headbangers have not been able to set a definite date for returning to
the stage, recording, or doing anything else, for that matter.



Where are they now? The Chicken Wing plays drums for the band Sticktime.
Caligula and Shrunken Headbangers' guest guitarist Jack Schitt have been playing together
in the hardcore band USA. Ratko and Akira are working on highly classified
government projects. We could describe them to you, but then we'd have kill you.





Shrunken Headbangers links:
Read the Washington City Paper's online story about the
Shrunken Headbangers. Be sure to email the paper, provide
effusively positive feedback about this story, and demand that
the City Paper run additional features on your favorite band!
SnapPop! magazine reviewed a pre-distribution copy of the
Shrunken Headbangers' fourth studio album SPEW in its
August 1999 issue. SnapPop! said "The Shrunken Headbangers
have come up with a live one... This tape is a hoot."

victims have suffered the indignity of this site since 1/28/98