GOLDFISH SEASON SEVEN, 2007
---

26th Autocross(03/25/2007) FedEx Field: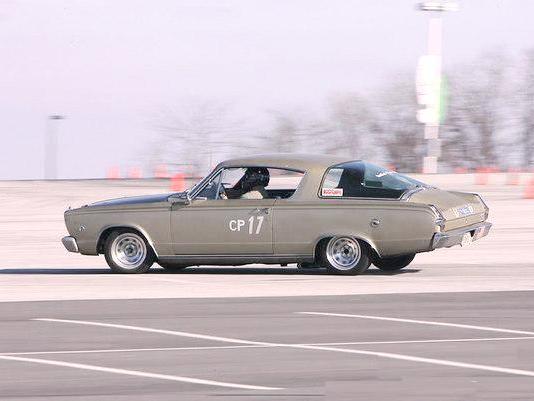 Photo by: www.teamwtf.org
SETUP (Changes):
Tire pressure: 28 Psi. Front/28 Psi. Rear
Spax shocks: Front damping 4 clicks out from
full stiff / Rear damping 6 clicks out from full
stiff.
Installed VFN bolt-on fiberglass hood, reducing
front weight by 34 Lbs.

RESULT:
DRIVER
TIME
FTD (F125)
58.169
CP Class Winner
69.485
Me
76.162
This was the WDCR-SCCA 2007 Test-n-Tune practice
event. The course layout was a very long slalom
that had the GoldFish somewhat caught between gears.
The long, transition heavy course was also very
tiring with the 16:1 manual steering. Add to this
small tires, a warm day, and a fan belt that got
thrown on my second and third runs (I never got my
forth run), and it wasn't going to be a good day for
me to post a win. As it was I placed 6th out of 8
drivers beating a pair of Mustang Cobras. Still, I
did come away with a few insights: Goodyear "V" belts
don't tolerate pulley misalignment as well as Gates
Belts do; the 0.990" T-Bars were not stiff enough for
this type of course as it was taking FAR to long to
transition from left to right and back on this
endurance slolum course (plan to install the 1.090"
T-bars from the Dart soon; and having your car turn into
a coolant fountain due to the thrown fan belt is VERY
distracting! Also, knocking 34 pounds off the nose
with the VFN fiberglass hood was quite noticeable (for
anyone who's keeping score, that should place the F/R
weight distribution right at 51/49.

---

27th Autocross(//):
SETUP (Changes):
Tire pressure: 28 Psi. Front/28 Psi. Rear
Installed 1.090" Torsion Bars
Spaced the alternator 3/16" further forward to
better align with the water pump and crank pulleys

RESULT:
DRIVER
TIME
FTD
CP Class Winner
Me









---
---
Last Updated: 06/12/2007
---