| | | |
| --- | --- | --- |
| | LAME HORSE RACING | |
---
This site is mostly focused on the development of my three cars: a '66 Formula S Barracuda, '66 270 series/B Production Dodge Dart, and '66 "C" code/C Prepared Mustang, for vintage road racing and SCCA SOLO competition. Also, when I run across good specific parts sources, I will post them here.


---
Kanter Automotive has a CAST reproduction of the
Commando piston for $55.00 each. There may be some
discussion as to whether a casting is correct (and these are
heavy), but that price aint bad compared to $40.00 each for
the 8,8:1 MOPAR casting.

I've noticed that its getting hard to get good shocks for A body Chryslers (for those of us who like to carve corners anyway),
at the same time I've found a shock that I really like in the
adjustable Spax shock from the UK. I've used them on Ol'Beastly
(My Mustang) with great success, and they've been very good on
the GoldFish so far. You can find the Spax Website is at:



http://www.spax.co.uk/
For more detail about the company and its products.

The part numbers are Front: G480, and Rear: G481

The listing is for "Chrysler Australia: Valiant (all models)"



---
You are Motorhead Number

to visit this site since 01/08/1998


dmapes@erols.com
---
THIS SITE
Dave's Toys
LINKS
GOOD SHOPS WITHOUT WEB SITES
Pasta's Garage
10800-C Hanna Street
Beltsville, MD 20705
Ph: 301-595-5020

Good, Honest, Ecconomical
Automotive Service (both
regular production and
high performance/custom work).


Radial Tire Co.
9101 Brookville Road
Silver Spring, MD 20910
Ph: 301-585-2740

These Folks Just do Tires and
Wheels Very Well (They speak
high performance because they
race. They can and will work with
you to get the right tire
and wheel combination for your
application and budget).


---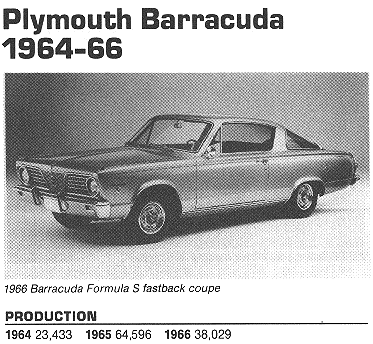 ---
THE 1966 FORMULA S BARRACUDA, A NICE FAMILY CAR!
---