Welcome to Yoshi's Home Page!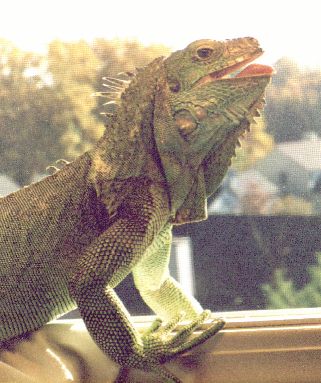 Hi, my name is Yoshi. Thanks for visiting my home page. You can't come and see me, but please enjoy some pizza with my compliments.
Here are my vital statistics:
| | |
| --- | --- |
| Snout-vent length: | 18 in |
| Overall length: | 50 in |
| Weight: | 8 lbs |
| Color: | green |
| Eye color: | brown |
| Birth date: | Feb 1993 |
| Marital status: | fixed |
My full taxonomic name in the animal kingdom is: phylum CHORDATA, class REPTILIA, subclass LEPIDOSAUROMORPHA, order SQUAMATA, suborder Sauria, family Iguanidae, species Iguana iguana.
This picture was taken in 1995, when I was only about 38 inches long. I've grown a lot since then.
Currently, I live on top of a wooden cage that Neal built for me. Now that there is a dog in the house, I am afraid to come down off my cage. Fortunately, they shut the dog out of the room when I take my exercise, or that would be one sorry dog!
I support the International Iguana Society, and enjoyed attacking issues of the Society's magazine, The Iguana Times.
---
Additional Yoshi Pages
I let my owners type up a page about Iguana care because my claws were getting tired.

Yoshi's Iguana Care Tips (with anecdotes)
You can visit the page below to learn a little about my external anatomy. Hopefully my owners will finish the internal anatomy part someday. [Note: requires a Java-capable browser]

Yoshi's Iguana Anatomy Applet
---
Here are some of the foods I love to eat. The ones marked with a star are particular favorites that I don't get to have anywhere near as often as I would like. The picture on the right is me guarding my food dish.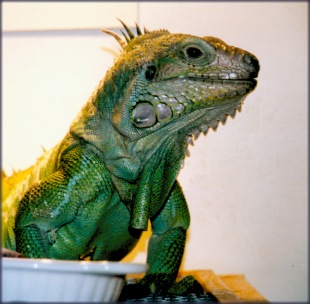 Collard Greens
Escarole
Romaine Lettuce
Banana
String Beans
Cucumber
Yellow Squash
Blueberries *
Green Squash
Strawberries
Citrus fruit *
Cantaloupe
Kidney beans
Okra
Lima beans
Apple
Watermelon
Peas
I also occasionally get or steal various treats: red-leaf lettuce, pizza, scrambled eggs, mushrooms, cat food, cat fur, commercial iguana diet, and even fingers!

NOTE: All kidding aside, properly balanced nutrition is very important to us iguanas, especially when we are growing up. Be sure to feed us mostly leafy vegetables. You can get more information from Melissa Kaplan's or Jennifer Swofford's pages (see below).
---
Here are some Iguana-related sites that you may find interesting. You can also read about Iguanas and other reptiles in the rec.pets.herp newsgroup.

Melissa Kaplan's Giant Green Iguana Page
(Also available in a frames version. The old 'Care and Socialization Guide' is still available here.)

Iguana Iguana Newsletter - Neat newsletter in its 2nd year

Jennifer Swofford's The Complete Guide to Keeping Green Iguanas in Captivity.

The #Iguanas Channel - Iguana links, IRC channel info, mailing list

Custom Cages - Custom cages for iguanas and other reptiles.

The Famous IguanaCam at Iguana Images

International Iguana Society page at Tropical Marketplace

Iguanas at the Phoenix Zoo

Tales of 4 Iguanas - Great info and pictures by Kim Scott

The Pure Software mascot Igbert the Iguana Page

Iggy - The MIT Network Iguana
Iggy died of kidney failure, just like Yoshi, May 30 1998. R.I.P.

Jim Laird's Iguana Funpage [temporarily retired, but still supports the Iguana Story Exchange.]

Draco's Lair - cute and informative page by Draco the iguana

House of Galahad - great Iguana information collection

Iguan-O-Rama

Iguana stamps in Anguilla - 1997 issue of beautiful stamps from the island nation of Anguilla.

Wong's Green Iguana Heaven - Great site, lots of pictures

WWW Virtual Library: Herpetology - dead?

AcmePet Pet Web - Your Guide to Pets on the Internet.

Jorg Hartmann's Herptology WebSite - also in German.

THE IGUANAS - Yoshi's Favorite Band?
Here are some individual iguanas that have web pages. Names in brackets seem to have gone into a dormant state, names in bold are new or updated.
That's all. Thanks for visiting, goodbye.
---
[Ziring MicroWeb Home] [Back to Memorial Page] [Sign Guestbook]
This page written by Neal Ziring, last modified 6/16/98.