Welcome to Saucy's Dog House!
Saucy is the largest pet in the Ziring household. She is still a fairly young dog, and she's still very cute and affectionate.
Vital Statistics:
Breed: Mixed
Coat color: White w/ brown face
Eye color: Brown
Gender: Female (spay)
Birthdate: 6/96
Weight: 25 lbs.
Height: 19 in. (shoulder)
Saucy was Dog of the Day on Feb 6, 2001.
A message from Saucy:
I am a very energetic, bouncy dog. While I may be small, I can make a mess just like bigger dogs! I don't like to make noise, though. The last time I felt compelled to bark is when that white cat was standing between me and my favorite chew toy! I used to like growling at the window fan at 2:00 AM. Now that it's winter, I like to keep warm by chasing the kitty around the room at 4:30 AM. I love to carry around my squeaky ball and leave it where people can trip over it. Ha ha ha!

Oh well, it's time to go outside for another walk...

...here is a picture of me sleeping with daddy,
all tired out by my walk, drawn by mommy (Julie).
Saucy's Background and Training
The table below shows some of Saucy's personality. She is very energetic and playful, but isn't really well trained. The picture on the right shows saucy on her first visit to the beach, in September 1998.

Likes
Dislikes
Licking
Sitting still
Wimpering
Barking
Making accidents
in the house
Doing her business
outside
Squeaky toys
Rawhide toys
Chasing the kitty!
Being hissed at
Kong toy
My raincoat
Science Diet
Treats
Purina Puppy
Chow
The back yard
The new fence

I went to school at The Coventry School, a canine training academy in Columbia, MD.
In class, I was taught the following things:

| Behavior | Command | Hand Signal | My Response |
| --- | --- | --- | --- |
| Sitting | SIT | Palm up | Sit, sometimes, briefly |
| Laying down | DOWN | Palm to floor | Gnaw hand |
| Staying | STAY | Palm in face | Jump at hand |
| Coming | COME | Hold out hand | Run past |

Still, I'm a good student and try hard to get treats. This past June 19, 1997, I graduated from beginner class! Here is my official diploma!
I love going to the beach. Here is a picture of me from
Rehobeth Beach
, Delaware. This was taken in March, 2004.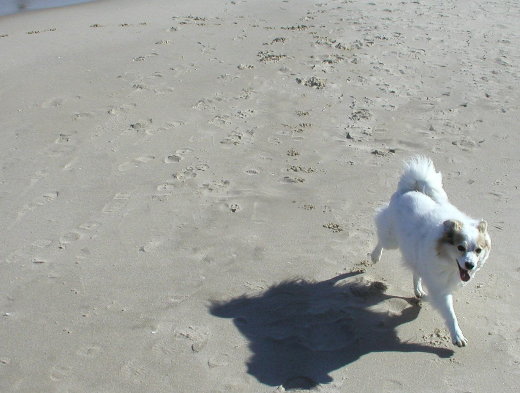 Here are some dog-related sites that are cool or have useful information. You can also read about dogs and their care in the rec.pets.dogs.* newsgroups.

Dogs Index at Yahoo!
At last count, over 1300 links to dog breeds, dog information, shelters, training, etc.


Dog Informat
This site offers some dog information, plus links to many many other dog-oriented sites.

American Boarding Kennels Association
Web site of the ABKA, a non-profit organization for pet kennels. Has a neat imagemap locator for member kennels.

Dog of the Day
A new dog picture and bio every day. Saucy hopes to appear here someday!

The Kong Company
Web site of the company that makes my favorite toy. Inventors of Jawrobics for dogs!

Purdue Dogs
Dog site at Purdue University, includes a comprehensive dog terms glossary.

PetStation Dog Domain
Commercial dog site with breed information, accessory products, club contacts, and other stuff.

Dog Owner's Guide!
E-zine with Dog information, links, and more.

Best of Breed On-line


Central Pets - Pet info and products


A Dog Owner's Network
A helpful dog owner's site with product information and breed information, also has a list of places to take your dog.

Master Dogs FAQ List
This is a big list of many dog-related "Frequently Asked Questions" lists. It is a mountain of information for the dog owner, maintained at Ohio State University.

Canine Directory @ Acme Pet
Very nice commercial site with tons of dog information, resource links, products for sale, and care tips.

Here are two more image: the first was taken with one of her Christmas presents, a ropey toy, the second was taken outdoors on a nice warm autumn day.




---
[Ziring MicroWeb Home] [Neal Ziring] [Julie Ziring] [Sign Guestbook]
This page written by Neal Ziring, last modified 11/14/02.