Kumari the Cat's Home Page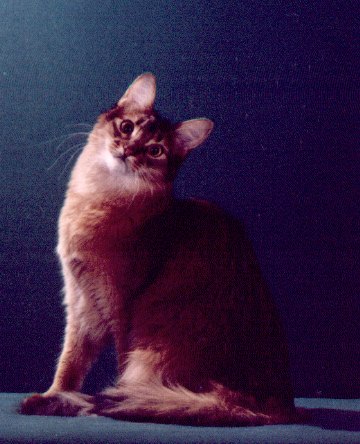 Kumari the cat is happy you are visiting her home page! Kumari is pedigreed female Somali belonging to Julie Ziring. She is a playful, medium-small, ruddy devil of a cat. Here are her vital statistics:
| | |
| --- | --- |
| Full name: | Kimbelot's Kumari |
| Height: | 10 in. |
| Length: | 28 in. |
| Weight: | 9 lbs. |
| Fur color: | ruddy |
| Eye color: | gold |
| Birth date: | 3/22/95 |
| Marital status: | fixed |
Kumari is a pedigreed cat registered with the Cat Fanciers of America (CFA). She is the offspring of two notable showcats:
Sire:

GC Kimbelot's Frosty

Dam:

CH Pysabs Kailua Princess of Kimbelots
This picture was taken in late 1995. The photograph is copyright 1995, by Channan.
---
Kumari the Showcat
Kumari is a registered CFA show cat. Her CFA registration no. is 1381-1006119. She has been shown at a few shows in the US Mid-atlantic region. Her official show status is Premier.
The picture above was taken by professional animal photographer Channan.
The official designation under which Kumari is shown is Ruddy Somali (spay). This means she competes with altered Somali cats who are dark red with black ticking. They are judged against the Somali Breed Standard, which says what qualities and appearance a Somali should have. Somalis are long-haired Abyssinians. Legend has it that after World War II, the Aby breed in Great Britain was reduced to a few cats. To save the breed, the Brits had to resort to domestic cats. The long-hair gene was inadvertantly introduced into the Aby genepool, and long-haired kittens began appearing in Aby litters. Eventually, these long-haired mutants were recognized as the Somali breed. Today's Somalis can trace their ancestry back to the Abys of post-WWII Great Britain. This legend is from an article in a recent CFA Yearbook. For more information about Somali cats in general, check out the Fancier's Breeds List.
---
What Kumari Likes (and dislikes)
Kumari likes to play, to frolic, to scamper, and to cause mischief. Like most Somalis, she is very active and inquisitive; bursts of energy can come at any moment. Kumari has very strong likes and dislikes, some of them are shown in the table below.
| | |
| --- | --- |
| Likes | Dislikes |
| Playing with cat toys | Getting a bath |
| Meat, Any Meat! | Being chased |
| Bothering Saucy | Going to cat shows |
| Waking Mommy | Being locked out |
| Pestering Booger | Car Rides |
| Watching TV | Being left alone |
---
How did Kumari get her name?
Kumari is named after a baby elephant born at The National Zoo in Washington, DC. Kumari the Elephant was born on 14 December 1993, and died of an infection in April, 1995. In memory of the playful elephant, we named our playful kitten after her.
---
A Somali of Your Very Own!
Somalis make wonderful pets! If you are interested in one of your very own, check out the S.A.B.R.E page. S.A.B.R.E is Somali/Abyssinian Breed Rescue & Education, a rescue organization that saves and places Somalis and Abyssinians throughout the U.S. Also, check out the Fanciers Breeder Referral List for breeders of Somalis. Kumari's breeders are not listed because they are still living in the dark ages without a computer!
---
Kumari's cat-related links list
And here two more pictures of Kumari: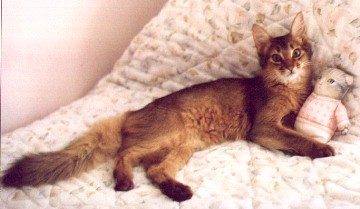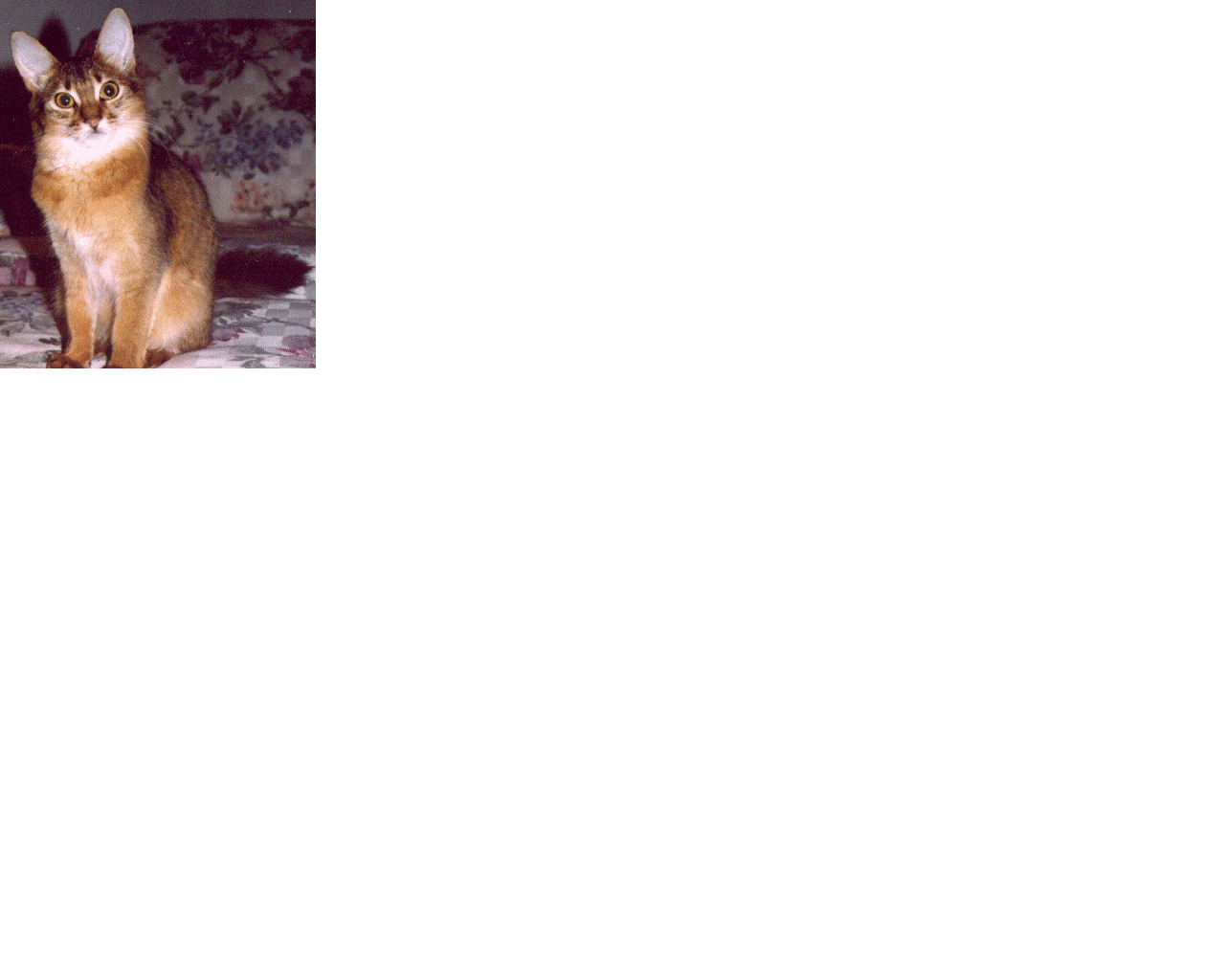 ---
[Ziring MicroWeb Home] [Neal Ziring] [Julie Ziring] [Sign Guestbook]
This page written by Neal Ziring, last modified 12/16/00.