 Welcome to Julie's Home Page
Thanks for visiting my home page. If you are looking for Julie Kolencik, that's me! Ziring is my married name.
You are visitor since July, 1997. Thanks for stopping by.
---
Interests and Hobbies
My main hobby is gardening and taking care of my dog, Saucy, and two cats, Kumari and Booger. All of these topics have their own pages: check out

I used to practice Shorinji Kempo, and reached the level of 2nd degree brown belt.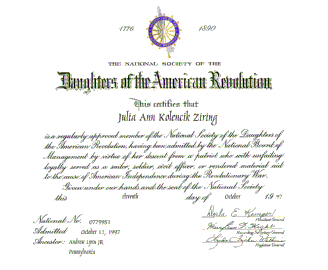 I am a full member of The National Society of the Daughters of the American Revolution, by virtue of my descent from Andrew Lynn, a Colonel who fought in the Revolutionary War. My local chapter is the Mary Carroll Caton Chapter, of Catonsville, MD.

---
Education and Background
---
Where I Work
My employer is the law firm of Arent Fox Kintner Plotkin & Kahn. The firm's Washington DC office is located at 1050 Connecticut Ave, NW.

I used to work for the law firm of Ginsburg, Feldman, and Bress, Chartered, at 1250 Connecticut Avenue, Washington, DC. Unfortunately, the firm closed up shop on September 30, 1998 (details from washingtonpost.com).
---
Favorite Restaurants
I love to eat at just about any restaurant, but here are some of my favorites. Some of them don't have web pages yet, but I've included links for those that do.

Favorite Fancy Restaurant

The King's Contrivance, Shaker Drive, Columbia MD
Fine gourmet dining, with an excellent wine cellar and impeccable service. Voted the best restaurant in Columbia every year since we can remember.
Favorite Theme Restaurant

King's Arms Tavern, Colonial Williamsburg, Williamsburg, Virginia
Authentic 18th-century cuisine, wandering minstrels, and a location in the heart of the historic area make the King's Arms a memorable dining experience. I had a delicious game hen and Neal had the famous peanut soup.
Favorite Chain Restaurant

California Pizza Kitchen
Pizza, pasta, salads, and even Bill Clinton ate there! I'm glad we have one in my building, so I can go there for lunch.
Favorite Dessert Place

Ghirardelli Square Soda Fountain, San Francisco, CA
Some of the best chocolate sundaes to be found anywhere, and great banana splits too!

Here is a self-portrait I took of me on a recent trip to Montreal and Saratoga Springs. I just love Montreal!

---
Contact Information
You can send me e-mail:

---
Hopefully, I'll soon put a good picture of my new Saturn SL2 here.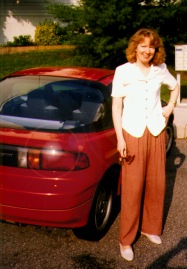 Here is a picture of me with my old car, Maggie,
a bright red Geo Storm.

---
Links to Other Cool Sites
Here are some links I find interesting. This list changes occasionally.
---
[Ziring MicroWeb Home]
[Neal Ziring]
[Julie Ziring]
[Sign Guestbook]
This page written by Neal and Julie Ziring, last modified 6/30/2000.