Welcome to the Communications Desk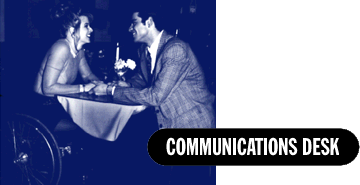 This is where you can join NSCIA online, talk to NSCIA staff and other members of the SCI community, send questions and comments to NSCIA, or post a message to our bulletin board.
Join NSCIA Online
Become a part of NSCIA's mission to help people with SCI achieve their highest level of independence and personal fulfillment. Membership in NSCIA entitles you to priority service to the NSCIA Resource Center, a subscription to SCI Life and discounts on books, medication, travel, equipment, supplies and more. Complete the membership form today!
SpinalCord.org Chat


Visit the Web Chat for the SCI Community. Find out what people are talking about and join in the discussion.
SpinalCord.org BBS


Read what people are saying on the Web BBS for the SCI Community. Post a message or reply to other people's messages and receive responses to your messages via automatic email. Be sure to check the Research Message Board for the latest in Research studies and programs.
Contribute Material to Spinalcord.org
Submit your articles and stories on-line.
Questions and Comments to NSCIA
Questions or comments for the NSCIA? Want to make a donation? Send your questions or comments via email (response by email only). We check our mailbox daily, so send our staff a note (non-member donations can also be pledged using the Membership Form).
Submit a link
Know of a site not listed on our WWW Links Page or want your site linked in? Submit it here.