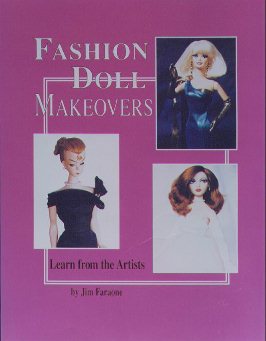 My first book "Fashion Doll Makeovers, Learn from the Artists" by Hobby House Press features 35 artists/designers that customize fashion dolls such as Gene®, Candi®, Sindy®, the Barbie® doll as well as other fashion dolls. Some of the artists featured in this book are: Ken Bartram, Jonell Belke, James Bogue, D.A.E. Originals, Val P. Dean, Mary Ferretti, Joshard Originals, Kayandem, Ricky LaChance, Franklin Lim Liao, Michael McDonnell, Don Meindl, Mark P. Middendorf, MíKelman, Charles L. Mo, Bruce A. Nygren, Mark Ouellette, Barb Rausch, Pabboo Redfeather, Suzy Sease, Dick Tahsin, Bill Waldow and many other talented individuals. Each artist is showcased in the spotlight with a personal bio on themselves, their work and many photos of their creations, all in full color.

This book also features a "How To" section which will take you step by step, with instructions and corresponding photographs teaching you how to reroot, repaint the makeup, root eyelashes, cut/set and style the hair, rebend certain body parts, how to make jewelry and other important steps to turn a basic fashion doll into a special one-of-a-kind creation.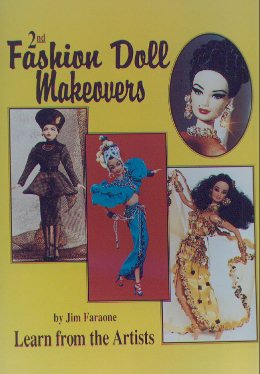 My second book, "2nd Fashion Doll Makovers, Learn from the Artists" by Hobby House Press features 50 artists/designers from around the world. It was so exciting bringing the East and West together in harmony, with one common goal........Fashion Doll Makeovers!

This book focuses on 25 artists from the Untied States and 25 artists from 12 other countries. Some of the talented individuals featured are: NiniMomo Creations, Hunter-Goldblatt Designs, Jeanette Blanchard Held, Bob-Michael Lizzio, Renee Coughlan, Viva La Diva, Janis Kiker, Kathy Moreau, Jozef Szekeres, Bradford Samuel, Tré, Corazon Ugalde Yellen, Doris Mixon, Matthew Sutton, Louisa Maxwell, Charles Josef, Kathleen Smith, Kertkraft, Rosi K., Anja Drewitz and more. If you liked the creations of the artists featured in the first book, you will love the creations in this book.

This book features another "How To" section. This time I am showing how to hand bead and sequin outfits tastefully and how to make hats and handbags.

Hopefully my books will get your creative juices flowing!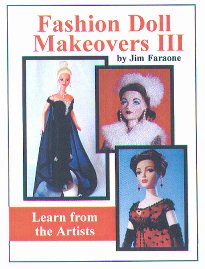 Fashion Doll Makeovers, Learn from the Artists III is NOW Available! It features 49 new creative individuals and the "How To" section will teach you how to create 14 different hairstyles, including molded hair), plus how to safely dye the doll's hair.

Each book is $19.95 plus $5.00 S/H and an autographed copy can be ordered from me direct. Or you can purchase it through Hobby House Press at 1-800-554-1447 or from your favorite book store or dealer.

If you are interested in possibly being featured in one of my books please send me at least one photo of your creations for my files.
Jim Faraone
19109 Silcott Springs Rd.
Purcellville, VA. 20132