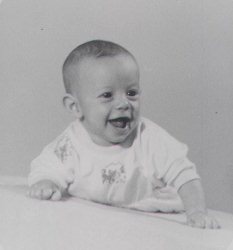 I am an avid doll collector and have a collection of over 3,000 dolls of all kinds, (though my favorites are the Barbie® doll, G.I. Joe®, celebrity and advertising dolls). I also collect paper dolls, paper toys, miniatures, 40's and 50's plastic dollhouse furniture, metal doll dishes and accessories, autographed celebrity photos and dust.

I publish my own quarterly publication on paper dolls titled "Paper Doll Pal", a publication featuring old, new and future paper dolls and the original artwork of paper doll artists today.

I am also an artist and my artwork has appeared twice in the UFDC publication "Doll News". My artwork has also been a souvenir at various conventions and my artwork has been on display at the Metropolitan Museum of Art in New York City several years ago.

My articles on the Barbie® doll and paper dolls have appeared in "Contemporary Doll Collector". I have also covered the national Barbie® doll and Paper Doll conventions for this publication.

I am well known in the collecting field and am actively involved with many of the conventions. I organize and run many of the Artist's Galleries which feature the new work of professional and non-professional artists. I am an avid believer in supporting the artists and giving them the recognition they deserve. I also run many workshops on painting techniques, paper doll artwork and the creation of fashion doll makeovers, taking each budding artist step-by-step through the trials and tribulations of creating.

My collectibles and I have also appeared on several television news segments and in newspapers. My next goal is to present the artist's work on national television.

I have made my hobbies a lifetime infatuation and the joy, comfort, and friendships I've made over the years are always treasured. I truly enjoy hearing from collectors around the world!