| | | |
| --- | --- | --- |
| | Ol'Beastly 2007 Season | |
---

34th Autocross WNE(04/22/2007, FedEx Field):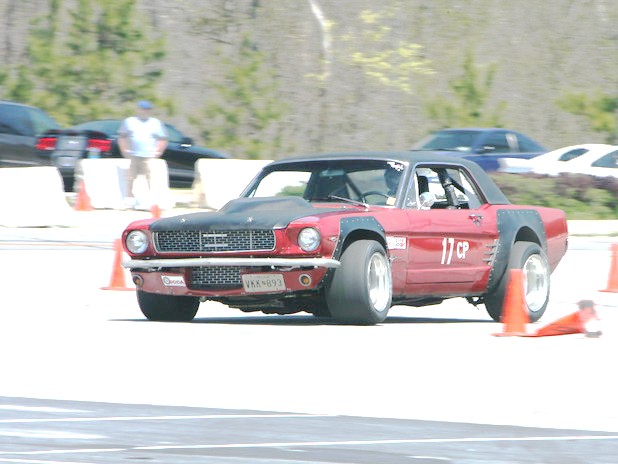 Photo by: http://www.teamwtf.org
SETUP(same as 10/9/2005 Except):
Installed Quick Fuel Engineering CT750 mechanical
Secondary carb & retuned engine on dyno, gain at peak
was 28 rear wheel HP (383 HP @ 6800 RPM total) with
an increase of 8 HP by 3400 RPM.
Added tubing tieing the front tubes of the roll bar
to the right shock tower and the left side fire wall
(as close as we could snake a tube through all the
other stuff going on on the driver's side to that shock
tower0. Also added tubes running from the back side of
the main hoop to the rear spring pick-ups, and from
the bottom of the main hoop and the floor mount of the
front tubes to the subframe connectors under the car
Replaced the tired (19 yea old) TractionLok diferential
with a full preload Detroit True Track torque sensing dif'
Installed Global West's aluminum hubbed Willwood
11.75"x1.25" front brake conversion

Installed fresh 25"x12", R35 compound Hoosier slicks
on the 3 peice Simmons alloy 16"x12" wheels
Tire pressure: 23.5 Psi Front/23.5 Psi Rear.

RESULT:
DRIVER
TIME
FTD (F125):
50.526
CP Class Winner:
56.068
Me:
59.505
First of all let me say the car felt greate! All
the changes have really helped; Ol'Beastly is both
faster and easier/more predictable to drive. There
was no bind in the steering dispite a warm day with
new slightly larger and stickier compound slicks.
Dispite the stickier tires and more sophisticated
differential, the added power made it posible to
spin the rear tires pretty much at will in second
gear. Review of the front tires after the event showed
some graning, indiciive of too much negitive camber,
although the car was still loose rather than pushing.

As can be seen by the results listed above, I was a
goodly distance out of first place, however I will say
that it was my first autocross with the car in about
18 months, there were a LOT of (positive) changes to
get used to. AND the competition has gotten a LOT faster
in the last year. But I did place 2nd.

The weather was perfect for late April, 70 degrees and
not raining. The course was fast but deceptively technical
with lots of decreasing radi to trap the unwary. Very fun
though! My times were 60.463, 61.349. 59.267+1, and
59.505.

---

35th Autocross WNE(05/12/2007, FedEx Field):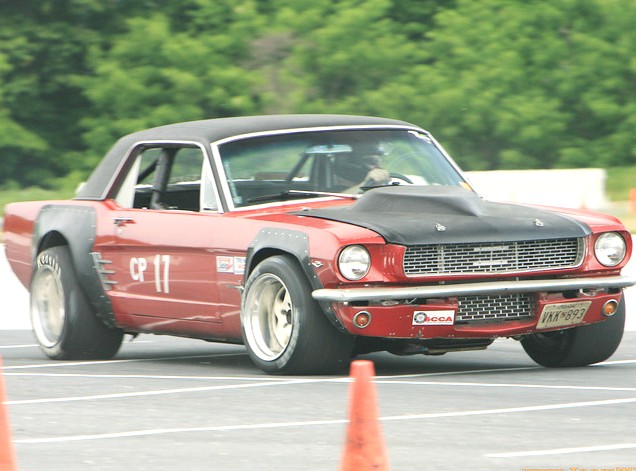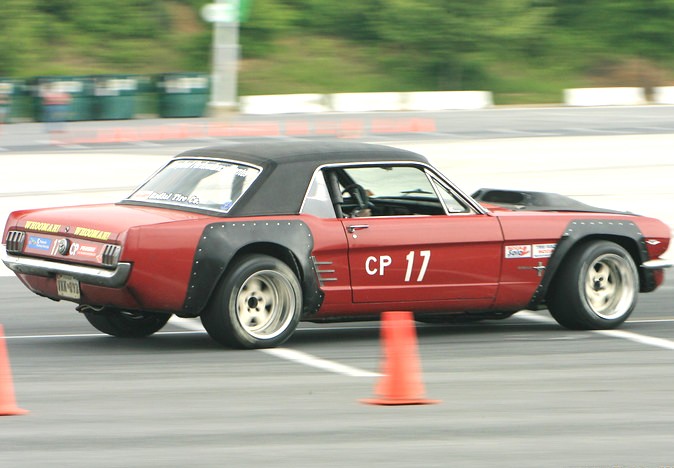 Photos by: http://www.teamwtf.org
SETUP(same as 04/22/2007 Except):
Installed 1050 LB/In, 5.5"x9.5" springs with half a
a coil cut off
The springs raise the ride hight about 0.5" reducing
negitive camber somewhat (a desirable change in this
case)
Tire pressure: 23.5 Psi Front/23.5 Psi Rear.

RESULT:
DRIVER
TIME
FTD (F125):
54.587
CP Class Winner:
61.242
Me:
64.975
Perfect weather, fast but even MORE technical course
than April 22nd, I did not have a completely clean
run but DID have a LOT of fun. The car was both faster
and better on the street with the new springs and ride
hight. My times were 66.894, 67.106, 65.296, and 64.975

Sadly I got beat for 2nd by a Chevy.


---

36th Autocross WNE(06/17/2007, FedEx Field):
SETUP(same as 05/12/2007 Except):
Replaced steel Panhard rod with an aluminum one,
saving a few onces
Move the Panhard rod down 1"
Relocated the rear swaybar for better frame clearance
Tire pressure: 23.5 Psi Front/23.5 Psi Rear.

RESULT:
DRIVER
TIME
CP Class Winner:
Me:
CP 2nd Place:
FTD (F125):






















---



/