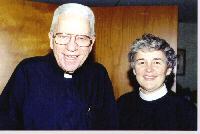 The Church of the Ascension, Patuxent Parish is in the Episcopal Diocese of Washington. Our mission is to respond to God's love for us through Jesus Christ. We do this by joining together for Worship in the Anglican tradition; Prayer; Study of Holy Scriptures; Social Outreach; Pastoral Care; Christian Education and our Music Ministry.

The church's motto expresses its love and hospitality, which is "All are welcome here!" We are a diverse community representing many different theological positions from traditional to evangelical which is held together by the faith of this community and its dedication to express its love for one another and to encourage each other in our various ministries and vocations. Our community is a broad cross section of all ages from young to old. This is a church that expresses God's Agape love for one another and to reach out into the community by both in word and action.

Our church has an active Sunday School Program for all ages, Acolyte Program and Youth Groups. The welcoming nature of this community includes new members rapidly into its parish life and seeks ways to invite others. We reach out into the community by serving the poor in our social outreach ministries. We are concerned for evangelism and take the Christian formation of our children seriously. We foster fellowship among our members by having Foyer Groups.

The church was built by the Diocese of Washington in 1952 to be a mission to the new community of Lexington Park and the new Naval Air Station at Patuxent River. Many of our families have close ties with the base by serving in the active military, or being retired Navy, government workers or contractors. Yet we also have many who work in the community as educators, lawyers, dentists, farmers, raising families, probation officers, electricians, etc.

I have been the Rector since 1989 and followed our Rector Emeritus, the Rev. Charles Daugherty. Chuck started this parish as a mission in 1952 and preaches about once a month in the parish. We hope that you will join us for worship on Sundays and look forward to meeting you at Coffee Hour immediately following the service.
With all best wishes,
The Reverend Rona R. Harding, Rector
The Reverend Charles R. Daugherty, Rector Emeritus

Contact Rona