Patuxent Parish
21641Great Mills Road
Lexington Park, MD 20653
(301) 863-8551 (Office)
(301) 863-6487 (Fax)

---
Church of the Ascension Web Page
Thanks for visiting our Web Page! Our first public display was on November 11th, 1998. There's lots of information inside. It spans from general interest about the church for newcomers to detailed activities for current parishioners serving the church in any of the activities or committees. Please provide comments on the content (or lack thereof) to help make this the PARISH's page. All comments should be sent to the Web Site Administrator. Everyone is invited to contribute additional material for current pages and to provide new ideas (please!) for additional pages. Photos from church activities can be e-mailed to the Site Administrator for inclusion on the Church Outings page. Parish and personal announcements, prayers and thanksgiving, original short stories, meeting minutes, events or anything that you want to share with others, can all be posted. Just let me know.
Check out this page for all late breaking news and activity information. Parish details can be found by "surfing" deeper.
Please visit our guest registry and send me your e-mail address so that I can send you notes when big things happen! This is YOUR Web Page. Please feel free to contribute regularly to help make it useful, and most importantly, fun!!
---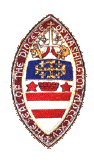 Episcopal Diocese of Washington
National Cathedral of Washington
St. Andrew's, California, MD
Good Samaritan Lutheran Church, ELCA, Lexington Park , MD
Trinity Church, St. Mary's City, MD
St. George's, Valley Lee, MD
St. Paul's, Piney, Waldorf, MD
All Saints', Oakley, MD
St. Mary's Chapel, Ridge, MD
Christ Church, King and Queen Parish, Chaptico, MD
Christ Church, Durham Parish, Ironsides, MD
Caroline Church of Brookhaven, East Setauket, NY
If you would like your church listed here, please send me a note.