Welcome to the M.C. Escher Pages!
M.C. Escher (1898-1972) is my favorite graphic artist. He lived and worked in Europe, mostly Switzerland and Italy, and is very well known for his of tesselations of natural figures, and for his depictions of unusual spaces and buildings.
All of the artwork of M.C. Escher displayed at this web site are details, no work has been reproduced in its entirety.
Escher's Lifetime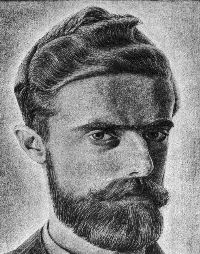 Maurits Cornelis (M.C.) Escher was born on June 17, 1898, in the province of Friesland, Holland. He took up art in 1919, and became famous in the 1940s and 1950s for his novel tesselations of the plane and realistic depictions of impossible scenes and infinite vistas. He lived all of his life in Europe, and died in Hilversum, Holland in 1972.
For a more detailed accounts of Escher's life, see one of the following:
Some Favorite Escher Works
Here are a few of my favorites of Escher's lesser known graphic works. Just click on one of the thumbnails to see the larger image. Visit one of the sites listed below, or my own picture gallery, for more images.
Lithograph, Nov. 1934
Wood engraving, March 1935
Woodcut, March 1937
Wood engraving, Oct. 1949
Links to other Escher Resources
Here are some links to Escher resources on the net.
The Official Escher home page
Cordon Art b.v. runs this official web site for the artist, featuring a good selection of images, some background/bio information, and links. Very nicely done.

Escher: Artist or Mathematician?
Very nice site made by students as part of a web competition.

GEOCITIES
Lots of Escher fans at Geocities. Check out these small sites about him at the Geocities community:

Escher Tiles
Modest site offering information on periodic tiling patterns and some of Escher's work in that area.

Escher WebRing
This web ring has lots of sites devoted to M.C. Escher

The Dutch Escher cultural page
This is his home country's "official" Escher page. The text is in Dutch, but there were good pictures. Recently, it seems that this site has been removed?

M.C. Escher Centennial Page
Very nice site celebrating the 100th anniversary of M.C. Escher's birth (MCE born 6/17/1898). Good resources here for teachers.

The World of Escher
A comprehensive Escher site with lots of pictures and descriptions, tessalation contests, and a shopping section. This is the main Escher site on the web in North America.

3-D Escher Models
Some hand-crafted models of some of Escher's impossible buildings, plus a good list of links.

PÓgina de M. C. Escher
A fairly informative Escher site in Catalan (also available in Spanish).

Escher by Kilter
Well-organized and attractive Escher site, with many images.

The Virtually Gone Escher Gallery at Berkeley
This used to be a nice gallery of Escher pictures, but now it is just a list of links to Escher-related web pages.

Escher Art Gallery (formerly at Auburn)
Modest but solid Escher image site, with a very broad selection of pictures shown as helpful thumbnails. Includes some of Escher's less-known works.

M.C. Escher at Artists' Market
An art dealer/gallery that handles Escher originals, located in Norwalk, CT. The site includes rare Escher information and photos.

Patterns, Symmetry, and Tessellations
Education-oriented site with broad coverage of symmetry and tilings. Includes some Escher material, and lots of related stuff.

Totally Tessellated
Nice site about tilings and other ways to fill 2D space, including Escher's tesselations.

Ozzigami Tessellations & Punography
Original artistic and thematic tessellations, very interesting work.

Psychoactive Escher Museum
Site where you can download a 3-D walkthrough of some of Escher's works.

The Escher FTP Directory - Sweden
A very good collection of Escher images.

David McAllister's Escher Image Collection
Another nice collection of Escher images.

Escher Picture Slideshow
Pretty substantial collection of Escher images, with a novel Javascript-based slideshow interface.

Escher's Page at Etropolis
A cool-design site where you can explore Escher's ideas and lots of prints.

Escher's "Metamorphose" Interactive
An interesting page where you can examine Escher's 1940 masterpiece Metamorphose interactively. [Requires Java]

Escher at the National Gallery
Escher holdings of the National Gallery of Art in Washington, DC. (Back in early 98 there was a nice exhibit page here, but it seems to have disappeared.)

Hop's 'Delta Blocks' site
Tetrahedral and Octohedral blocks inspired by Escher's print Flatworms (1959).

Interactive Escher Paint site
Cool interactive site that allows you to generate Escher-like tesselation images.
Requires Java!

World of Geometry
Broad geometry site, with some Escher and tesselation material. Features a lot of original geometric designs, some Escher-inspired.
Books about the Life and Work of M.C. Escher
Here are some books (and one interactive disc) that you can read to learn about M.C. Escher.
Bruno Ernst, The Magic Mirror of M.C. Escher (Tarquin, ISBN 0 906212 45 6)
A broad look at Escher's work and comparisons with related artists. Includes some fascinating photographs of Escher at work.

J.L. Locher, ed., The World of M.C. Escher (Abradale Press, ISBN 0-8109-8084-3)
A collection of essays about Escher and his work, including one by M.C. himself. Has a fairly good collection of prints.

J.L. Locher, ed., M.C. Escher - His Life and Complete Graphic Work (Abradale Press, ISBN 0-8109-8113-0)
The most complete treatment of Escher's work and history. Has the most complete catalog of Escher's art, including all the little-known early works.

M.C. Escher, Escher on Escher (Abrams Inc, ISBN 0-8109-2414-5)
A series of essays on Escher's work by Escher himself!

Escher Interactive
(Byron Priess Multimedia, Abrams Inc)
An interactive CD-ROM for MS-Windows, includes history of Escher's work, interactive puzzles, tesselation generator, and print gallery. Available only from Byron Priess Multimedia..
And the incomparable Pulitzer Prize winner..
D.R. Hofstadter, Godel, Escher, Bach: an Eternal Golden Braid (Random House, ISBN 0-394-74502-7)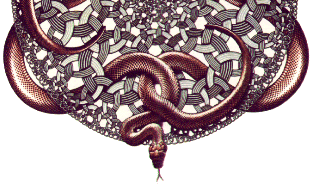 ---
All M.C. Escher works copyright (c) Cordon Art b.v., P.O. Box 101, 3740 AC Baarn, The Netherlands.
M.C. Escher (TM) is a Trademark of Cordon Art b.v.
---
[Ziring MicroWeb Home] [Neal Ziring] [Julie Ziring] [Sign Guestbook]
This page written by Neal Ziring, last modified 1/27/03.