Archived Lunachicks News
-The oldest stuff is on the bottom-
LIMELIGHT SHOW (5/24) CANCELED
From Go Kart Records:
THIS SHOW IS CANCELED - THE LIMELIGHT WAS NOT PAYING BANDS THEIR GUARANTEES, WHEN THE WORD GOT OUT LIMELIGHT DECIDED TO CANCEL ALL FUTURE SHOWS - WE APOLOGIZE - BUT AS USUAL LIMELIGHT SUCKS - WE WILL BE SCHEDULING A NEW NYC SHOW SOON -Greg
-May 22, 2000-
Lunachicks do Warped & US tour- AGAIN!!
The Lunachicks will be doing the Warped Tour again this summer, dates are yet to be confirmed.
Before that, though, the Lunachicks will be doing a 2 week tour in the US in May. Dates will be announced soon.
-Feb 16, 2000-
Lunachicks Press
The Lunachicks are featured in the new issues of "Fabula" (Vol. 3/Issue 4) magazine and "While You Were Sleeping" (#7) mag. Fabula features an interview with Gina plus some really nice pictures of Gina, Squid, and Theo together. You can view the interview and pics online at fabulamag.com. While You Were Sleeping has an interview with Chip, Theo, Gina, & Squid that includes chatter about aliens, clowns, groupies, & more. Pick up While You Were Sleeping at your local record store.
-Jan 2, 2000-
"Say What You Mean" Video Info
Here's some info about the new Lunachicks video for Say What You Mean from Greg at Go Kart Records:
Gina sings the end of "say What you Mean" - Squid and Theo do back ups and that is why there is some confusion (especially if you are watching them play it live). Also the video does look cheap, but what do you expect for a video done by Troma. For years we have spent a lot on videos to have them get played once on MTV - this time we spent less and it's been played twice - so figure that out (with more to come I hope).
Also there are three versions of this video -the one you have seen - Troma version 1 (with special appearances by THe Toxic Avenger and Sgt Kabukiman) and another TRoma version 2 with lot's of goofy jokes. I doubt you will ever see the one with the jokes Because everyone hates it.
We will be doing at least one more video for Luxury Problem - anyone want to make suggestions on which song? (This is somewhat unfair since I have made up my mind already but what the hell, maybe someone can convince me otherwise)
Don't miss the shows on Dec 11 and now 12th at the Continental!
Oh yeah - the small store is actually Soapbox Records, the store we own and our offices are right behind the counter. You can't se back into them becuase we covered the window with posters and the door is shut. The guy who bumps in to Squid is Smelly Sid the intern and Tommie-Ann, who has worked for Go-kart for years, is the shoplifter. The person behind the counter is Joe, our old retail person who no longer works for Go-kart! It was over 100 degrees the night we shot the video, not including all the lights etc.
-Dec 8, 1999-
Second show added!
Not only will the Lunachicks be playing at New York's 300 person-capacity club, the Continental (3rd Ave and 8th Street), but they're gonna be playing 2 nights in a row! A second show has been added for Saturday, December 12. Tickets are $10.00 for both shows and will be on sale at the Continental and at Soapbox Records (113 St. Marks Place between 1st and A). Call Go-kart for questions etc at (212) 253-2906.
-Dec 8, 1999-
Lunachicks video debut on 120 Minutes!
The video for "Say What You Mean" will debut on MTV's 120 minutes on Nov 21 at 12 am (ET)/ 11 pm (CT).With special guests Iggy Pop and Death in Vegas.
If you wanna see it again, request it! Email or visit the official 120 mins page.
-Nov 20, 1999-
Lunachicks show some flesh!
Pick up the new issue of Tattoo Savage, where there is a piece on the Lunachicks talking about their various piercings/tattoos (Theo & Squid). Pictures taken in the shop that Squid works in. Great pics, pick it up!
-Nov 6, 1999-
View the new Lunachicks video online!
You can watch the Lunachicks video for "Say What You Mean" (IT ROCKS!) in a few different places on the net. Here's the specifics:
-Music videos.com requires A Windows Media Player to view.
-SonicNet requires a RealPlayer. You can view "Version #1" and the "Troma version" of the video.
If you don't have the software required to view the video, they can be downloaded for free. Follow the links on the pages.
-Nov 6, 1999-
Update on new Drummer, Helen Destroy!
Helen Destroy, the new Lunachicks drummer emailed me me to clear a few things up, so here ya go: Helen is not the "temporary tour drummer" as previously thought. She will be the drummer "as long as the Lunachicks will have her, which will hopefully be a long time." Like the Lunachicks, Helen is from Brooklyn, New York. She has been playing drums for 9 years.(Yes! That would mean that she started playing when she was 9!) If she looks familiar, then maybe it's because she was Chip's drum tech for a year and a half. According to Helen, Chip said she was pleased that she took her place and that she deserves it.
Hopefully, this will clear up some of the misconceptions out there. She's really personable, and she knows how to rock, so catch up with her! Lunachicks on tour NOW!
-Oct 26 1999-
Theo in New Scorsese Movie: Out Oct 22!
Catch a cameo appearance by Theo in the new Martin Scorsese movie "Bringing Out the Dead," featuring Nicolas Cage, Patricia Arquette, and John Goodman. She plays "Whore #1."
Click for official movie webpage
-Oct 21, 1999-
Go Kart vs The Corporate Giant Vol 2 out!
Pick up the brand new low priced Go Kart Sampler "Go Kart vs the Corporate Giant Vol 2," which contains an unreleased Lunachicks song, "Ay Chihuahua." 25 tracks in all.
Any good record store will carry it. If not, then tell them to get it.
-Sept 23,1999-
Luxury Problem Reviews
You will find reviews of the new album in Request magazine (w/Limp Bizkit on cvr) and the new issue of AP (Tori Amos on cvr) The reviews suck, but I thought I would mention it anyway...(Don't buy the magazines, just read it in the store!) I'll put the reviews up here soon, so check back.
-Sept 1 1999-
Guitar Gal Gina!
Pick up the new issue of Guitar World (OCT '99), and you will find Gina and her guitar adorning one of the pages, finally getting the attention that she deserves. The most surprising thing about the article is that the magazine used Gina's full name, which is something that she has never done before with the Lunachicks. The article is pretty good too, so go get it now!
-Sept 1 1999-
Squid on Film
Check out Squid in the upcoming film from Real Eyes Productions called Open Return, a film by director Christina Post. Squid appears in the film as the character Jenna. Check out the website for updates on the release date of the film, plus see stills, clips and more.
-Sept 1, 1999-
News from Go Kart
The Lunachicks also got done filming a video for the insanely catchy single "Say What You Mean" with Troma President and co-founder Lloyd Kaufman in the director's chair. The videos being sent to MTV where it will almost definitely receive heavy rotation, alongside some of today's hottest acts like Britney Spears and Ricky (no last name necessary). If by some crazy fluke, MTV doesn't play the video, you can catch it as the backdrop for the credits at the end of the upcoming Troma film, Terror Firmer. Lunachicks can also be seen in the film, which by some amazing coincidence, GoKart is doing the soundtrack to.
Theo will return to the silver screen later this year in the upcoming Martin Scorcese film, alongside the once great Nicolas Cage. When the band makes the pilgrimage back East, they'll be jumping onto the Warped Tour to embarrass everyone else on the bill. And for those in need of an additional Luna-fix, the band will be releasing their first home video XXX Naked at the end of August. XXX Naked will feature all the Lunachicks videos (excluding the new one which is being edited as this is written) as well as their short film, Nowhere Fast, and on and off-stage shenanigans. Contrary to popular belief, the band is not changing their name to Richard Marx.
CLICK FOR MORE AT THE OFFICIAL PAGE!
-from Official Lunachicks page at Go Kart Records. Posted Aug 1 1999-
Lunachicks "Stats!"
If you've had the pleasure of attending the Warped Tour, you will find a vital stats section in the official program guide, and here are the "vital stats and fascinating facts" they have listed for the Lunachicks...(it gets better as you read!)
Members> Theo (vocals), Gina (guitar), Squid (bass), Chip (drums)
Label> Go Kart
Originated> 1988
Hometown> New York, NY
Average Age> 12
Total Tattoos> 1 ("We all share it-it's rather large.")
Total Piercings> 1/2
Preferred Hair Dye Color> Plaid and, of course, Manic Panic (all colors)
Fave Bands> Frank Sinatra, the Melvins
Fave Extreme Athlete> Richard Simmons
Contact> www.gokartrecords.com
> Lunachicks are editing a home video of career highlights titled Lunachicks-Naked!
> Outside of Lunachicks, Squid moonlights as a tattoo artist, Theo works as a model and go-go dancer, Gina freelances as a graphic artist, and Chip builds props for TV commercials.
> While on tour, the band employ an extra roadie solely for the purpose of buying, arranging and protecting their sacred donut supply.
-From the official Vans Warped Tour program guide. posted July 21,1999-
Gina featured in AP magazine
Grab the new issue of Alternative Press magazine (w/Kid Rock on the cover) and check out the full color whole page pic of Gina (with one of her guitars). Includes a short Q & A.
LA Weekly's Review of Luxury Problem
-This was sent out by Go Kart Records. Obviously, it's a good review...check it out...-
Since their late-'80s beginnings, when they brattily tossed aside the
street-cred Sonic Youth's Kim Gordon offered them, the Lunachicks have
managed to be the purest of punks by offending punk purists. They
started their career playing with appropriate badness and passion, but
dressed up like thrift-store glitter rockers. They borrowed heavily from
theatrical metal and pop, reinventing the Rock God ethos punks revile.
Now they play too well and have actually started modeling for Calvin
Klein. Yet all this punk rule-breaking only points up how true they are
to the original punk spirit.
On their new Luxury Problem, the Lunachicks continue to beat out
punk-correct short, braying verses on songs like the unison shout-sung
"Knuckle Sandwich," but then stray nose-thumbingly into rock-operatic
histrionics on the choruses. "Hope To Die," for instance, actually
threatens to become an old-style Aerosmith drama replete with Theo's
pointedly over-emotive wailing, but pulls back just in time with lines
like "I take off my bra and cross my heart and hope to die/With a 36C."
This couplet is a small feminist portrait, but, in Theo's suddenly
bellowed reading, it's also a goofy joke, and the effect is one of
schizophrenia rather than serious comedy.
Throughout Luxury Problem, the Lunachicks delight in their refusal to be
defined by any existing touchstones, whether the serious Clash or the
silly B-52s, and there is a wonderfully snotty willfulness about the way
they'll drop in a harmony, say, just when it would most infuriate a punk
scholar. By the time they close out the record with the classic-sounding
90-second punker "Down at the Pub," it's impossible to be surprised when
the belches and fake-Cockney shouts of "Sod off!" make it clear that
they're using punk to make fun of punks. What could be more punk than
that? (Dudley Saunders)
First Ever Home Video Out August 3rd!
| | |
| --- | --- |
| Finally! The long awaited, long overdue home video will be released on August 3rd! Contains all their videos, backstage footage, their first show ever and "Nowhere Fast", their short film! | |
Lunachicks play Fashion Awards show
On June 2, 1999 the Lunachicks performed "Jerk of all Trades" at the American Fashion Awards show. Lunachicks took the stage dressed in clothes personally designed for them by Betsy Johnson and during their song, models walked out from behind the drum riser wearing more of Betsy's clothing.
After they played, the Lunachicks were swarmed by the paparazzi demanding photos. Tommy Hilfiger personally approached them to say how much he loved them and Susan Lucci also told the band how good she thought they were.
The show will be broadcast on the E! Channel on June 13 and 21.
-From GoKart- Posted:June 3,1999

July dates with the Go-Go's!
The Lunachicks will be playing the following dates with the Go-Go's (Reunion Tour)
July 3 - Seattle - The Pier
July 4 - Portland - Meadows
July 7 - San Fran. - Maritimie Hall
July 8 - Los Angeles - Greek Theater
July 9 - Santa Barbra -SB Bowl
July 10 - Las Vegas - House Of Blues
July 11 - San Diego - State U
July 12 - Phoenix - Celebrtity Theater
Posted :June 3, 1999
News from Go Kart -June 1st, 1999-
"Luxury Problem" is getting ready to ship to stores. The official release date is June 8 ....
BUT for those of you in New York City we have a special treat for you. On June 6th you can swing by Soapbox Records, buy a new copy of Luxury Problem and have the band sign it for
you in person. That's right, at 2:00 pm June 6th you can meet the Lunachicks at Soapbox Records - 113 St. Marks Place between 1st and A in the Village.
But there's more..
If you live in New York, you can listen this Sunday to KROCK's Buzz show on Sunday May 30 at 11:00 pm, and listen to the Lunachicks live on the air.
Also check out the Lunachicks live on Sucker on July 2nd at 8:00 pm est. Go to www.pseudo.com/sucker for details! - Pseudo is live net show and you can try and ask the band questions live on the air. (Web master note: see below for more details)
But we are not finished yet....
On June 8th, after you run out and buy your new copy of "Luxury Problem" you can talk to the band on-line. That's right, Theo, Gina, Squid and Chip will be answering all your questions on-line. Just go to www.GokartRecords.com and click the button to go to our message center. You'll have to
register, but once you're in, click on chat and away you go! The fun will start at 8:00 pm est until 9:00 pm est.
Lunachicks record release party is June 12th at Bowery Ballroom here in NYC. You can get tickets now at the Mercury Lounge or at www.ticketweb.com. Get 'em quick 'cause you know that show
is gonna sell out.
Lunachicks will be heading out on the Warped Tour - their dates are below and keep checking the web site to keep up with the new dates.
The date is August 3rd for the long overdue Lunachicks home video "XXX Naked" - all their videos, backstage footage, their first show ever and "Nowhere Fast", their short film!
Lunachicks tour dates so far:
June 12 New York - Bowery Ballroom (Record Release Party)
July 16 New York, NY
July 17 Northampton, MA
July 18 Asbury Park, NJ
July 20 Pittsburgh, PA
July 21 Philadelphia, PA
July 22 Buffalo, NY
July 23 Montreal, QUE
July 24 Toronto, ONT
July 25 Detroit, MI
July 27 Washington, DC
Lunachicks instore
The gals will be stopping by Soapbox Records on June 6th at 2:00 pm in NYC to sign copies of the new album. Get Luxury Problem before it's officially released! More info to come....(see above)
Lunachicks Live on Sucker! June 3rd!
The Gals are gonna show up to talk about their brand spankin' new CD,"Luxury Problem"!!! Hear it there, first...Send email to the chicks to be answered on the show by them LIVE at sucker@pseudo.com. They'll be givin' away some stuff, too...

SUCKER! is a half-hour long weekly LIVE Net TV show full of corny banter
with various Rockstar guests. Catch it every Thursday at 8pm Eastern Time
(http://static.pseudo.com/sucker). We'd love for you to join us in chat
during our show -- if you'd like that too, just click on the link under the
upper right hand video player that says "Launch Chat". The Chat
application will launch automatically right there in your browser. Log on
as a guest, or become a member so you can pick your own chat
nickname...it's all free and easy and you won't get any creepy mass emails.
Promise.

Luxury Problem Out June 8th
The brand new Lunachicks album will be out on June 8th, instead of June 1st, due to a delay on the limited edition silver foil logo that will only be available on the first pressings of the CD version of "Luxury Problem." But good things come with time, so be patient! (I know, it's hard!)
To keep you occupied until the new record is released, check out the Poor Children website for lots of Lunachicks goodies, and check back here soon for a big update!
Magazine appearances
Run out to the store NOW and go pick up the May issue of Interview magazine and the April Issue of Paper Magazine.The Interview mag features a section on bands from NYC, and the Lunachicks have a 2 page full color spread! Brand new pic, it's great. Paper mag features their 50 beautiful people list, and Theo is included! There is a beautiful picture of her wearing a shear dress full of sparkles, and it's almost impossible to explain in words how great she looks. Go get them now! If you can't find Interview in your town for some reason, email me and we can work something out. But the April issue of Paper will be pulled off stands any day now, so I can't get any copies of it.
WANTED: Media and magazine whores! I am a (maga)zine whore and I read a lot of zines (when I actually get time to), so I wanna know when the Lunachicks are featured in any publication. If you spot any Lunachicks features in any publication, email me and let me know so I can go get a copy! If you are an editor/publisher of a publication and want to let fans know that the Lunachicks are featured in yr zine, then I'll post the info here (plus it's free advertising).
I'll love you forever! Thanks.
News from Go-Kart.
The first pressing of the Lunachicks new "Luxury Problem" CD will come with a limited edition silver foil logo. (The LP will not have this) So just make sure you let people to know to get the record when it comes out becuase I am sure we will sell out of these very quickly.
The record release party for Luxury Problem will be June 12th in NYC at Bowery Ballrooom.
Also the Lunachicks will be on the soundtrack to the new Troma Film called Terror Firmer (which will be released by Go-kart) There will also be an unreleased Lunachicks song on Go-kart Vs The Corporate Giant 2 - the new Go-kart low priced sampler ($3.99) which will be out in July

We will have a release dtae for the video next week as well -
(April 25, 1999)
New album out June 1st!
Finally! A solid date for the new Lunachicks album, "Luxury Problem." The album is set for release on June 1st, so mark your calendars. Here's some news straight from Go Kart:
The record contains 15 songs including "Crash" (which you hopefully heard on "Drop Dead Live") as well "Less Teeth, More Tits", "Subway", "The Return of Brickface And Stucco" and more. Sometime soon the Lunachicks home video "Naked" will be out soon as well. We will let you know the exact date as we have it. Also look for the Lunachicks this summer on the Warped Tour.

Lunachicks Video, Comic, & Album to be released!
The new Lunachicks album, "Luxury Problem," will be released on June 1st or June 8th. Plus, the Lunachicks first ever home video, "Naked", will be out soon. A release date has not been set, but a date will be known by the end of April. The video contains footage from their first ever show, the recent show at Bowry Ballroom in NY, videos, their short "Nowhere Fast", tour footage & more!
Gina has been working on a comic, which will hopefully be out this summer. Theo has a few pages in the comic too, so keep checking back for more info!
And finally, check out Go Kart Records revamped Lunachicks page, where you will find a gleaming new photo of the 'Chicks, plus new info on the new record, and more! www.gokartrecods.com/lunachicks.html
Catch the Lunachicks with the Warped Tour!
According to Go Kart, the Lunachicks will be playing the following shows on Warped:
July 16 New York, NY Randalls Island
July 17 Northhampton, MA Fairgrounds
July 18 Asbury Park, NJ Stone Pony Lot
July 20 Pittsburgh, PA IC Light Amph
July 21 Philadelphia, PA Corestates Lot
July 22 Buffalo, NY LaSalle Park
July 23 Montreal, QUE Parc Des Lles
July 24 Toronto, ONT The Docks
July 25 Detroit, MI Pontiac Street
July 27 Washington, DC RFK Stadium Outside
Expect a ton of more dates soon!

More News from Go-Kart FEB '99
The Lunachicks just got out of the studio and are putting the finishing touches on their brand new record . It's going to be called "Luxury Problem" and will be out in late April or early May. The Lunachicks home video "XXX Naked" will be out in April as well. They will be hitting the road shortly after and we will let you know all the dates. Also stay tuned for a Lunachicks surprise
announcement in the next few weeks!

News from Go-Kart-FEB 99
The Go-kart Kissin' Cuzzins Weekend - that's right two nights of fun at Coney Island High
here in beautiful NYC. The first night, Friday, February 26th will
feature our newest superstar band Anti-Flag and Saturday, February 27
will feature everyone's favorite the Lunachicks. There will also be at
least one more band playing each night along with surprises and give
aways both nights.
On Saturday, the Lunachicks will be rocking along with the one and only
Boris The Sprinkler and Doc Hopper. Lunachicks have just gotten out of
the studio and are putting the finished touches on their new record and
home video. Plus expect a Lunachicks surprise announcement soon!
______________________________
Lunachicks live album, "DROP DEAD LIVE", now in stores!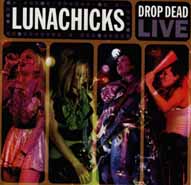 Recorded Live at Coney Island High, NYC, Feb. 21st 1998.
The setlist includes: Yeah - FDS - The Day Squid's Gerbil Died - Gone Kissin' - Fingerful - Throwin' It Away - Spork - Don't Want You - Jerk Of All Trades - Wing Chun - Bitterness Barbie - Drop Dead - MMM Donuts - The Passenger - Butt Plug - Crash - Dear Dotti - P.M.S. - Spoiled
BITTERNESS BARBIE FANLETTER, OUT NOW!!!
Lunachicks Fanletter containing: news, fan art, fan input, interviews and articles. If you'd like to receive one please send a 78 cent stamp or (3) regular 32 cent stamps with your name and address to:
BITTERNESS BARBIE
C/O JEANINE
PO BOX 113
BUFFALO, NY 14220
SINDI LEAVES BAND
Lunachicks guitar extraordinare Sindi left the band in August 1997. This news is a bit old, but many fans are still unaware because there hasn't been much press without Sindi. According to the sources, living in a van and being on the road was hard on Sindi and her marriage. The band have since been touring as a 4-some and to my knowledge, there are no plans for a replacement. My personal best wishes go out to Sindi and I wish her the BEST of luck in the future!
BACK TO LUNACHICKS NEWS/DATES....