GO ELEMENTS

GO In The West
BADUK In Korea
IGO In Japan
WEIQI In China

&copy Craig R. Hutchinson, 19 September 2007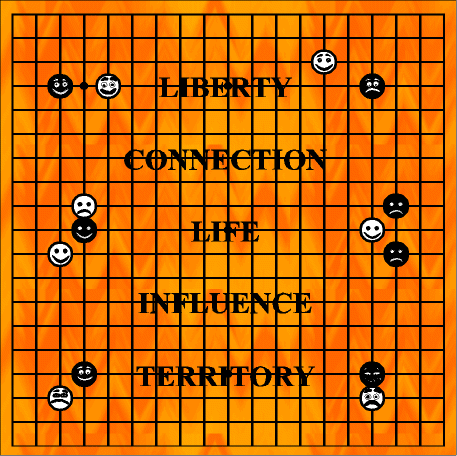 A Contest of
Life, Liberty and the Pursuit of Happiness

GO
A Shape Linking Contest For Liberty
Pursuing Connection, Life, Influence, Territory Happiness.
Each player seeks the strategy and tactics
necessary to acquire the most territory.
Ideally a play has multiple aims to threaten and/or succeed
to Create, Endanger, Expand, Reduce
Connection, Life, Influence, Territory.


THE ART OF GO
Finding the strategical and tactical maneuvers
that equally divide a section of the grid
with respect to the whole grid
via war principles.


OBJECTIVE
To help Go players:
1) Learn the Go shape interaction language and elements;
2) Understand what is happening on the Go grid;
3) Develop Go style and Reckon/Evaluate/Analyze/Diagnose skill.


Reference: Go, An Application of the Principles of War
More Info: Contact Hutch
Phone: 703-698-9811
E-mail: crhutch@erols.com
Net: http://users.erols.com/crhutch/go.html




SHAPES


Links for Connection
--- Contours
--- --- Mobile/Immobile/Flexible/Inflexible
--- Knots
--- --- Firm/Frail/Secure/Weak


Bases for Life
--- Liberties
--- --- Plenty/Shortage
--- --- --- 4 Weak, 3 Trouble, 2 Danger,
--- --- --- 1 Check, 0 Captured
--- --- Shared Enclosed Knotted Impasse
--- Eyes
--- --- Real/False
--- Strings/Groups
--- --- Stable/Unstable/Amuck
--- --- Light/Heavy/Dumpling
--- --- Free/Enclosed/Captured
--- --- Life/Peril/Death


Walls for Influence
--- Strengths for Contentions
--- --- Thickness
--- --- --- Thick/Thin/Solid/Loose
--- --- --- Sturdy/Feeble/Taut/Slack
--- Potentials for Engagements
--- --- Shapes/Points
--- --- --- Possible/Latent
--- --- Liveliness
--- --- --- Vitality/Inert/Interact/Inactive
--- --- --- Relate/Languid/Evolve/Static
--- Powers for Controls
--- --- Direction
--- --- --- Outward/Inward
--- --- Range
--- --- --- Broad/Narrow/Large/Small
--- Pressures for Compulsions
--- --- Impetus/Reaction
--- Forces for Leverages
--- --- Tickle/Fix/Solidify


Frames for Territory
--- Sector-Lines
--- --- Correlate/Torpid/Zippy/Dormant
--- Borders
--- --- Boundary/Edge
--- --- Junction/Confluence/Merging/Unity
--- --- Efficient/Inefficient/Plus/Minus
--- Enclosures
--- --- Area/Sector/Quadrant/Space
--- --- Massive Opulent Yard Organization






POINTS


Salient/Decisive for Control
--- Urgent: Vital/Key/Prime
--- Big: Main/Pivot/Chief
--- Follow-Up: Target


Vital for Shapes
--- Effective/Ineffective/Correct/Incorrect
--- Reasonable/Unreasonable/Focal/Faint


Key for Links
--- Put/Produce/Create/Establish/Develop
--- Pin/Protect/Preserve/Control
--- Peg/Secure/Fix/Connect
--- Peep/Assault/Assail/Attack
--- Poke/Imperil/Endanger/Threaten
--- Part/Destroy/Split/Cut


Prime for Bases
--- Guard/Assail/Ensure/Destroy/Sacrifice
--- Protect/Imperil/Secure/Demolish/Forfeit
--- Preserve/Attack/Control/Capture/Yield


Main for Walls
--- Make/Strengthen/Insure/Secure
--- Assemble/Protect/Fix/Control
--- Build/Form/Fortify/Solidify
--- Puncture/Split/Erase/Destroy


Pivot for Frames
--- Ensure/Secure/Control
--- Expand/Inflate/Enlarge
--- Reduce/Decrease/Diminish


Chief for Maneuvers
--- Style/Fashion/Mode/Trend
--- --- Diagnose/Import/Navigate/Kindle
--- Contrive/Comprise/Begin/Finish
--- --- Devise/Integrate/Necessitate/Kinetic
--- Variance/Divergence/Deviation/Prep
--- --- Decide/Initiate/Nifty/Knit
--- Nicety/Model/Trick/Plan
--- --- Freedom/Creativity/Rationality/Honesty


Target for Aims
--- Links/Bases/Walls/Frames
--- --- Analyze/Prepare/Threaten/Succeed
--- --- --- Strengths/Weaknesses/Options/Threats
--- --- --- Potentials/Powers/Pressures/Forces
--- --- --- --- Able Jobs Inset
--- --- --- --- Mutually Implied Alternate Intents
--- --- --- Organize/Coordinate/Incur/Control
--- --- --- Create/Endanger/Expand/Reduce
--- --- --- Assemble/Assault/Solidify/Subdue
--- --- --- Exchange/Sacrifice/Forfeit/Yield
--- --- --- Contend/Compel/Lever/Inhibit
--- --- --- Build/Assail/Engage/Sabotage
--- --- --- Strengthen/Weaken/Protect/Imperil
--- --- --- Defend/Attack/Secure/Destroy






ACTS


Objectives
--- Organize/Coordinate/Incur/Control
--- --- Connection/Life/Influence/Territory
--- Assemble/Assault/Solidify/Subdue
--- --- Links/Bases/Walls/Frames
--- Diagnose/Import/Navigate/Kindle
--- --- Salient/Decisive Points/Aims
--- Devise/Integrate/Necessitate/Kinetic
--- --- Multiple/Simultaneous Options/Aims
--- --- --- Create/Endanger/Expand/Reduce
--- --- --- --- Shapes/Maneuvers/Contentions
--- Decide/Initiate/Nifty/Knit
--- --- Offense/Defense Choices/Aims
--- --- Start Engaging New Tactical Effort
--- --- Give Out Tactical Effort
--- --- First/Last Play/Tactical Effort
--- --- --- Dual: First-First;
--- --- --- Ripe: First-Last;
--- --- --- Invert: Last-First;
--- --- --- Nilly: Last-Last
--- Synergetic/Play/Adept/Reign/Keen
--- --- Arrange/Priority/Order/Precedence
--- --- Align/Direction/Balance/Aim


Maneuvers
--- Strategical/Tactical
--- --- Reconnaissance
--- --- Deployment
--- --- Connection
--- --- Expansion
--- --- Separation
--- --- Envelopment
--- --- Blockade
--- --- Pursuit
--- --- Reduction
--- --- Penetration
--- --- Infiltration
--- --- Invasion
--- --- Exchange
--- --- Combat


Contentions
--- Fight/Battle/Combat/War
--- --- Shape/Provoke/Attack/Resolve/Key
--- --- --- Bout/Contrive Picks/Aims
--- --- Design/Formulate/Devise/Forge
--- --- Groups: 0-X/1-X/2-X/Y-X
--- --- Unite/Combine/Synergy/Coact
--- Conflict/Scuffle/Skirmish/Joust
--- --- Devious/Induce/Neat/Knock
--- --- --- Finesse/Gambit Elects/Aims
--- --- Initiative/Response/Impetus/React
--- --- Assertive/Submissive/Husky/Supine
--- --- Active/Passive/Severe/Gentle
--- --- Simple/Complex/Accord/Melee
--- Counteraction/Ambush/Clash/Trap
--- --- Dainty/Impede/Nippy/Kick
--- --- --- Ploy/Trick Adjuncts/Aims
--- --- Avoid/Dodge/Sortie/Sally
--- --- Delicacy/Harass/Doable/Prank
--- --- Neutralize/Offset/Nullify/Annul






REALMS


Contestants
--- Health/Morale/Education/Training/Skill
--- --- Knowledge/Intuition/Solving/Cognition
--- Key Offset Mitigating Inequality
--- Time


Stages
--- Beginning/Middle/End
--- --- Lines 3&4/5&6/2&1


Sectors
--- Corner/Side/Center
--- --- Walls/Frames
--- --- --- Direction/Coordination/Balance


Deployments
--- Shape/Formation/Bod/Position/Situation
--- --- Unit
--- --- --- String/Group/Troop/Force
--- --- --- Principle/Subordinate/Primary/Secondary
--- --- --- Ally/Opponent/Support/Enemy
--- --- --- Essential/Crucial/Important/Critical
--- --- Area/Sector/Quadrant/Space
--- --- --- Region/Field/Realm/Sphere/Range
--- --- --- Arena/Domain/Plain/Orbit/Circuit
--- --- Status/Contention Potency
--- --- --- Organized/Disorganized
--- --- --- Overplay/Underplay
--- --- --- Force Economy/Over Concentration
--- --- --- Strength/Weakness/Opportunity/Threat
--- --- --- Strong/Weak/Option/Target
--- --- --- Effective/Inept/Efficient/Inefficient
--- --- --- Asset/Liability/Peaceful/Aggressive
--- --- --- Balance/Imbalance/Settled/Unsettled
--- --- --- Harmony/Astray/Concord/Discord
--- --- --- Equality/Unequal/Even/Uneven
--- --- --- Parity/Disparity/Par/Askew
--- --- --- Steady/Vulnerable/Able/Annihilated
--- --- --- Free/Capture/Life/Death


Results
--- Qualitative Shape-Potency
--- --- Standard/Tense/Calm/Crude
--- --- Good/Bad/Favorable/Adverse
--- --- Flexible/Prank/Pliable/Antic
--- --- Safe/Danger/Tactful/Tactless
--- Quantitative Shape-Value
--- --- Decided/Open/Resolved/Dissonant
--- --- Profit/Loss/Victory/Defeat






KENS

Know/Embrace/Nab/Savvy
View/Perceive/Understand/Discern
Reckon/Evaluate/Analyze/Diagnose
Examine/Calculate/Cipher/Optic
Study/Audit/Investigate/Inspect






STYLES

Study/Train/Yen/Learn/Edit/Solve
Design/Identify/Resolve/Treasure
Vigilant/Rinkydink/Dilecta






SHAPES

LINK SHAPES



Cub ----- Kitten ------ Puppy ---- Knight ---------- Fox ---

Sloth ---- Cheetah ----- Mouse ---- Cougar ------ Tiger -----

Polar --------- Koala --------- Panda ---------- Grizzly ------

Cat --------- Panther --------- Lion -------- Jaguar --

Dobson ---- Collie ----- Spaniel ---- Boxer ----------- Hound

Pug --------- Pointer --------- Husky -------- Basset --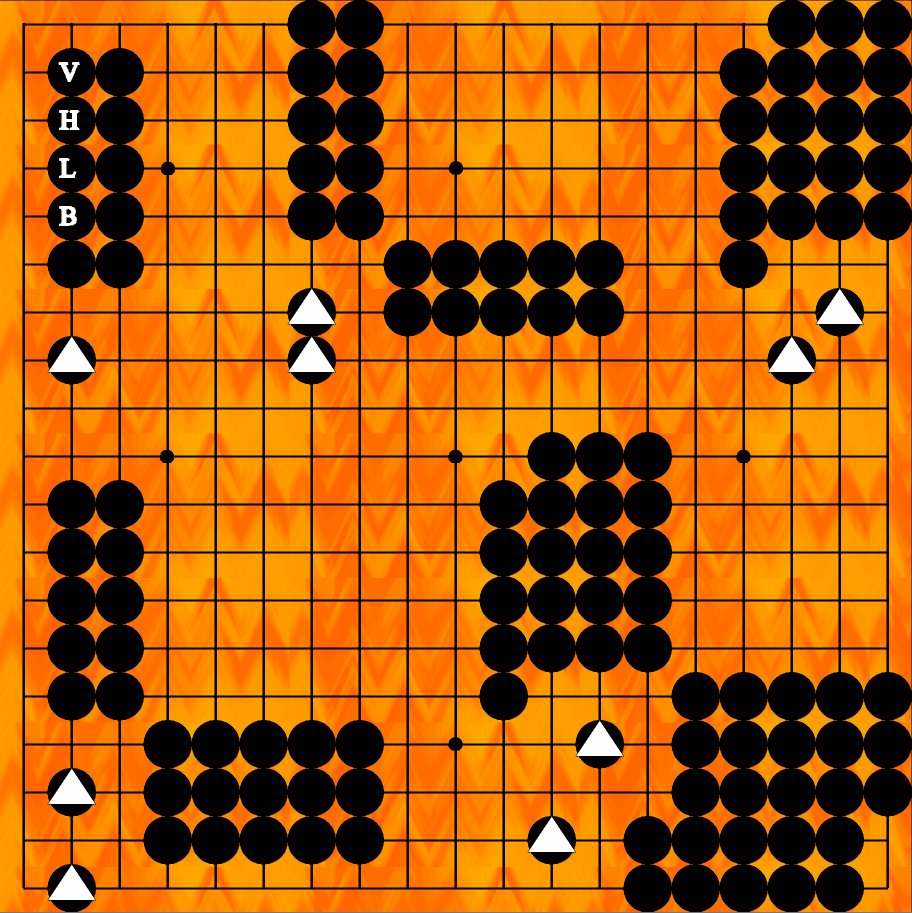 Δ-Shape; B-Big; L-Large; H-Huge; V-Vast
BASE SHAPES UNSTABLE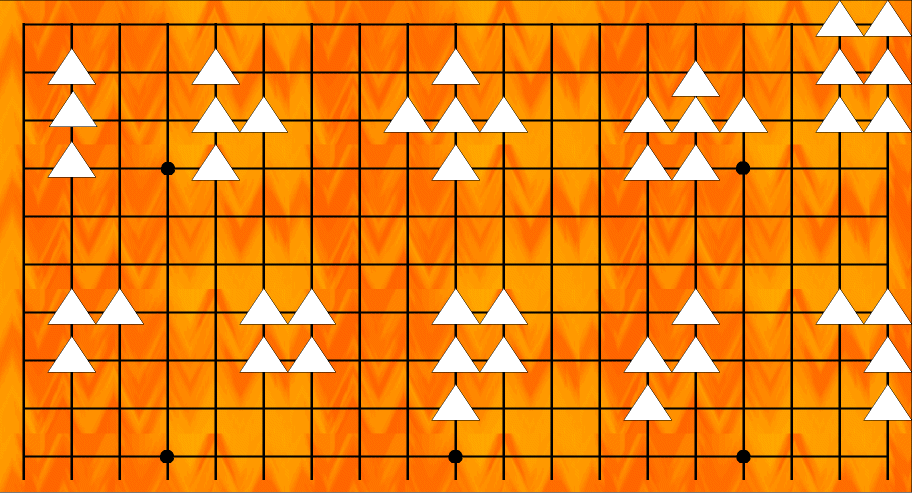 Sloth ------- Hat ------------ Star ----------- Flower ----- Coffin
Mouse ---------- Bud --------- Knife ------ Step --------- Lamb
CONTENTION SHAPES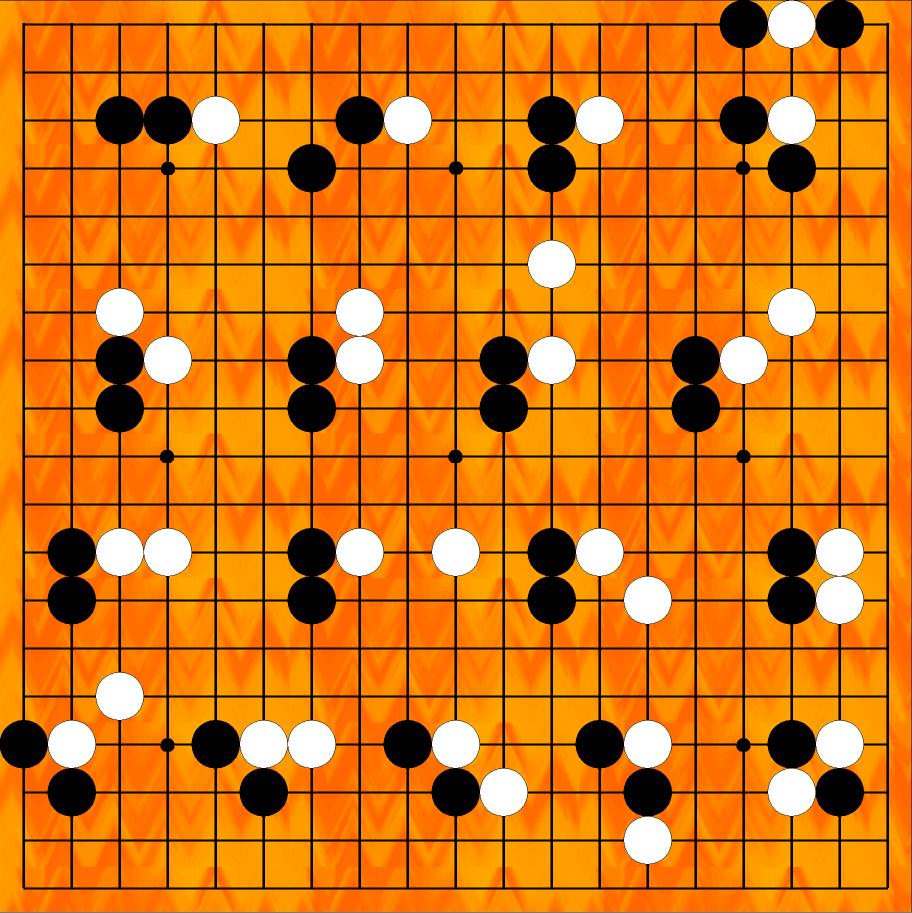 CONTACT
BLOCK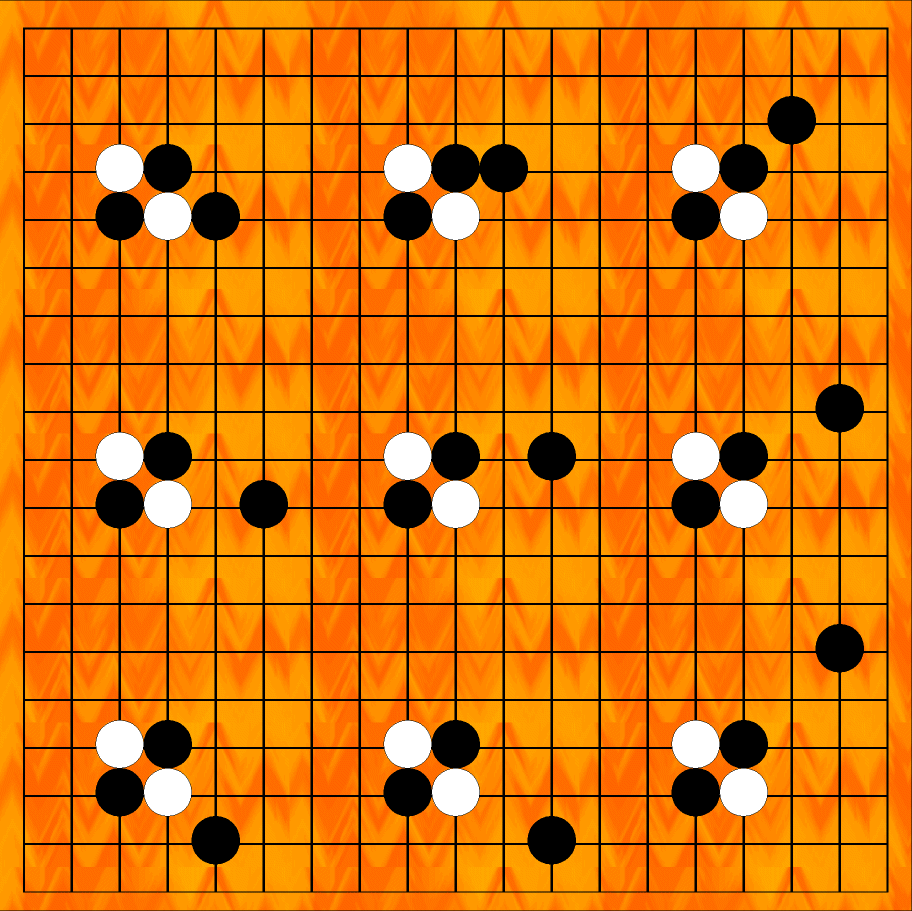 CROSSCUT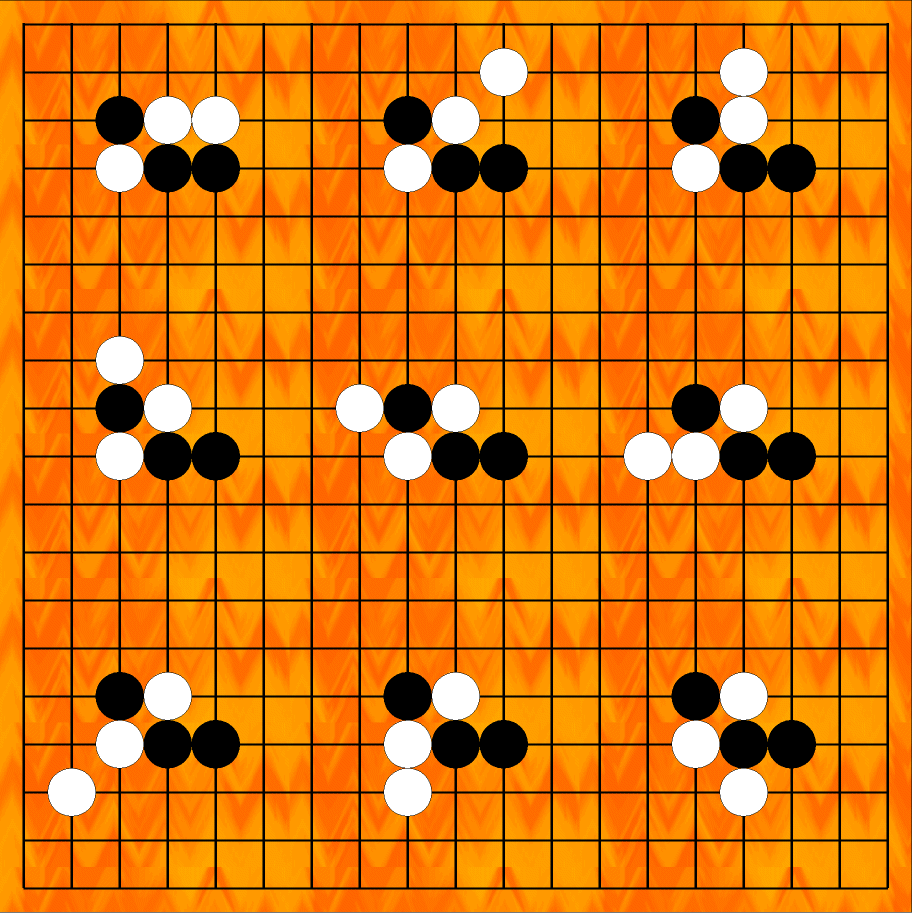 CROSSCUT EXTEND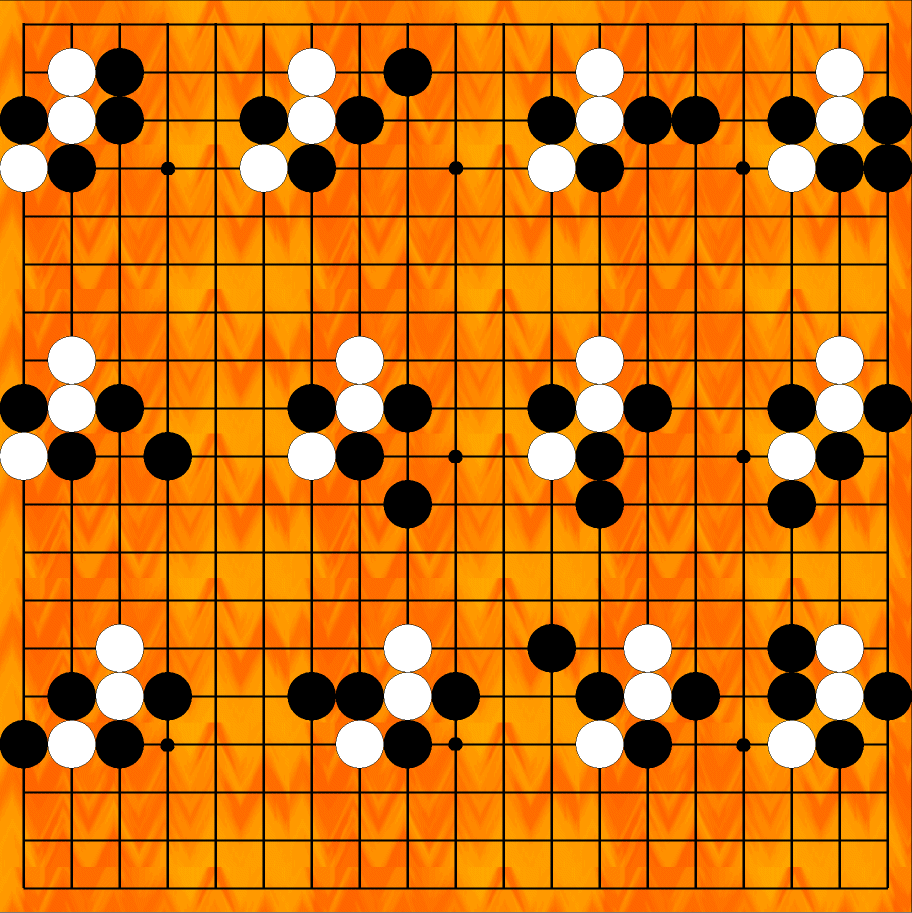 CROSSCUT CHECK EXTEND
STRATEGICAL/TACTICAL
MANEUVERS


Reconnaissance
--- Probe

Deployment
--- Formalized Series (Order, Model, Pattern, Variation)
--- --- Functional Universal Strategy Equalizing Key Intents
--- --- Just Organizing Skirmish Equalizing Key Initiatives
--- --- Tactical Effort Skillfully Utilizing Just Implications
--- --- Strong Agile Beneficial Astute Kinetic Implants
--- --- Harass Attack Mitigating Equal Tactical Efforts
--- --- Honest Opulent Normal Tactical Efforts
--- --- Mimic Action Negotiating Emulation
--- --- Functional Useful Reasonable Interchange -
--- --- --- Keeping Able Walls Agile Range Ideal
--- --- Kinetic Impel Kindly Assaulting Shape Holding Invite
--- --- Squeeze Having Influence By Offering Ramble Implants
--- --- Tactical Exchange Work Analysis Removing Interpolation
--- --- Tactical Effort Nominating Utile Key Intents
--- Shapes: Links/Bases/Walls/Frames
--- --- Force/Leverage/Fix/Situate/Solidify
--- --- --- Group Important/Min Two Ways Help Group/Big Point
--- --- --- Protect Weakness/Get Benefit/Attack Severely
--- --- Action/Measure
--- --- --- Approach/Avoid Weak/Strong
--- --- --- Resist/Assist
--- --- --- Induce/Stimulate
--- --- --- Tickle/Squeeze/Sacrifice
--- Timing/Sequence
--- --- Corner-Side-Center
--- --- Line: 2-Eye, 3-Yard, 4-Influence, 5-Mobility
--- --- Size: Big/Small
--- --- Opening
--- --- --- Settled Groups - Largest Sector
--- --- --- Unsettled Groups - Urgent Sector
--- Attack/Defend
--- --- Strong/Weak
--- --- Alternation/Auxiliary/Multiple
--- --- --- Interchange/Reverse/Succession/Reciprocal
--- --- --- Subsidiary/Additional/Supplementary/Support
--- --- No Contact/Contact
--- --- Direct/Indirect
--- --- Direction/Coordination/Balance
--- --- Mobile/Immobile
--- --- Light/Flexible
--- --- Eye Destroy, Knight Chase, Puppy Block, Peep

Connection
--- Links
--- --- Contour/Mobility (Connection Lines)
--- --- --- Fast 2/Slow 0,1
--- --- --- Side
--- --- --- --- Alternate Lines Low/High/Low
--- --- --- --- --- Strong 1:5, 2:5/Weak 2:4, 3:3
--- --- --- --- Invade 5 Base Heavy/Unstable
--- --- --- Corner
--- --- --- --- Strong 1:5, 2:5/Weak 5:5
--- Fill/Jump/Capture

Expansion
--- Extend/Jump/Slide
--- --- X Stones - X+1 Lines
--- --- Two Frames

Separation
--- Peep/Poke/Cut/Slice
--- Clamp/Wedge/Split/Divide

Envelopment
--- Lean/Surround/Enclose/Net/Seal/Capture

Blockade
--- Approach/Pincer/Net
--- Cap/Press
--- --- Puppy Block
--- Halt A Neb Extension

Pursuit
--- Push/Jump/Chase/Run/Intercept
--- --- Ladder/Puppy/Knight

Reduction
--- Two Frames: 2/1
--- --- Expand/Reduce, Expand/Enlarge, Reduce/Decrease
--- Attach/Shoulder Hit/Cap

Penetration
--- Extend/Jump/Push
--- Crawl In/Out/Through

Infiltration
--- Placement

Invasion
--- Sacrifice/Escape/Connect/Capture Race/Live
--- 5 Line: Base Minus

Exchange
--- Sacrifice/Jettison/Throw-In/Snap Back

Combat
--- Pressure/Placement/Attach/Contact/
--- Block/Double Block/
--- Crosscut/
--- --- Capture/Save Both/Save Important
--- Ladder/Check/Descent: Cub, Puppy/Kitten/
--- Eye Frame/
--- --- Destroy
--- --- Reduce/Placement/Throw-In/7+/6-
--- Thickness/
--- --- Use for - Attack or Push Towards
--- --- Do not - Approach or Make Territory
--- Keep On/
--- --- Echo/Repetition
--- --- --- Value/One Sided/Dominating
--- --- --- --- Direct/Multi-Step/Multi-Stage/
--- --- --- --- Double/Joint/Stagnant/Stalemate
--- --- --- Threats
--- Capture
--- --- Assault The Aliveness Realm Inherent
--- --- --- Check: Single/Double/Serial
--- --- Ladder/Loose Ladder/Double Ladder
--- --- Net/Wrap/Snap Back/Sacrifice/Squeeze
--- --- Eye Steal: Vital Point
--- --- Eye Field: False/Reduce/Placement/Throw-In
--- --- Race 3-3/4-5/5-8/6-12/7-17
--- --- --- Seize Exchange Matching Effort Attacking Interposition
--- --- Echo/Trap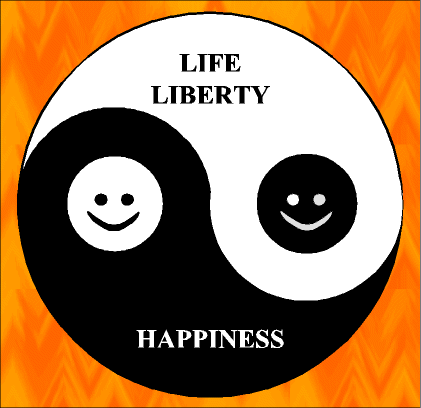 KAP
Know/Accept/Practice
Enjoy Your Good Premises!

to

SPARKS
Shapes/Points/Acts/Realms/Kens/Styles


PRINCIPLES
Objective
Offensive
Mass
Economy
Maneuver
Simplicity
Surprise
Security
Unity


STATE ESTEEM
Reckon/Evaluate/Analyze/Diagnose
Where Am I Going?
Mission
Objective/Aim/Goal/Intent
Maneuver/Strategy/Tactic/Scheme
Plan/Plot/Scenario
Contend/Engage/Control/Compel/Lever
Where Am I At?
Realms/Acts
What Am I Doing?
Opposing Acts


PROVERBS
Prescript/Regarding/Objective/Value/
Engaging/Resolved/Bod/Survey
Precepts for becoming stronger
placing shapes on the Go grid!


ART
Aesthetics/Refined/Tactfulness
The adept strategical and tactical
shape maneuvers on the Go grid!