GO PRINCIPLES

GO In The West
BADUK In Korea
IGO In Japan
WEIQI In China

&copy Craig R. Hutchinson, 20 March 2007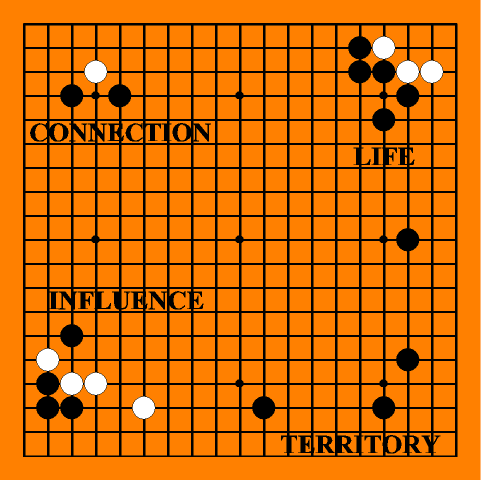 A Contest of
Life, Liberty and the Pursuit of Happiness

GO ORGANIZE
CONNECTION, LIFE, INFLUENCE, TERRITORY
via
Link, Base, Wall, Frame Assembles/Assaults
via
Salient, Vital, Key, Prime, Main, Pivot, Chief, Target Analysis
via
ELEMENTS
Shapes/Points/Acts/Realms/Kens/Styles
PRINCIPLES
Objective
Offensive
Mass
Economy
Maneuver
Simplicity
Surprise
Security
Unity
STATE ESTEEM
Mission
Realms/Acts
Opposing Acts
PROVERBS
ART

OBJECTIVE - To help Go players:
1) Learn the Go shape interaction language and elements;
2) Understand what is happening on the Go grid;
3) Develop Go style and Reckon/Evaluate/Analyze/Diagnose skill.
Enjoy Your Good Premises!

Reference: Go, An Application of the Principles of War

More Info: Contact Hutch
Phone: 703-698-9811
E-mail: crhutch@erols.com
Net: http://users.erols.com/crhutch/go.html



THE WAR PRINCIPLES

Objective - Direct all efforts toward a decisive obtainable goal
Offensive - Seize, retain, exploit the initiative
Mass - Achieve superiority in combat power at the critical place/time
Economy - Allocate minimum essential combat power
Maneuver - Position resources to insure objective accomplishment
Simplicity - Prepare uncomplicated plans for thorough understanding
Surprise - Accomplish purpose before foe reacts effectively
Security - Never permit foe to acquire an extra advantage
Unity - Unity of strategy and tactics by one commander



Deciding
Analyze
To Determine
WHAT
OBJECTIVE
Connection, Life, Influence, Territory
WHERE
MANEUVER
Unit Disposition and Attack Directions
WHEN
SURPRISE
Where and When Actions Take Place
WHY
OFFENSIVE
Decisive Results -
Keep Action Freedom
HOW
MASS
Employ Combat Power
ECONOMY
Task Organization
SECURITY
Multiple Options
SIMPLICITY
Basic Plans
UNITY
Control Measures




THE OBJECTIVE PRINCIPLE

First, CONNECTION,
Maintain Contours for connecting stones.

Second, LIFE,
Maintain Liberties for groups of stones and strings.

Third, INFLUENCE,
Maintain Strength, Potential, Power, Pressure, Force.
(A vacant point is an influence point
if one can connect to the point.)

Fourth, TERRITORY,
Maintain Sector-Lines, Borders, Enclosures.
(A vacant point is a territory point
if one can occupy the point at game end.)

SIXTEEN OBJECTIVES
Threaten/Succeed to Create/Destroy CLIT
Connection TCC SCC TDC SDC
Life TCL SCL TDL SDL
Influence TCI SCI TDI SDI
Territory TCT SCT TDT SDT


STAGE
TASKS
Beginning
Recon, Deploy Links, Bases, Walls, Frames
Middle
Connect, Expand, Separate, Envelop,
Block, Pursue, Reduce, Penetrate, Infiltrate, Invade,
Exchange, Combat, Capture
End
Fix and Close Frames

Foundation: Deploy Shapes and Points
Mobility: Link Contours for Connection,
Contention: Approach, Fight, Reduce, Invade, Escape
Capture: Separate, Envelope, Block, Pursue, Amputate, Life/Death


THE OFFENSE PRINCIPLE

Principal Tasks of Offensive Action
1- Fix your Foe in Position
2- Maneuver in Order to Gain an Advantage
3- At the Decisive Time, Deliver Over-Whelming Destructive Attack

Fundamentals of Offensive Action
1- See the Battlefield
2- Concentrate Overwhelming Combat Power
3- Suppress Foe's Defensive Plays
4- Shock, Overwhelm, Destroy
5- Attack Deep into the Foe's Rear
to Destroy System of Defense
6- Provide Continuous Mobile Support

Designation of Forces
1- Reconnaissance
2- Main Attack
3- Supporting Attack
4- Reserve
5- Security

Types of Offensive Operations
1- Reconnaissance
2- Expansion to Contact
3- Hasty
4- Coordinated
5- Pursuit
6- Exploitation
7- Other: Raids, Diversions, Feints, Demonstrations, Spoiling


THE MASS PRINCIPLE

Elements of Combat Power:
1- Objective Elements: Links, Bases, Walls, Frames.
2- Formation Elements: Shape, Direction, Mobility, Efficiency
3- Status Elements:
Strong = Stable, Light, Firm, Thick, Efficient
Weak = Unstable, Heavy, Frail, Thin, Inefficient
4- Power Elements: Balance, Coordination, Influence, Potential
5- Combat Elements: Attack, Intelligence, Flexibility, Life, Control
6- Player Elements: Evaluation Skill, Health, Morale, Resolution

Balance Power Element
1- Balance formations on third and fourth lines.
2- Balance foe territorial border expansion by similar expansion.
3- Balance foe influence with similar influence.
4- Balance a weak group by making a foe's group weak.
5- Balance a fleeing group by taking a foe's group with you.
6- Balance weak links with foe's weak links.
7- No balance: Create over-balance in other area to compensate.

Strategy and Tactics Goal: Develop/Apply Combat Power Superiority
(i.e. Concentration of Adequate Formations at the Critical Time/Place).
ATTACK: A threat to destroy Links, Bases, Walls, and/or Frames.
INTELLIGENCE: Salient/Vital/Key/Prime/Main/Pivot/Chief/Target Points
FLEXIBILITY: Deploy formations with multiple attack objectives.
LIFE: Construct and maintain operating formations with a base.
CONTROL: Plan/Coordinate multiple attacks and objectives.

In summary, apply mass combat power keeping in mind:
1- Where Am I At: Beginning, Middle, End?
2- Where Am I Going: Objective, Strategy?
3- What Am I Doing: Objective, Tactics?


THE MANEUVER PRINCIPLE

Strategical Maneuvers
Recon
Deploy
Connect
Expand
Separate
Envelop
Block
Pursue
Reduce
Penetrate
Infiltrate
Invade
Exchange
Combat

Tactical Maneuvers
Connection/Link
Foundation/Base
Contend/Combat
Capture/Life/Death
Force/Fix
Finesse/Trick

A few Maneuver Maxims
1- Maneuver on Lines Which Threaten Multiple Objectives/Attacks.
2- Find Attack Threats to Create/Endanger/Expand/Reduce:
Links, Bases, Walls, Frames.
Defense last resort.
3- Territory Strategy Attack Direction: Corner - Side - Center.
4- Influence Strategy Attack Direction: Center - Side - Corner.
5- Base Install:
Empty Corner -
Enclose Corner -
Approach Foe's Corner -
Extend from Corner.
6- Opening Line Phase: 2nd = Defeat, 3rd = Territory, 4th = Influence.
7- Territory/Base: Divide Grid's 3rd & 4th Lines in Order Corner/Side.
8- Influence: Divide Grid's 3rd & 4th Lines in Order Side/Corner.
9- Envelopment: Initially attack opposite direction of main objective.
10- Penetration: Split and attack two or more groups at the same time.
11- Attach to foes formations to strengthen or live within them.
12- Exchange: Trade/Sacrifice Connection, Life, Influence, Territory.
13- Pursuit: Drive foe's stones in direction of your strong stones.
14- Invasion: Plan Sacrifice First, Escape Second, Life Third.
15- Reconnaissance: Light, Flexible, Mobile Formation Shape.


THE SIMPLICITY PRINCIPLE

Simple plans
facilitate flexibility,
enhance control and coordination of combat power,
and permit continuous execution in the face of interruption.


THE UNITY PRINCIPLE

All force elements work harmoniously toward a common goal
and the development and cooperation
of the full combat power of available forces.


STATE ESTEEM

Orderly Thought Process
Diagnosing/Evaluating
Strategical and Tactical Realms.




MISSION

Where Am I Going?
Greater Total Grid Stones/Liberties

BEGINNING STAGE
Primary Strategical Missions
Create Links/Bases/Walls/Frames
1- Influence
2- Territory
3- Influence and Territory

Primary Tactical Missions
Threaten/Succeed to Create/Assault local CLIT:
1- Connection/Contour
2- Life/Liberties
3- Influence/Potential
4- Territory/Borders

Secondary Strategical Missions
1- Reconnaissance
2- Frontal Assault
3- Exchange

Secondary Tactical Missions
1- Insure Mobility with Contour Line Connect/Link
2- Build a Base or Wall with Influence/Potential
3- Contention with Approach
4- Freedom/Capture with Block, Cut, Life/Death Threats

MIDDLE STAGE
Primary Strategical Missions
Maintain Mobility, Life, Influence, Potential to
Create/Expand Territory - Endanger/Reduce Territory
1- Defend/Invade Frames
2- Expand/Reduce Frames
3- Freedom/Capture Stones

Primary Tactical Missions
Use existing formations influence
(Strength, Potential, Power, Pressure, Force) to
Threaten/Succeed to Secure/Destroy LBWF
1- Links/Contour
2- Bases/Liberties
3- Walls/Potential and Power
4- Frames/Borders

Secondary Strategical Missions
1- Reconnaissance
2- Frontal Assault
Block/Pursue
Reduce/Penetrate
Infiltrate/Invade (Sacrifice, Escape, Connect, Capture Race, Live)
3- Separate/Envelop
4- Exchange/Sacrifice
5- Combat/Defense

Secondary Tactical Missions
1- Build more Formations
(Links, Bases, Walls, Frames)
with Influence/Potential
2- Insure Mobility with Contour
3- Contend with
Approach, Fight, Invasion, Reduction,
Escape, Force (Potential Elimination), Defense
4- Capture with Block, Cut, Life/Death

END STAGE
Primary Strategical Mission
Fix/Close Frame Borders
Maintain Connection/Life using Influence/Potential to
Gain/Expand Territory and/or Endanger/Reduce Territory
on a smaller scale.

Primary Tactical Missions
Use existing Formations Influence
(Strength, Potential, Power, Pressure, Force) to
Threaten/Succeed to Secure/Destroy LBWF
on a smaller scale:
1- Links/Contour
2- Bases/Liberties
3- Walls/Potential and Power
4- Frames/Borders

Secondary Strategical Missions
Fix and close the territorial borders on a smaller scale.

Secondary Tactical Missions
Fix and close the territorial borders on a smaller scale.

POTENTIAL
Able Jobs Inset (Aji)
String Shape/Number of Liberties is Potential for Life/Death.
Group Shape/Possible Link Cuts is Potential for Life/Death.
Essential Art of Go Element
Discern/Realize Potential Options
Deploy Formations Creating Influence
(Strength, Potential, Power, Pressure, Force) with
Multiple Options and Flexibility for
Using the Influence to Threaten/Succeed to Secure/Destroy CLIT:
1- Connection/Contour
2- Life/Liberties
3- Influence/Potential
4- Territory/Borders

PROVERBS - ART
Use Go Proverbs and Go Art
to help diagnosing and evaluating
Shapes, Points, Acts, Realms, Kens, Styles
Principles, State Esteem







REALMS/ACTS

(Where Am I At)
Here is an outline to help tickle your fancy
for analyzing Go Realms and Acts.
Play's purpose is a function of multiple attacks
that
Threaten/Succeed to Create/Endanger and/or Expand/Reduce
basic
Connection Links,
Life Bases,
Influence Walls,
Territory Frames.



Considerations Affecting Possible Acts
-- Operation Area Characteristics
-- -- Game Strategy
-- -- Closed vs Open
-- -- Territory vs Influence
-- Grid Strategy
-- -- Opening
-- -- -- -- Fuseki
-- -- -- -- -- Empty Corners
-- -- -- -- -- Enclose or Approach
-- -- -- -- -- Extension
-- -- -- -- -- Checking Extension
-- -- -- -- -- Jump or Reduction
-- -- -- -- Joseki
-- -- Middle
-- -- -- -- Expand
-- -- -- -- Envelopment
-- -- -- -- -- Surround
-- -- -- -- Reduction
-- -- -- -- -- Keep Territory Balance
-- -- -- -- -- Limit Frame
-- -- -- -- -- Prob Foe Response
-- -- -- -- -- Expand Frame
-- -- -- -- -- Invasion Foothold
-- -- -- -- -- Mutual Reduction
-- -- -- -- -- Building Center Territory
-- -- -- -- -- Aim Foe Defect
-- -- -- -- -- Keep Influence Balance
-- -- -- -- -- Reinforce Weak Stones
-- -- -- -- -- Attack Preparations
-- -- -- -- -- Leave Weak Shape
-- -- -- -- -- -- (Shibori)
-- -- -- -- Invasion
-- -- -- -- Joseki
-- -- End
-- -- -- -- 2nd line
-- -- -- -- 1st line
-- -- -- -- Joseki
-- Corner - Side - Center
-- -- Time
-- -- Place
-- -- Overall Position
-- Foe State/Own State
-- -- Shape Deployment/Disposition
-- -- -- -- Links
-- -- -- -- Bases
-- -- -- -- Walls
-- -- -- -- Frames
-- -- Shape Composition/Formation
-- -- -- -- Contour
-- -- -- -- Liberties
-- -- -- -- Strength
-- -- -- -- -- Status
-- -- -- -- -- -- Stable/Unstable
-- -- -- -- -- -- Thick/Thin
-- -- -- -- -- -- Light/Heavy
-- -- -- -- -- -- Efficient/Inefficient
-- -- -- -- -- -- Exchange Points (Miai)
-- -- -- -- -- Ko Threats
-- -- -- -- Potential
-- -- -- -- -- Points
-- -- -- -- -- -- Salient
-- -- -- -- -- -- Vital/Key/Prime
-- -- -- -- -- -- Main/Pivot/Chief
-- -- -- -- -- -- Target/Aji/Miai
-- -- -- -- Power
-- -- -- -- Pressure
-- -- -- -- Force
-- -- -- -- Border
-- -- Peculiarities and Weaknesses
-- -- -- -- Play order (Tewari)
-- -- -- -- Inefficiency
-- -- Recent/Present Activities
-- -- Relative Combat Power
-- -- Score
-- -- Numerical Strength
-- -- -- -- Stones
-- -- -- -- Liberties
-- -- -- -- Ko Threats
-- -- Balance
-- -- Coordination
-- -- Harmony
-- Players
-- -- Health
-- -- Moral
-- -- Training
-- -- Knowledge
-- -- Resolution
-- -- Diagnostic/Evaluation Skill

Foe/Own Capabilities
-- Why attack (Offensive) to gain
-- -- Links (Connection)
-- -- Bases (Life)
-- -- Walls (Influence)
-- -- Frames (Territory)
-- -- Able Jobs Inset (Aji)
-- -- Sente
-- -- Exchange Points (Miai)
-- What to attack
-- -- Link, Contour
-- -- Base, Liberty
-- -- Wall, Influence
-- -- Frame, Territory
-- Where to attack
-- -- Direction
-- -- Strategical Maneuvers
-- -- -- -- Reconnaissance
-- -- -- -- Frontal
-- -- -- -- -- Block
-- -- -- -- -- Invade
-- -- -- -- -- -- Sacrifice
-- -- -- -- -- -- Escape
-- -- -- -- -- -- Connect
-- -- -- -- -- -- Live
-- -- -- -- -- -- Semeai
-- -- -- -- -- Reduce
-- -- -- -- Envelopment
-- -- -- -- Penetration
-- -- -- -- Pursuit
-- -- -- -- Infiltration
-- -- -- -- Exchange (Furikawari)
-- -- Tactical Maneuvers
-- -- -- -- Foundation/Base
-- -- -- -- -- Deployment
-- -- -- -- -- Shape
-- -- -- -- -- Potential
-- -- -- -- -- Contention
-- -- -- -- -- Approach
-- -- -- -- -- Fighting
-- -- -- -- -- Invasion
-- -- -- -- -- Reduction
-- -- -- -- -- Escape
-- -- -- -- Connection
-- -- -- -- -- Strings (Joined Stones)
-- -- -- -- -- Groups (Linked Stones)
-- -- -- -- Capture
-- -- -- -- -- Blocking
-- -- -- -- -- Amputate
-- -- -- -- -- Life & Death
-- -- -- -- Forcing/Fixing
-- -- -- -- Tesuji
-- -- -- -- -- Attachment
-- -- -- -- -- Liberty Shortage
-- -- -- -- -- Placement
-- -- -- -- -- Snap Back
-- -- -- -- -- Spiral Ladder
-- -- -- -- -- Under Stone
-- -- -- -- Finesse/Tricks
-- How to Attack
-- -- Direct
-- -- Roundabout
-- -- Multiple
-- -- Flexibility (Sabaki)
-- -- Exchange (Sacrifice)
-- -- Forcing (Kikashi)
-- -- Multiple Options (Miai)
-- -- Play order (Tewari)
-- -- Mass
-- -- Economy
-- -- Security
-- -- Simplicity
-- When to Attack (Surprise)
-- Defense Last Resort







OPPOSING ACTS

(What Am I Doing)
Eliminate possible foe Acts or capability that:
Affects all Acts
No effect regardless of the Acts
Provides no way to choose Acts
Analyze each Act against
each retained foe Act or capability.
(Strategical and tactical diagnoses and evaluation,
reflecting cognition and understanding
of Go stone shapes and skill in using their possibilities,
via the language of
Go Elements, Principles, State Esteem, Proverbs, Art.)



Compare Your Acts
-- Capability
-- -- Multiple Threats
-- -- Sente/Gote
-- -- Profit/Influence
-- -- Flexible/Inflexible
-- -- Future Possibilities
-- Advantages/Disadvantages
-- -- Thick/Thin
-- -- Light/Heavy
-- -- Stable/Unstable
-- -- Settled/Unsettled
-- -- Strong/Weak
-- -- Efficient/Inefficient
-- Decision




CONCLUSION
The mission of each play is
to Threaten/Succeed
to Create/Endanger/Expand/Reduce
Connection, Life, Influence, Territory.
The objective is to
find and occupy
the point on the grid
at each turn
that combines as many of the
implied and accomplished
strategical and tactical missions
as possible for maximizing
the possible stone and liberty score
in each of the
beginning, middle, end stages.
Enjoy Your Good Premises!

GO
CLIT
via
LAABAAWAAFAA
via
SAVAKAPA
MAPACATA
via
EPSEPA