<![if !vml]>

<![endif]>

Personal Home Page Classic Rags Kitten Page Photo Album Outdoor Enclosure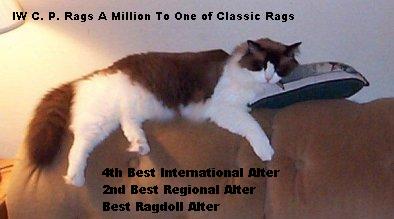 Welcome to Classic Rag's Ragdolls, located in Frederick, Maryland. I offer quality, healthy and loving companions to the discerning Ragdoll lover. Use the navigation bar at the top to browse our special pages.
Ragdolls are a medium large breed, with a soft rabbit type coat. Mature male cats can weigh 15-18 pounds, while females can weigh 10-12 pounds. I offer the three basic coat patterns:
| | |
| --- | --- |
| | Bi-color: Point colored ears and tail. White inverted "V" in their mask, white legs, feet, ruff and stomach. Nose and paw pads are pink. |
| | Colorpoint: Point colored mask, ears, feet, nose, paw pads and tail. A Colorpoint has no white. |
| | Mitted: Point colored masked, ears and legs with white mittens on the front feet and white boots on the back legs. The chin, ruff and stomach are white. |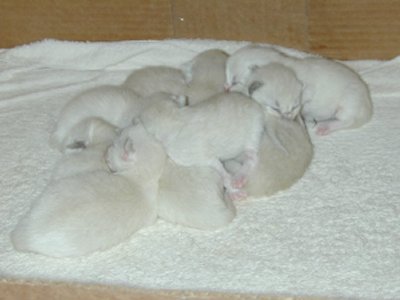 The Ragdoll come in six colors, and I offer blue and seal.

As you can tell from these guys (actually guys and girls), Ragdolls start out with little to no color showing, and since they reach maturity in 3-4 years, your Ragdoll will change with age. An unaltered male can have a much darker coat in a shorter period, while a neutered male, such as Casey up top, can take up to four years to reach full color and coat maturity.

Ragdoll Breed Contacts
Cat Associations
Ragdoll Rescue
Breeder Finder
Ragdoll Ring of Interest: Looking for some new places to visit you haven't seen? Check out this exciting way to see your favorite cat around the world!
Royal Canin, USA: I proudly recommend Royal Canin Cat Food.
For more information, email me at classrag@erols.com