Welcome to Kiwi´s Web Page!

July, 1998 - Age 2 weeks?

Hi, I'm the largest reptile in the Ziring household, and my name is Kiwi. Sometimes, feeders used to call me 'Shortstop' because I looked like Mike Bordick (former shortstop for the Baltimore Orioles). More recently, they've started calling me 'The Desolator' because I like to have a bit of fun moving knick-knacks around while they're out of the house. When I was little, I was very timid, but now that I've reached adult size, my male nature has emerged: I'm bold, outgoing, and lazy. You can follow my growth in the chart and graphs below.

Measure
Date
Length (inches)
Overall
Snout-vent
5 Jul 98
11 3/8
3 1/8
12 Aug 98
13 1/4
3 5/8
2 Oct 98
17
4 7/8
3 Nov 98
21 1/2
5 1/2
30 Jan 99
27
7 5/8
19 Mar 99
29 3/8
8 3/8
15 Apr 99
31
9 1/4
30 Jun 99
38 1/2
11 1/2
28 Aug 99
45 1/4
13 7/8
31 Oct 99
49 1/2
15 1/2
20 Nov 99
50 1/2
15 1/2
13 Jan 00
51 3/4
161/4
19 Feb 00
53
16 1/2
5 May 00
54 1/2
17 1/4
15 Sep 00
55 1/2
18
15 Jan 01
56 7/8
18 1/4
30 Jun 02
60
19
My full taxonomic name in the animal kingdom is: phylum CHORDATA, class REPTILIA, subclass LEPIDOSAUROMORPHA, order SQUAMATA, suborder Sauria, family Iguanidae, species Iguana iguana.
The picture above was taken in mid-July 1998. I came to live with Neal and Julie Ziring on July 3, 1998. Before that, I lived at House of Tropicals in Glen Burnie, MD [no web site yet]. I was born on a crowded green iguana farm in San Salvador in early June, 1998.
---
Kiwi's Growth in Pictures
Here are some more recent pictures, the first was taken in early March and the second in early August, 1999. In the first picture, Kiwi is 8 months old and a little over eight inches SVL. In the second, he is almost 15 months old, and about 13 inches SVL. In the third, he is almost 2 years old, and a little over 17 inches SVL. The length numbers don't really express how he bulked up over that period. To help convey the idea of how fast a well-fed male iguana can grow, the same branch is shown in all the pictures. It is also the same one that Kiwi is clinging to in the picture at the top of this page!


Age 8 months


Age 15 months


Age 23 months
---
Young Iguana Care
A baby iguana, like any very young animal, needs the proper environment and good nutrition if you want it to grow up healthy and strong. Baby iguanas are pretty hardy, but they still do best when their special needs are met.

First, we tried to understand the iguana's background. In their natural jungle/forest environment, adult iguanas have very few threats to contend with. Therefore, they tend to be rather laid-back and complacent animals (except during breeding season). Young iguanas are not nearly so safe, and therefore nature has given them a very alert and cautious attitude. Now, iguanas are pretty smart, as reptiles go, and even a baby iguana will learn to trust its food source eventually. Until the bond of trust is established, it is very important to treat the iguana gently and to give it quiet and unfrightening surroundings.

Second, iguanas grow very rapidly when they are young. To achieve this, they need to eat and digest a lot of food. In the wild, even young iguanas are practically total herbivores. They have evolved to eat mostly leaves, some fruits and vegetables, and some flowers. Their digestive system works by bacteria-aided chemical breakdown, and this process needs heat to work well.

Third, iguanas are ecto-therms (cold-blooded), and must have a heat source available to them but not forced upon them at all times during the day. They cannot tolerate very cold temperatures, and baby iguanas are especially susceptible to infections and other problems if they are exposed to temperatures below 60 degrees.

With these points in mind, here are some care tips for young iguanas that we've gleaned from books and web sites, and tried to apply in our care for Kiwi when he a very young iguana. Apparently it worked, because he is now very big and healthy. For more care information, please visit the Giant Green Iguana Page.

Housing

A young iguana must have a sturdy and well-ventilated cage or tank, they are too small to free-roam a house as many adult iguanas do. A 45-gallon fish tank with a wire-mesh cover is good for the first year or so, although a 29-gallon will do for the first few months if you don't have anything else. For this baby iguana, we used a 16 cu. ft. wooden cage we'd built for our last iguana.
All iguanas need to have both hot and cool areas available to them, so that they can thermo-regulate. Hot rocks are a bad idea - iguanas do best with heat from above.
Cage substrate is important. Avoid stuff that the young iguana will eat, like gravel. We've had good luck with washable indoor-outdoor carpet. Some people use sand, but I don't have enough information about the potential hazards of this to recommend it.
Even though baby iguanas rarely drink water, they still need to have some clean water available to them at all times. Some iguanas will foul their water, so change it often. Also, it is a good idea to spray a baby iguana regularly with a water in the form of a fine mist from a small spray-bottle. A strong spray that an adult iguana would relish can frighten a baby iguana.
Because they are so timid, a baby iguana needs a hiding place where it can feel enclosed and secure. Some pet stores sell such hidey-boxes, or you can make your own from a small shoe-box.
Lighting is also important. First, try to give your baby iguana real sunlight when practical. Second, in addition to a heat lamp use a reptile-oriented florescent bulb that has full-spectrum UV; even the best full-spectrum bulb is inferior to real sunlight with respect to the UVB that your iguana needs, but it is a good supplement especially in the winter.
Make sure that your iguana cage set-up makes it impossible for the lizard to touch their light bulb. A baby iguana can easily suffer serious burns by getting too cozy to a hot lamp.

Feeding

Baby iguanas need lots of good leafy greens, supplemented with vegetables and a little fruit. Good greens include collards greens, escarole, mustard greens, and turnip greens; any lettuce is inadequate, and iceberg lettuce is useless. Good vegetables include squashes, peas, beans, and green pepper. Good fruits include apples and most kinds of berries. See the links below for more iguana diet details.
Baby iguanas will usually be very timid about eating at first, mostly because they are nervous and shocked at being moved to a new home. Make it easy for them by chopping their food small, but not so small that they won't recognize it! After a baby iguana is eating well you can puree its food for easy digestion, but a brand new arrival may need the visual stimulus of a recognizable leaf to initiate feeding behaviour.
Supplements can be helpful for young iguanas as long as you don't overuse them. A tiny sprinkling of reptile calcium supplement every day or two is good, and a tiny sprinkling of vitamin supplement once a week is plenty.
Baby iguanas want to eat lots of food, but their mouths are small and their jaws are weak. Iguanas cannot and do not chew, so cut foods into long narrow strips so that the little iguana can swallow them more easily.
Watch carefully for signs of metabolic bone disease (MBD), and if you see any then consult a vet for further advice. MBD is a complex and serious condition that primarily results from calcium deficiency. Signs of MBD include swollen, mis-shapen jaw, twisted or puffy limbs, and mis-shapen back.
A baby iguana that is not eating can sometimes be tempted into doing so by offering brightly colored food - yellow and pink have worked best for us.
We usually mist the iguana's meals with water to try to prevent dehydration. All iguanas should have clean water available to them at all times, but getting them to drink it can be difficult.

Handling

When you first get a baby iguana, do not handle him. Wait 3-4 days before picking up a new arrival, if possible. After that, gradually increase the amount of handling until you are holding and carrying the young lizard 20-30 minutes each day.
Young iguanas are delicate, and cannot play rough-and-tumble games the way kittens and puppies can. Always be gentle but persistent. [Note: if you always put the iguana down when it squirms or whips, then you are just teaching it that you can be scared away easily. Persistence is important.]
NEVER grab any iguana by the tail. Young iguanas especially will drop their tails (autotomy), and while a kind of tail will grow back it is never as nice as the original.
Baby iguanas, and some adults, find threatening anything approaching them from above. When you go to pick up a timid iguana, always lift it from underneath.

Miscellaneous

Iguanas need exercise, especially youngsters. Climbing is a good and very natural exercise which young iguanas will do with a little encouragement. Be sure you provide climbing branches in a baby iguana's cage, and also encourage them to climb your arms and whatnot when playing with them.
Iguanas can easily overheat if left on a sunny windowsill or porch for too long. If your iguana opens its mouth and seems to be laughing or choking, it may be too hot! Get it into some shade to cool off.
Some iguanas are very afraid of loud noises. It may be best to remove an iguana from a room before vacuuming the carpet or doing any other very loud activity.
A baby iguana may nip you - don't worry, it doesn't hurt until they get bigger. (Always wash any iguana bite with lots of soap and water.)

There are good books on iguana care in any large book store. For example, Green Iguana - The Ultimate Owners Manual by James Hatfield and Iguana Iguana - A Guide for Successful Captive Care by Fred Frye are both very well-respected.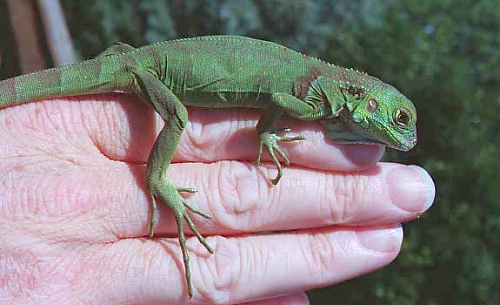 Note: I now weigh over 100 times as much as when this picture was taken!
---
Great Iguana Links
For many more links, visit the home page of my late predecessor, Yoshi.

You can also visit the page of my small associate, Sidney the bearded dragon.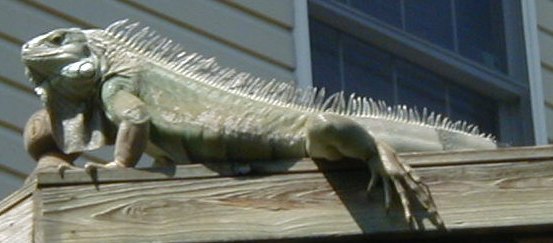 Kiwi enjoying the sunshine on NIAD, September 9, 2000
---
[Ziring MicroWeb Home] [Yoshi's Page] [Sign Guestbook]
This page written by Neal Ziring, last modified 4/17/06.