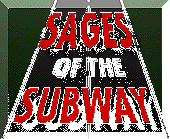 Part II Now Online!
The second installment of Sages of the Subway is now live on the Wanted web site. And appropriately enough for that site, the topic this time is bootlegging and taping.
Now we're going to start circulating your questions to our esteemed panelists. The final installment of the series will be posted here, and will consist of your questions -- and their answers.
To e-mail your question to our panelists, click here.

Errata
Last issue, we wrote: "That we care whether the live B-side of "Incident on 57th Street" crossfades the 12-31-80 performance with crowd noise from the 7/7/78 Roxy show suggests that maybe we ought to get a life."
Reader Aaron Yoshinobu reminds us that "Incident wasn't played on 12/31/80", although he modestly adds, "I guess you're right; I ought to get a life ;)."
He's right -- on the first part, anyway. It was played on 12/29/80. We regret the boneheaded error.
Links
Backstreets
Badlands
Boot Camp
The Boots
Bosszine.com
Brucelegs
Erik Knevelbaard's Links Page
Greasy Lake
Luckytown
Point Blank
The Source
Wanted
Where the Rivers Meet

Read Past Issues
Version 2.03, 9 May 2000
Version 2.02, 12 February 2000
Version 1.3, 19 December 1999
Version 1.2, 24 November 1999
Version 1.1, 15 November 1999

You may e-mail us at
thehitter@hotmail.com




The First Hitter Contest

We at The Hitter were great fans of Trace Hull's now defunct Murder Incorporated. We intend no knock on Backstreets, which long ago reached the heights of glossy paper. But to us, Murder Incorporated was a fan's fanzine, with reviews of circulating tapes and videos. It seemed like it was written by somebody like you and me.

And it had the coolest name in the Springsteen fanzine business. If Dave Marsh created the myth of "The Promise," culminating in a wildly improbable Grammy nomination 22 years after its recording, then Charley Cross and crew created the myth of the Murder Incorporated LP, the great lost Springsteen album, on which the color and sunshine of "Born in the U.S.A." was forsaken for the gritty urban noir of the title track and the apocryphal "A Gun in Every Home."

Trace Hull was apparently so taken by the Murder Incorporated myth that he not only named his fanzine for it, but devoted one entire issue around it -- a highly weird piece of fan fiction (largely reprinted in Backstreets #47) in which he invented a Murder Incorporated album (with fictional song titles) and pretended it was released instead of Born in the U.S.A.

This is the spirit in which we at The Hitter unveil our first contest:

Pretend Bruce Springsteen released one studio album between when the River tour concluded in 1981, and when Live was released in 1986. Give us the album title, the track list and the first three singles, complete with b-sides.

The best album wins something cool. We don't know what yet. Maybe it'll be Soundboard Night in Phila Vol. 4 on the Plastic Poodle label. (Heh!) But it'll be something cool.

Now, a few ground rules:

Don't send us the track list for Nebraska. You will lose. Even it's electric. And do not, oh no, do not send us the track list for Born in the U.S.A. Not only will you lose, we will hold you up to ridicule before your peers and force you to account publicly for the baffling persistence of "Bobby Jean" in the current tour's set list.


Real songs only, please. Keep the likes of "Night Farm" to yourself. And if you send us something we haven't heard of, be prepared to persuade us it exists. Just because Patrick Humphries said it did in Blinded by the Light ain't good enough. A tape would be nice. (Heh heh!)

The deadline for your entries is June 29 -- the 16th anniversary of the Born in the U.S.A. tour premiere. E-mail your entry to thehitter@hotmail.com.
For years, we fans have claimed to be smarter than Jon Landau. Now's your chance. Prove it. May the best producer win.