LUNACHICKS -Bio/Press Release for Luxury Problem!-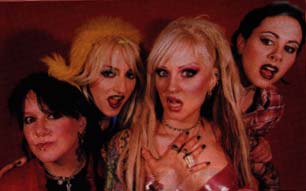 April 1, 1999
Dear Mom & Dad,
I know you're still not speaking to me after my refusal to quit the
Lunachicks and get a real job, and I know you thought it was just a teen phase
when we started rehearsing in my bedroom back in high school. Even when we
played our first show back in 1988 in our hometown NYC you thought I might soon
come to my senses and go to college, maybe major in proctology or yiddish
theater. I remember when we got our first record deal and signed to Blast First
Records after being discovered by Kim & Thurston of Sonic Youth in 1989, you
said I'd have to change my name and stop calling you altogether. But since then
we've traveled all over the world touring with great bands such as, the
Offspring, Marilyn Manson, No Doubt, Rancid, NOFX, Rev. Horton Heat, Ramones and
so many others. We've recorded five full length albums, a Japanese E.P., a bunch
of singles and compilations. We've made several videos, appeared in movies and
all the major magazines and now we're releasing our own home video this spring
called "Lunachicks -Naked"; 10 years of footage compiled into this stunning
piece of entertainment.
Mom, kids really dig us! You always said I was a weirdo, but now it really
means something. The fans go wild for our frenzied mix of punk, metal, pop and
rock. They like our witty lyrics, screaming guitars and kick ass rhythm section.
The crowd sings along to the hits like, "Spork" ("Is it a fork or is it a
spoon?"), "Drop Dead", "Dear Dotti", "Apathetic" and "Say What You Mean". We're
alive and energetic on stage and they say, we're pretty snappy dressers too!
Butt, the reason I'm writing, no I don't need money this time, (and it's
been quite a while since my last arrest) is to tell you that we have a new
record out in June called "Luxury Problem". It's our 6th L.P., our 6th!! I can't
believe it
We've been through a lot of changes in the past year and a half. My
macrame coach says it's our "Saturn Return" that's like going through puberty
all over again except this time I already have hair.
Sindi our rhythm guitarist has left the band, so now we're a four piece. As
with any change adjusting takes some, time, (like you've always said) and in the
end it all works out for the best, so here we are new and improved and finally
matured .... (in your face, doody head!)
Oh and yes Dad we're still on Go-kart Records (the label you said had a
stupid logo). Last year we released our first live record "Drop Dead Live" so I
guess this makes "Luxury Problem" our 4th release on Go-kart. Greg Ross (owner)
says we'll be getting our first royalty check any year now, whatta guy.
Well gotta go to rehearsal now, our record release party is coming up (June
12) and then we're off to do the Warped Tour in July. So if you still don't
want the neighburs to know that we're related, now is the time to pack and move
far far away (I hear Antarctica is lovely this time of year) because we're
taking over the world. So lock up granny, plugg your ears, and take cover.
Lots Of Love ,
Your wayward daughter and her no good pals Lunachicks XXOO
_____________________
_____________________
GIRLIE ACTION PRESS RELEASE-1999-
T H E L U N A C H I C K S
Luxury Problem
(Go-Kart Records)
* * * *
NYC record release party June 12,
Warped dates in July!
"For those who may dismiss them as just another kooky girl band,
may we suggest you pay a little more attention..."-Alternative Press
They've been there since the beginning... The Lunachicks are easily one of the hottest, strongest,
most outrageous and most reliable punk/metal bands the East Coast has ever spewed forth. They've
been recording and touring for most of the '90s, sharing the stage with some of hard rock's most
seminal bands. No surprise that the 'Chicks have such a staunch and loyal following of rabid fans
who can just never get enough. And you think you've got problems?
"Their theatrical punk metal is no holds barred -- chunky riffs, ribald rhymes and gobs of bad taste
...as riotous and irreverent as it gets..."-RIP
So what do are a bunch of girls to do after eight years, five records (not to mention countless
compilations and film soundtracks), and a kazillion nights traipsing around the globe with a bunch of
sweaty boys and truckfulls of gear -- all the while looking every bit the glamorous gals that the
Lunachicks are? Trim it down and turn it up, that's what!
The Lunachicks are leaner and meaner than ever -- musically speaking, that is! Now a four-piece
(Gina, Squid, Chip and Theo), they've recorded Luxury Problem, their best record ever. No fooling...The songwriting is more mature, the playing is superior. And the live show? Well, like we said, youcan always count on these girls for a damn good time. There just ain't another show like it!
'The Lunachicks are a hard act to follow... like downing a 12-gallon pot of strong coffee laced with
hallucinogens... and seeing them was like getting hit in the head with a lightening bolt."
- Austin American Statesman
Don't miss the Lunachicks when they hit the stage:
April 22 New York City Don Hill's
June 12 New York City Bowery Ballroom
(Record Release Party)
*July 16-27 tba Warped Tour
*Warped dates will be followed by a full national tour in August
Oh, and one more thing. The Lunachicks are making a movie: "Lunachicks -- Naked!" Don't miss it!
And don't miss your chance to hook up with the Lunachicks...
GIRLIE ACTION MEDIA, INC