FOR IMMEDIATE RELEASE
CONTACT: Laura Overstreet
(703) 838-4200, ext. 206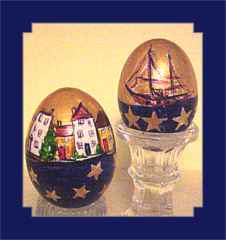 ALEXANDRIA VISITORS CENTER DISPLAYS
WHITE HOUSE EASTER EGG
Artist Barbara Januszkiewicz Paints Virginia's Egg
Alexandria, VA (April 4, 2000)- Easter will come early at the Alexandria
Visitors Center when artist Barbara Januszkiewicz displays a colorful
hand painted egg in the Center throughout April. The egg is similar to one
she painted to represent the Commonwealth of Virginia in the 2000 White
House Easter Egg Display.
The White House Easter Egg display, sponsored by the American Egg Board,
presents a decorated egg from each state in the United States and Washington, DC. Januszkiewicz's egg shows the waterfront of Old Town Alexandria, complete with historic townhouses. Gold stars represent the 13 original colonies. The display is part of the White House Easter celebration that also includes a traditional egg roll and other events for children.The egg will be on display at The White House for approximately three weeks prior to Easter and one week after the holiday. During that time, everyone who tours The White House will have a chance to see this egg. After the Easter season, the egg will become part of The White House permanent collection, and eventually part of Clinton library.
The artwork can be viewed on the American Egg Board's website, www.eggcouncil.com. Januszkiewicz will also display a watercolor depicting a celebration of Easter in the Visitors Center. The artwork was considered for the cover of the White House Easter brochure. Her artwork also
appeared on the cover of the 1999 Official Alexandria Visitors Guide.
For more information, contact the Alexandria Convention & Visitors Association, 703-838-4200, ext. 206. For more info on Barbara Januszkiewicz see www.erols.com/januszkb/bj
-End-

Jeremy Harvey
Marketing Communications Manager
Alexandria Convention & Visitors Association
(703) 838-4200 ext. 207
The Fun Side of the Potomac!
www.FunSide.com
BACK TO BARBARA'S HOME PAGE