TRACKING THE GROWTH OF TWO ARTISTS
By Lenny Campello
Some artists, such as Picasso, are able to produce extraordinary pieces of art even as children. Their skill and technical ability blossoms without the need of schools or practice. Others, like Van Gogh, struggle and fail, but never give up, until their will and skill meld together to deliver accomplished works of art. The Van Gogh Museum should be a required tour of every artist who has struggled to achieve the correct twist to a human hand, or the right cerulean for an evening sky. The museum's diverse Van Gogh collection includes many pieces from the period when the luckless Dutchman was teaching himself how to draw and paint. There are paintings and drawings which are sometimes awful in design and technique, but nonetheless important, as the visitor can trace Van Gogh's growth as a painter. In the end, we stare in awe at the power and creativity of his mature work.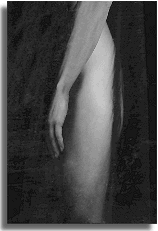 There are two artists on exhibition in different Alexandria galleries this month whose work I have seen grow, not from the infantile stages of the early van Gogh, but grow nonetheless. I have watched their pieces pop in an out of group shows or even solo shows, and seen the inexorable growth of skill, vision and technique.
At the Art League, Val Newton, a professor of art at Montgomery College, selected the monthly juried show. From the usual field of strong entries (she picked 104 pieces from 472 submitted), she has picked a rare lackluster show for this excellent gallery. In my opinion, I think she tried to over reach her academic views upon the free spirited sort of artist who usually joins the Art League, and her over selection of weak abstract work is best exemplified by the Urquhart Award winner, a rather forgettable mixed media entry reminiscent of a art school collage assignment.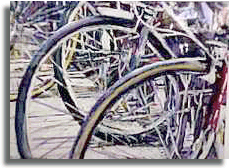 There are nonetheless some excellent pieces in the show (as there are always in an Art League Group show) such as Jackie Saunders watercolor "Sweetness & Youth," and J. Steele's brilliantly erotic "Veiled in Black" photograph. But the best piece in the show (which in all fairness also received a prize from the juror) is Barbara Januszkiewicz's terrific painting "More Bike Series # 15." This gutsy painter has slowly but effectively been pushing her painting skills and imagery since I first saw her watercolors in the early 90's. I always thought of her as a watercolor painter (that's all I had seen), and then suddenly a couple of years ago a series of exquisite oils began to pop up in group shows all over Washington. With the "Bike Series," she has almost crossed the border into the deft application of pure color, in intimate sized canvasses, where bicycle wheels, seats, spokes and colors all loosen up in a wonderful landscape of intelligent brushstrokes and innovative composition - the growth in skill and creativity has been dazzling, and this entry is a perfect example of the skill and talent achieved by this hard-working and highly effervescent artist!
At Gallery West, Nilo Santiago shows his latest acrylic paintings in an exhibition aptly titled "Dining Out." This is Santiago's eight solo show at Gallery West, and I have probably seen most of them over the years, but it is in this exhibition of urban landscapes from his travels in Europe (as well as several local scenes), that the rubber has finally hit the proverbial urban road for this artist.
There is a certain sense of light and movement and flow in the painting of an urban landscape which past artists (such as the Ash Can School painters) mastered, or contemporary masters (such as New Yorker David FeBland) can deliver onto a canvas. Santiago's paintings include scenes from Germany, Spain, Texas, New York as well as DC and Alexandria, and while they lack the fervor and intensity of a FeBland painting of New York, they nonetheless capture a slice of time and color with talent and skill which this hard-working artist has taught himself through the application of theory with hands-on experience. In summary, this exhibition marks the turning point for Santiago's painting lifeline.
Elsewhere Karen Keating has some superb photographs at the Factory Photoworks Gallery. I specially liked "Childhood" and "Fallen Angels" which capture a sense of time and atmospheric pressure that give the silver gelatin images weight and presence.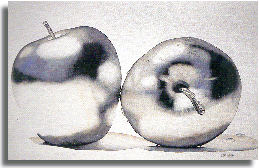 Finally, and through August 13, the Target Gallery will have an exhibition of Tanya Davis' brilliant watercolors. This artist is without a doubt one of the most technically gifted watercolorists I have ever seen. Her mastery over specific genres of this diverse medium is absolutely mind numbing and I look forward to seeing her new work at this show. A reception (free and open to the public) for the artist will be held at the gallery on Thursday, July 20 from 6:30 - 8:30 pm.