PEACHES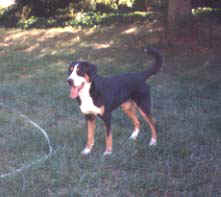 Peach playing at Grandma's house in Springfield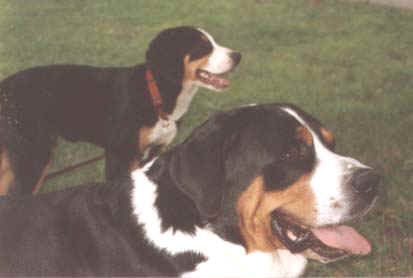 Peach hanging out with Circus when she was a pup.
Plumtree's GA Peach v. Schatz
DOB 4/20/95
Sire: GSMDCA Ch. Bart v. Meyer ("REX")
Dam: Ch. Cassie
Breeder Julia Kuni, Sharyl Mayhew and Julianne Wilson
OFA (not done yet)
CERF (cannot attain CERF number, post surgery).
Peaches had several non symptomatic distichia (extra eyelashes-as do the majority of all GSMD) she suffered an injury at 6 months old (a dog bit her in the face at a dog show) and she had surgery to correct the injury to her eye, some of the lashes were removed at that time due to the fact that the bite had torn the lower lid and the lashes were then growing abnormally. Shortly thereafter she started to show signs of Entropion (rolling in of the eyelids). She underwent surgery with a board certified opthalmologist to repair the entropion, and continue the repairs of the scar tissue from the previous surgery and she was spayed and had her stomach tacked at the same time. There is no way of knowing if her entropion was or wasn't genetic in nature and there is no reason to take that risk in breeding her and possibly passing it on. I figured if I spayed Magic who was an absolutely phenomenal dog for entropion how could I justify breeding Peaches as nice as she is, she is no Magic.
Also since it is illegal to show a dog who has had corrective surgery such as that to fix Entropion there was no reason to keep her intact. She remains here with me and she does a great job as "queen of the puppies" nanny, maiden Aunt, to all those who are born here.
I do plan to xray her hips and elbows so that there is more information in the database and for her siblings who may be bred. I have been told that two sibling (neutered pets) have been xrayed but not evaluated by the OFA, one other sibling has an OFA-Good and we are waiting for the OFA evaluation to come back on another show male from the litter. The other female has not been xrayed yet, same as Peaches.