FRU FRU
Precioso Rx Por Sonrisas (Name is Spanish and it means: Precious Rx for Smiles)
DOB 1/8/92, Color: Cream
Sire: Peppermills Mr Bojangles TN303304/01 (3-96) (FDS)
Dam: Harmony's Precious HCA 1074
Breeder: Debra Webber & Allan Lee Webber

Current CERF HV-553/97-62
co-owned with Schalene Dagutis
Fru was bred once to Rita's handsome fellow named Fievel (click to see him).
Precioso Que Tenga Merced (which means Precious Have Mercy) "Mercy" was produced by this breeding, Fru had 4 female puppies, two were born dead and could not be revived, and one that was born alive was failing from the beginning and died the next day. Fru will be spayed at our first opportunity and she will be able to keep her short haircut now!!
Mercy is the cutest little thing, pictured below with Kitty my Mastiff.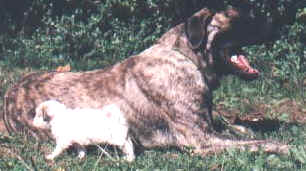 Click to go to Mercy's Own Page!!