HERDING with Wink Mason
I just love that name:) Wink Mason is a wonderful instructor, takes his time, isn't a breed snob (although you can tell Border Collies are the best) and was very patient with us as newcomers to this sport, even with me and my horse of a dog:)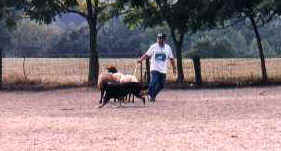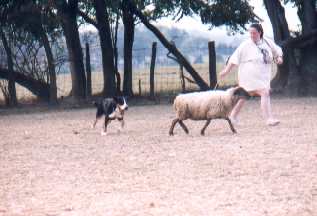 Sue and Marc Mesa opened up their farm to private lessons with Wink Mason as a visiting instructor and Maribeth and her Vixen and I were happy to fill up the afternoon at this spectacular farm in Philomont, VA......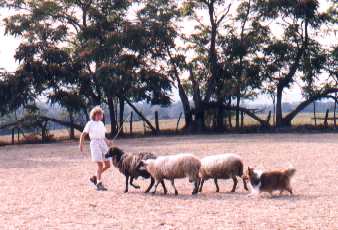 As it turns out I live less than 20 minutes or so away from SHEEP!!!! HURRRAAAAYYYY we hope to be allowed back:)
Private lesson:
Previously Peaches had worked first in a very small arena and then in a larger one down in Pamplin, but both times were with very "well-trained" sheep..... Our lesson with Wink was with some much "lighter"-greener sheep who didn't "clump" together as well as the previous groups of sheep did, so Peaches showed more chasing and less herding behavior at first,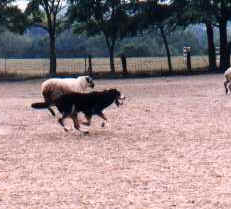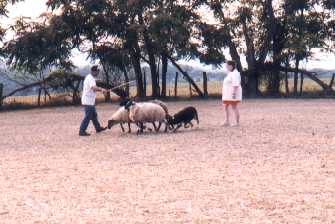 So.....Instead of letting her get away with being an idiot, we worked instead on control, getting her to "STAND STAY"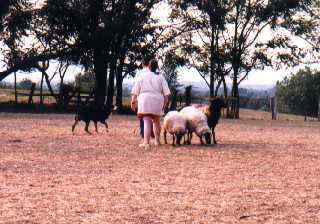 Wink suggested that with her size (she isn't a very large Swissy but by gosh she's quite a bit bigger than most Border Collies), she should STAND rather than "down" when I want her to stop... She does come to me well when I call,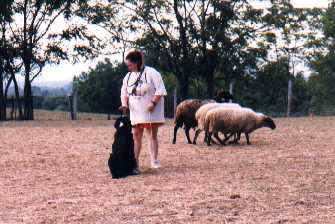 that part she has under control, but she doesn't necessarily stop on a dime when I ask her to quit.... I have to get to the sheep more often to practice this because in the yard, and at class etc, Peaches is solid on stays and stops, she knows "stand stay" as she used to be a show dog and she knows it from carting. BUT......there were never any sheep around in the conformation ring or in carting class, so now she is temporarily deaf to my "stand" commands!! (GRIN)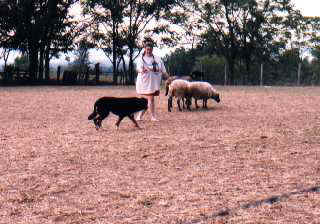 Stand-Stand-STAAAAAANNNND
(I know, I know, don't repeat the command!!!)
I am trying to work out a schedule I can manage to practice with Peaches and try for her Second leg of the HCT....
Here are some pictures that I took of Maribeth and her Sheltie, Vixen.... Wink told her it would be a shame to waste this Sheltie... He told Maribeth that Vixen was a "KEEN little dog"!!! What a great description of the silly girl.... I just love watching her herding, it makes all the obnoxious little quirks she has make sense (same as with Peaches!!!)...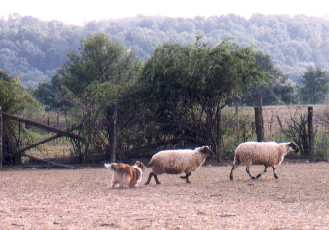 Vixen is so seriously intense -- but still playful, it is a joy to watch her......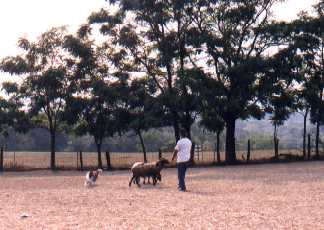 if they won't go, BARK at them!!!