1958 Turner Sports 950S Roadster
The Turner Sports Cars were built in Wolverhampton, England, using, for the most part, simple Austin A35 mechanicals and electrics, covered by a one-piece glass-fibre body shell. They were very popular in club racing, and are still raced competitively today, over 40 years after their manufacture!
My Turner was fitted with:
Engine: Austin 950cc (BMC A-series) OHV, in-line 4-cylinder
Block mods: decked, balanced, blueprinted, double-row cam-chain and gear assy, 3/4-race high-lift camshaft, line-bored cam and main bearings, solid lifters, titanium pushrods, lightened crankshaft and connecting rods, titanium rod bolts, high-volume Burman-Eaton oil pump, Jahn's flat-top aluminum-alloy racing pistons with teflon buttons and full-floating gudgeon pins, enlarged oil sump with windage tray and anti-splash screen, lightened flywheel with competition clutch
Head mods: shaved, ported, polished, relieved, flowed, combustion chamber septum removed, chamber capacities matched, double-sets of racing valve springs, steel valve guides, stellite valves, valve seats hardened, ground and hand-matched with Prussian-Blue
Carburetors: Dual SU H-1 semi-downdraught (modified dual SU HS-2's for racing)
Gearbox: Austin 4-speed smooth-case box, bronze syncronisers on 2nd, 3rd and top
Rear axle: Morris Minor 4.88:1 with 'Detroit Locker' rear differential
Front suspension: coil springs, stamped steel lower A-arms with trunion joints and kingpins
Rear suspension: Live axle, laminated torsion bars with trailing arms, Panhard rod
Dampers: Adjustable Armstrong lever-arm (f), adjustable Spax telescopic (r)
Steering: LHD rack and pinion with large, white-rimmed (AH 100-4?) steering wheel
Brakes: Girling 4-wheel direct-acting hydraulic drums
Tyres: Dunlop 15" steel wheel rims fitted with Michelin radial ply boots
Chassis: tubular steel ladder frame
Body: hand-formed steel shell, seams welded and leaded, wire-beaded edges, front-opening steel doors with button-style latches and door pockets, steel bonnet and boot lid, cast alloy 'egg-crate' grille, front and rear chrome bumbers with overriders
Interior: Black leatherette-covered glass-fibre seats, facia, facia pad, door panels and rear bulkhead, with white piping, black carpeting
Lucas lamps: P7 headlamps, clear (f) / red (r) sidelamps, combination stop/number plate lamp
Smith's instruments: speedometer with integral fuel gage, oil pressure/water temp combo gauge, ammeter
Options: black hood with removable frame and side-screens, tonneau cover, heater (wow!)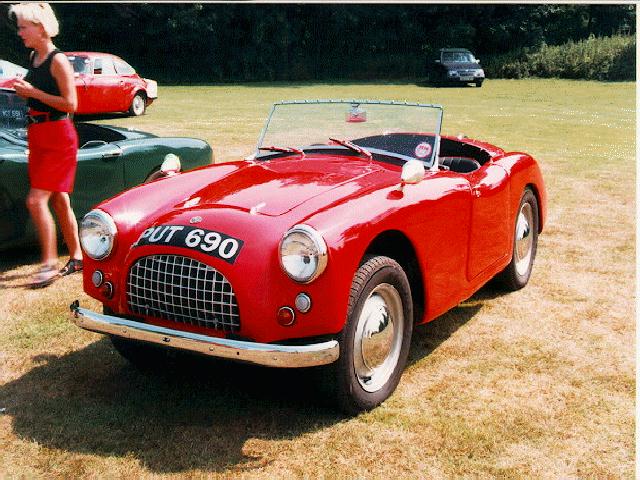 A Turner Sports 950S as seen at a show in the UK. Is that a red Sunbeam Harrington LeMans in the background?
My Turner, S/N 30-068, looked just like this one*, and was the very same colour, but didn't have the British number plate, orange front turn-signal lamps or wing-mirrors (all of which were not original to the Turner). #30-068 was unique in that it was the only steel-bodied Turner known to exist - all the rest, like the one above, were glass-fibre. Jack Turner, the designer and constructor of the car, told me that mine was the original hand-made 'buck' used to make the mold for laying-up glass-fibre bodies for the first Turners; later, when the body style changed (fins were added, like the green car, above, to the left) the 'buck' was no longer needed, so they simply put it onto a chassis and out of the shop it went! It was imported into the United States by a Florida Turner dealer, A. J. Pierson & Sons, and later sold. From 1958 to 1960 it was raced and rallied by its' owner, as the many brass dash-plaques revealed, and was even run in the Ormond Beach Speed Trials in 1959. It went through a series of owners, and went as far north as Detroit before it made its' way to the Philadelphia area. When we first found the sad little car in a farmer's field in 1973, it had grass growing through the steering wheel, coming up through the rotting floors, and the front nose had been nearly ripped off by some ill-advised towing - but that old Austin mill still ran! Over the next 3 years I lovingly restored it to race/show condition, and then raced and exhibited it competitively for over 5 years, winning many awards. Sadly, though, the day came when I had to sell my lovely little 950. Much to my dismay, it was quickly trashed by it's new owner in only a matter of months - he ruined the original race motor through an incorrect oil filtre installation (yikes!), and later even rolled her during a race at Lime Rock! The last time the poor little Turner was heard from she was missing her original windscreen, seats, steering wheel, Austin 950cc (race-prepped and blueprinted) motor and wheels. Sigh... :-( Sometimes bad things happen to good cars...
* My real Turner 950 is pictured in b&w on page 207 of Michael Sedgwick's "Classic and Sportscar A-Z OF CARS, 1945-1970" published by Temple Press, and reprinted (1986) by Haymarket Publishing Ltd. ISBN 0-600-33391-4 (original edition, out of print), 1-870-97939-7 (1993 edition). You can buy a copy here!