Turning down a job offer from The Wireless Specialty Apparatus Co., offered by his wartime acquaintance William Priess, Chief Engineer of that company, Harry had hoped to be named Chief Engineer of International Radio Telegraph Co. When that didn't come through, Harry left to form his own company, East Orange Radio Laboratory, East Orange, NJ. It was during this time that work began in earnest with Armstrong on the development of a commercial form of the superheterodyne receiver.
---
While at East Orange Radio Laboratory Harry began consulting work for Dubilier Condenser Corp., specifically on the design of a broadband iron core RF transformer. This would eventually become the Dubilier Duratran, a very popular item. Harry went full time with Dubilier in 1923.
---
An often used publicity photo, 1923.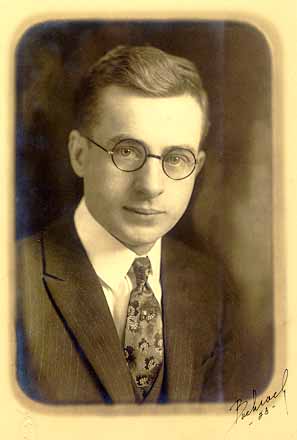 ---
The Dubilier engineering staff of 1924. Harry, Dubilier's Chief Engineer,
is sitting just behind the front row.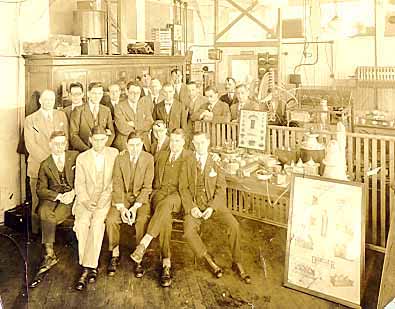 ---
Harry spent 10 years associated with Dubilier, first as consultant then as Chief Engineer. It was during this time that he not only helped develop the commercial superhet with Armstrong, but also developed the Duratran RF transformer, the Super Ducon battery eliminator and its special rectifier tube and made various improvements to capacitors and their method of production.
In later years he would go on to provide similar services for Kolster Radio, Micamold (a major capacitor manufacturer) and others. In the mid to late thirties he provided Armstrong with the many coils needed to make FM a reality.
---
Harry's final, and longest, association was with Measurements Corporation of Boonton, NJ. He joined Measurements as a partner in 1940 and continued as President, COO and General Manager until his retirement in 1966.
---
Harry beside one of the Measurements plants in the early sixties.
---
One of the most popular Measurements instruments was the Model 59 Megacycle Meter. Basically
a very high quality grid-dip meter, it could also serve as a VFO, an absorption wavemeter or as a tuned
detector. Three models were available covering the frequency range of 100 kc to 940 mc. This particular
unit, the Model 59 LF (100 kc to 4.5 mc), was packaged in a special carrying case and was Harry Houck's own.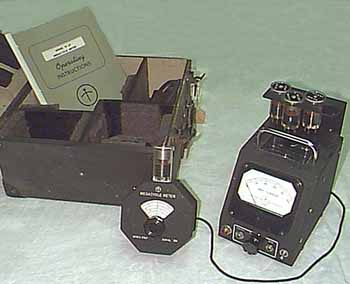 ---
Harry Houck, in the 1970's, with an RCA Second Harmonic Superheterodyne--the first mass produced
superhet, and the set he and Armstrong worked so hard to perfect in 1923.
---
In Florida - 1973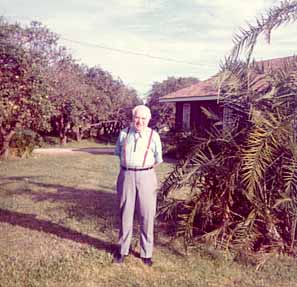 ---
After his 1966 retirement from Measurements Corporation, Harry Houck moved to Vero Beach, FL, where he resided until his death in 1989.