In addition to the Armstrong material saved by Harry Houck, there exists a large number of documents and artifacts relating to his own life and career. Going back to his days in High School, through his military service, his days at the International Radio Telegraph Company, East Orange Radio Labs, Dubilier, Kolster, Micamold, Measurements Corporation and others, he didn't throw anything away. These files are rich in correspondence with the 'big boys' of his day.
In 1920 Harry Houck joined the Radio Club of America during Armstrong's tenure as president. He served the club as President ('34 and '67), Vice President, Recording Secretary and Director and was quite active in the club for as long as his health allowed.
---
Young Houck (lower left), in 1906, with his Grandfather, Father and Brother outside
their family home in New Cumberland, PA.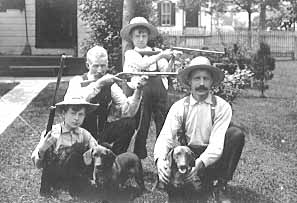 ---
Harry attended the Technical High School in Harrisburg, PA., graduating as a draftsman in 1916. This photo is from the 1914 "Tech Tatler". He's the first fellow in the back row. Existing examples of his drafting and craftsmanship (a flower pot stand and it's drawing, and a match holder and strike - both were school projects) show his early talents.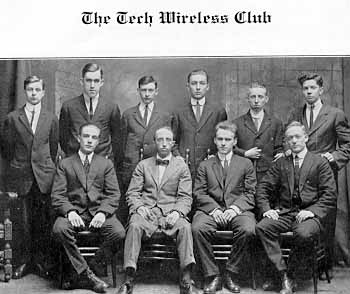 ---
Following High School, between 1916 and 1917, Harry worked as a draftsman and transitman
for the Bethlehem Steel Co., at Steelton, PA and for the Philadelphia & Reading R. R. in Harrisburg.
---
Young Houck was inducted into the U. S. Army in 1917.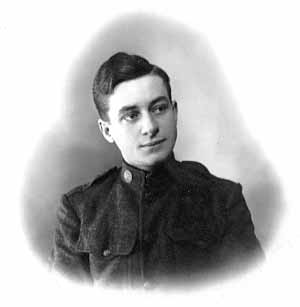 ---
Various wartime photos would indicate that Harry didn't spend all of his time in the
R&I Division lab assisting Captain Armstrong with his superhet development.
---
After his discharge from the Army, Harry went to work for The International Radio Telegraph Company of Pittsburgh, PA. which had just been bought by Westinghouse (although it remained a separate company). After a short stint at the main laboratory in 1920 he was sent to Rockland, Maine to build an experimental receiving site. This was Westinghouse's attempt to play catch-up with newly formed RCA in handling transatlantic radio traffic. Months of tests were carried out before it became clear that RCA had tied up all of the major transatlantic markets. Westinghouse made the decision to join RCA (June, 1921) by selling them the International Co., giving RCA access to Westinghouse owned patents, including the Armstrong feed-back and superheterodyne patents.
The Rockland station, built on rented land, was completely disassembled and sold for the price of the wood in 1921.
Harry next to the Rockland station loop antenna.