On November 5, 1935, before the New York section of the Institute of Radio Engineers, Armstrong presented his paper "A Method of Reducing Disturbances in Radio Signaling by a System of Frequency Modulation" - his FM system was thus disclosed to the radio engineering community. The presentation was accompanied by a demonstration of FM's capability by receiving a transmission from Randy Runyon's amateur station (WQAG) transmitting from Yonkers. While the demonstration was a complete success, the engineering community, in general, was not enthusiastic.
A copy of the landmark FM disclosure inscribed to Harry Houck.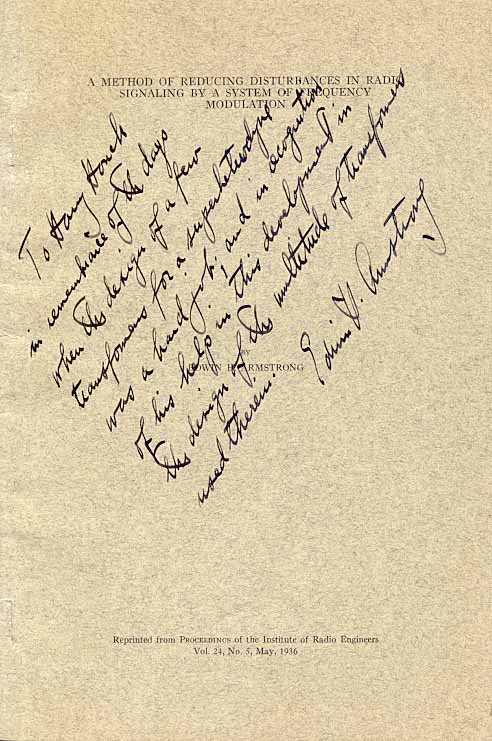 ---
Although no reference could be found to a Radio Club of America paper on the given date, research continues as to whom and what this inscribed piece of board refers to.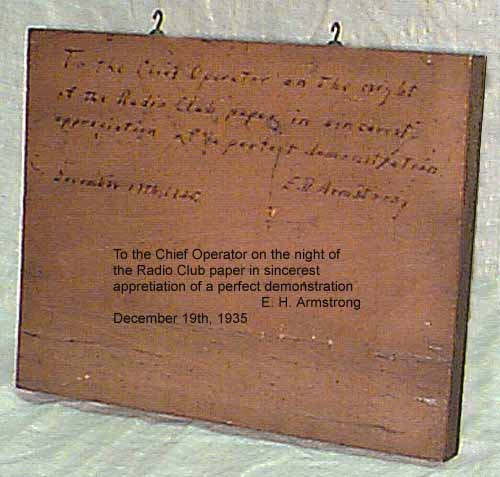 ---
The Radio Club of America, and the radio men who made up its membership, thought so much of Armstrong's contributions to the radio art that an annual "Armstrong Medal" award was initiated in 1937.
The first award was presented to Prof. Hazeltine by club president John Miller.
(l. to r. - Armstrong, Hazeltine, Miller, Sandenwater, Burghard)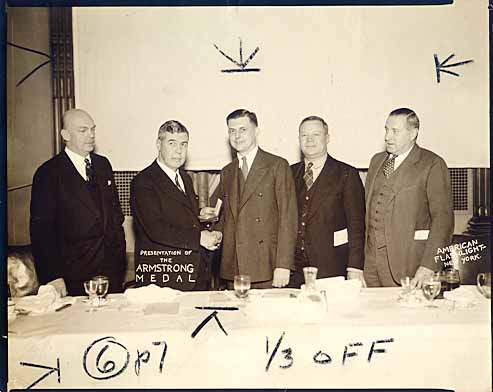 Some other radio pioneers to receive the honor were: Dr. Harold Beverage, Greenleaf Whittier Pickard, John V. L. Hogan and Captain H. J. Round.