ANNUAL MEETING OF THE SOCIETY OF AMATEUR RADIO
ASTRONOMERS -- GREEN BANK, WV, JULY 15, 1996
COMETARY ORIGIN of SPORADIC-E
by G. NEIL SPOKES Ph.D
Introduction
Sporadic-E is a somewhat unpredictable E-layer ionospheric event that allows point to point terrestrial VHF communications. I am going to trace the history of sporadic-E from its discovery in the mid-1930's. I will outline the initial work of Harvard's Prof. Jack Pierce in 1938 and follow with a listing of the findings through to the late 1980's. The admittedly unsatisfactory status of the theory was summarized by J. D. Whitehead in a comprehensive paper in 1989.
The results of Dyer's remarkable long term sporadic-E monitoring studies were reported in QST by Pocock and Dyer in March 1992. Those results provide, in my judgement, landmark findings that any theory needs to be able to explain. I have developed a simple theoretical explanation for sporadic-E based on the Pocock-Dyer findings. My explanation has, in essence, remained unchanged since I first reported it in a letter published in the April 1993 QST. In that letter I established the basis for concluding that the E-layer events were directly connected with the results of comet trail debris interactions with the ionosphere. I will conclude the talk with some thoughts on some recent studies if we have time.
I am seeking feedback from this audience on the validity of my conclusions and hope to have an excellent interchange of ideas with you.
DEFINITION of SPORADIC-E: AN ENHANCED IONIZATION EVENT IN THE E-REGION OF THE IONOSPHERE. THE DURATION OF THE EVENT IS FROM MINUTES TO HOURS.
The ionization level of a sporadic-E event is such that VHF signals in the 50+ MHz range are reflected by the E-layer permitting easy detection of the signals over a 1500 - 2300 km range using transceivers with just a few watts power and simple dipole antennas.

============================
Slide 1: Schematic of sporadic-E occurrence in the ionosphere. Vertical scale greatly exaggerated.
Slides 2-4: Some details from Prof. Jack Pierce's Sept 1938 QST article on sporadic-E
Slide 5: Illustration of 50 MHz paths getting shorter and occurrence of 144 MHz paths
============================
1989 THEORIES OF MID-LATITUDE SPORADIC-E
The following theories of mid-latitude sporadic-E are based on Whitehead's article in the Journal of Atmospheric and Terrestrial Physics Vol 51, P 401, 1989.
WIND SHEAR THEORY:
Vertical shear compresses the ions into a thin layer. Metal ions that are a result of meteor entry have a long life.
Support for the theory is based on simultaneous findings of horizontal winds and the characteristic high level electron density profiles. Low electron temperature is consistent with expectation.
The wind shear theory does not explain the overall morphology of sporadic-E nor the occurrence of the summer maximum.
ELECTRIC FIELD THEORY:
Nygren showed that electric field alone can produce sporadic-E layers. However, large fields such as those that exist at high latitudes are required.
GRADIENT INSTABILITY THEORY:
High levels of electron density may be unstable, this, combined with field aligned irregularities may, with the appropriate geometry of a VHF wavelength give rise to non-linear VHF scattering.
METEOR SHOWER THEORY:
The failure of sporadic-E events to correlate with known meteor showers is the most serious factor affecting acceptance of meteoritic material as the cause of sporadic-E. Most known showers are spread over many days, even weeks. There has been very little correlation of visual showers with sporadic-E events. However, oblique sounding and back scatter do show increases with major showers -- probably, according to Whitehead, because the meteor trails themselves give significant reflections at the higher radio frequencies used.
WEATHER THEORY:
Theory and observation support a relationship between sporadic-E and weather that requires more investigation.
AIRGLOW THEORY:
The relationship with airglow Is hard to establish.
CHARGED PARTICLE PRECIPITATION THEORY:
Connection of Brazilian geomagnetic anomaly with a sporadic-E event was interpreted as due to charged particle precipitation. (The Brazilian anomalous event is probably an equatorial sporadic-E event.)
F-REGION TRAVELING DISTURBANCE THEORY:
Partial correlations have been found with sporadic-E.
============================
Slide 6: Seasonal variations of sporadic-E from Whitehead's JATP paper. Shows main peaks of sporadic-E
occurrence in local summer (June-August in the N hemisphere and Dec-Jan in the S hemisphere)
Slide 7 and 8: The Great Sporadic-E event of 1987. Some details from Dr. Michael Owen's article in the May 1988 QST.
============================
RESULTS FROM THE POCOCK DYER PAPER IN THE MARCH 1992 ISSUE OF QST:
I have alluded to Dyer's excellent sporadic-E studies that have resulted in a body of solid knowledge in this field. I refer the reader to the original paper for detailed information.
============================
Slide 9: Dyer's San Antonio geographical area for sporadic-E hunting.
Slide 10: Pocock-Dyer 88 MHz Sporadic-E calendar
Slide 11: Pocock and Dyer's 11 years of Sporadic-E averages showing non-correlations with 2800 MHz solar flux and Fredericksburg A index.
Slide 12: Pocock and Dyer's diurnal probability distribution of sporadic-E
============================
Dyer's listening equipment
30-50 MHz: Bearcat 175-XL FM scanning receiver attached to a groundplane 12 feet above ground 54-88 MHz: TV channels 2-6 88 MHz: Realistic TM-1001 tuner With rotatable 6 element commercial broadband FM yagi 20 ft above ground
Dyer's tape recorders provided 1000's of hours of tapes over the period 1977 - 1992 which aid in identifying stations. An Atari computer is used for data compilation. Amateur radio astronomers will note how simple the equipment is. However, the equipment choices and operating wavelengths were made by Dyer with the skill that comes from years of experience researching sporadic-E phenomena.
Dyer's sporadic-E Monitoring Procedures:
Hours: Dyer's monitoring hours were from approximately 7:00 am to midnight every day for 11 years with only a few days out for trips or illness.
The scanning receiver covering 30 - 50 MHz is tuned to search for familiar police, utility and other service stations around the country. The TV set is observed as the lower frequency signals begin to be heard using channels 2-6 (54-88 MHz) The FM broadcast set is tuned to pick up distant stations at a frequency near the low end of the band- 88 MHz or just above, in a channel where there is no local station.
Dyer's Timing of sporadic-E:
The distant signals are monitored as propagation progress up the frequency scale from the lower frequency monitors through the long distance TV channels 2-6.
Timing is started when a distant station's signal is heard in the FM broadcast band at around 88 MHz. It is stopped when the last FM signal fades out. Time is recorded in 5-minute intervals.
============================
In slide 13, I show an enlarged section of the Pocock/Dyer May-August chart. You will note that today, July 15 is remarkable inasmuch as the sporadic-E activity level is less than one tenth of that of the adjacent peak dates of July 11 and July 17. This is a finding that is based on 11 years of studies. This finding cannot be brushed aside as a fluke. I will return to this kind of observation later. Such data are quite remarkable and only now is their significance becoming more broadly understood.
============================
SUMMARY OF THE MID-LATITUDE SPORADIC-E PHENOMENA THROUGH 1992
Status prior to 1990 Thin layers of intense ionization at 95 - 110 km altitude (0.5 - 3km thick) Manganese, sodium, silicon and iron ions found by rocket mass spectrometers Turbulent winds associated with sporadic-E Clouds of 10s to 100's of kilometers horizontal extent Clouds appear to travel horizontally at speeds as high as 100s of km/h Local summer maximum, much weaker winter maximum (echoed in S hemisphere) Electric field effects No correlation with known meteor trails (see slides 14-16)
=========================
Slides 14 - 16 are tables including dates of visual meteor showers such as are routinely published. Slide 14 is excerpted from the ARRL Handbook and slides 15 and 16 are from Observer's Handbook 1983 (P.M. Millman article on Meteors, Comets and Dust, U of Toronto Press). If these are the data used, it is clear why no-one has found any useful correlation agreement between meteor shower and sporadic-E activity. Even the minor shower information is fragmentary at best. As I will show in a few minutes, you need to have information about truly minor showers to find appropriate date correlations with the sporadic-E activity. Showers that have a very small visual footprint may have a very important role in sporadic-E activity.
==========================
Status in March 1992 based on Pocock-Dyer findings Date specificity of peaks established 5-day peak to peak interval and 5-day trough to trough interval in summer period Diurnal peak shape established for San Antonio-- peaks at local 10-11 am and 6-8 pm Confirmed fewer events in the equinoctial months March-April and Sept-Oct No direct correlation with solar cycle or with 2800 MHz flux No correlation with A-index or with magnetic flux Sporadic-E at 144 MHz correlated with long duration sporadic-E at 88 MHz Possible correlation with intermediate levels of solar flux i.e. years when the flux was increasing or decreasing the most rapidly
METEORITIC PARTICLE THEORY OF SPORADIC-E
As a result of the Pocock-Dyer work we have two major findings that I wish to explore here: 1. Sporadic-E peak probabilities occur at particular dates year after year 2. Their timing is more accurate than the arrival of the swallows at Capistrano
Sporadic-E is not man-made it is a natural phenomenon that occurs in the ionosphere near the edge of space on particular calendar dates. What can we say about the origin of a date-specific natural ionospheric event that is not caused by a terrestrial event? Calendar dates are highly correlated with only one natural phenomenon. It is the position of the earth in its orbit about the sun. There are no other natural events, weather, positions of planets, rotations of planets or other solar system components that are connected to the calendar date.
OCCAM'S RAZOR APPLIED TO DATE-SPECIFIC EVENTS IN THE IONOSPHERE
Occam's razor is a problem-solving approach that deletes all wrong assumptions until the minimum number of possibilities remains.
As Sherlock Holmes once said, "Watson, if you have eliminated all other possibilities as false and have only one remaining possibility, then, no matter how extraordinary that possibility is, it must be the truth."
There is only one thing that can occupy a particular position in space and be intercepted by the earth on a particular date. That one thing is --
THE ORBIT OF ANOTHER CELESTIAL BODY.
There are many, many orbiting celestial bodies in position at particular locations around the earth's orbit -- they are, comet debris trails that the earth routinely passes through every hour of every day.
Comet debris trails are only partially filled with material. Large clouds or knots of particulate matter are thrown off by comets in their approaches to perigee. The trails consist of thousands of tons of material traveling in knotted clouds at speeds very similar to that of the parent comet -- 20 - 80 km/s.
Based on the Pocock-Dyer finding that there are peaks of sporadic-E that are date-specific, it is natural to conclude that the mid-latitude sporadic-E phenomena researched by Dyer were caused by meteoritic particulates. This theoretical conclusion was submitted in a letter to QST in the Spring of 1992. Publication was in 1993. Details are:
SPORADIC-E CAUSES, G. Neil Spokes, AB4YK, page 73, QST April, 1993. ARRL, Newington CT. Technical Correspondence Describing the Fundamentals of the meteoritic theory of Sporadic-E.
FEEDBACK, Neil Spokes, AB4YK, page 50, QST, July, 1993. ARRL Newington CT. Technical correspondence: Correction of a small but significant editing error in the April letter.
The April 1993 QST letter emphasized the required connection between sporadic-E date-specificity and meteor orbit tracks. If correlations are to be found between dozens of sporadic-E events and meteor tracks, then we need to have dozens of meteor tracks to choose from. As noted earlier, the generally available meteor shower data are sparse. The information in the earlier slides is supplemented here with some additional data. Only a meteor shower-based theory can explain the date-specificity of the sporadic-E occurrences. The only objection is lack of correlation with known meteor showers.
We invoke Occam's razor. The evidence for the sporadic-E being date-specific is close to overwhelming. The theory with the fewest assumptions is that there are streams of hitherto undiscovered cometary trails that cause the sporadic-E. This awkwardness of this assumption is trivial compared with the convolutions that the theoreticians have been compelled to invent to avoid it.
The possible absence of a correlation of meteor showers with the sporadic-E peaks is a problem, but it's not a big problem. No-one believed in pulsars when they were first discovered. The discoverer called them LGM's. When asked what LGM stood for, she said "Little Green Men," no-one could conceive of steady streams of pulses coming from anything "out there in space." The indications of possible correlations of sporadic-E and minor meteor showers are sufficiently promising that judgement is leaning in favor of the particulate theory.
Meteor shower observers are naturally drawn to the more evident meteor tracks. The minor showers are easy to miss or ignore. Minor showers which are of importance for our purposes are barely seen and are difficult to monitor. However, the more experienced meteor shower watchers are aware of the potential importance of the minor shower tracks since those showers are known to have radiants that point to locations in which previously unidentified comets may be found. New comets are the amateur astronomer comet hunter's prize.
I have gathered some information on meteor shower particles that presented in " A Complete Manual of Astronomy" by P.C. Sherrod and T. L. Koed published by Prentice Hall. There are some correlations within a day or two of some minor visual peaks and Pocock/Dyer sporadic-E peaks for the month of June. Depending on whether the orbit is retrograde or prograde, the correlation may be with an earlier or later visual meteor shower.
SPORADIC-E DATES AND METEOR SHOWERS
POCOCK/DYER MAJOR SHOWER (Bishop) OTHER SHOWER (Sherrod & Koed)
PEAK/TROUGH
--JUN 1 (PEAK)----||----
-JUN 2 (TROUGH]-||---
----------------------||--Tau Herculids JUNE 3 ( May 19 - June 14)
----------------------||--Alpha Circinids JUNE 4 (S hem)
---JUNE 5 (PEAK)--||-Scorpiids JUNE 5
-(JUN 7-TROUGH]-||- Arietids JUNE 7 (May 22 - June 22)
----------------------||--Zeta Perseids JUNE 7
----------------------||--Librid meteors JUNE 8
JUNE 10 (PEAK)---||--
----------------------||---Sagittariids JUNE 11 (June 4 - 18)
[JUN12-TROUGH)-||--
----------------------||--Theta Ophiuchids JUNE 13
JUNE 15 (PEAK) --||--
----------------------||-- June Lyrid Meteors JUNE 16
[JUN17-TROUGH]-||--
JUNE 18 (PEAK) --||--
----------------------||--Ophiuchids JUNE 20
[JUN21-TROUGH]-||--
JUN 25 (PEAK)-----||--
[JUN 26-TROUGH]-||-- Corvids JUNE 26 (June 23-29)
----------------------||--Not seen since 1937
JUN 28 (PEAK)-----||--
----------------------||--Beta Taurids JUNE 29
----------------------||--June Draconids JUNE 30
[JUL1-TROUGH]---||--
JUL 5 (PEAK)------||--
[JUL 6 - TROUGH]-||--
JUL 8 (PEAK)-------||--
(JUL10-TROUGH]--||--
JUL 11 (PEAK) -----||--
[JUL 15 - TROUGH]||--Omicron Draconids JULY 16 (July 6 - 30)
JUL 17 (PEAK)------||--
(JUL 20 - TROUGH]||--
JUL 22 (PEAK)-----|| --
[JUL 25-TROUGH]-||--
JUL 26 (PEAK) ----||--
[JUL 28 - TROUGH]||--
JUL 29 (PEAK)-----||---JUL 29 S Delta Aquarids ~(July 15 - September 2)-- Broad Peak
----------------------||-- S D Aquarids has a bigger mass than any other known shower.
(JUL30-TROUGH]--||---Capricornids JULY 30 (~July 15 -Early September )
JUL 31 (PEAK)-----||-- JULY 25 to a Peak at AUGUST 12 - Perseids
Meteoritic particles: Some additional information
The clouds of cometary debris material may consist of a whole range of particle sizes. Particles as small as 10-16 g have been found, according to Jochen Kissel whose team analyzed the Giotto and Vega spacecraft ion mass spectrometer data from a Halley's comet encounter (Ref: D. K. Yeomans, p 284, Comets, Wiley 1991). Each one of those particles entering the earth's ionospheric gases at the 105 km altitude regions burns up in a few hundred meters. Particles of this size have characteristics that fit the profile of the E-Layer ion-creating moiety.
A particle of 10-16 g will lose 90 % of its energy in a path of 150 m at 105 km altitude. Prior to this "impact," the particle will have been photoelectrically charged by solar radiation to several volts of electrostatic charge and will have undergone deflection by the earth's magnetic field. Since my QST letter was published, I have written a program simulating the motion of a meteoritic particle in the earth's magnetic field. Further details of the results of that technical work will be forthcoming, however, one preliminary finding is that photoelectrically charged particles of mass 10-15g to 10-17g have unique properties that could lead to shear wind action seen to be associated with sporadic-E clouds as well as the high speed drift seen by observers and analysts.
Positive and negative charge separation may lead to separation of coulomb amounts of charge since the electrons are forced to follow the magnetic field lines to the poles while the positively charged particles make their ways to lower latitudes. Ionospheric lightning is a likelihood.
COMMENTS ON PREVAILING THEORIES:
1. WIND SHEAR THEORY.
My preliminary particle track calculations show that particles with a mass/charge (M/Q) ratio below about 30,000 to 50,000 daltons per electronic charge are reflected by the earth's magnetic field. Particles with M/Q in excess of 2,000,000 just travel straight into the earth's ionosphere almost undeflected. But particles with M/Q values that are in-between follow quite contorted paths. Some of these mid-range M/Q particles are deflected to travel to a mid-latitude location prior to impact and be traveling almost horizontally at that point. I propose that clouds of such particles CAUSE the winds in the ionosphere. In fact, it is possible that some winds are the symptom of the presence of the particles that cause sporadic-E. (It is difficult to understand how ionization concentration can be increased by wind shear -- however, the wind shear theory has been the preferred theory up until ncles are deflected to travel to a mid-latitude location prior to impact and be traveling almost horizontally at that point. I propose that clouds of such particles CAUSE the winds in the ionosphere. In fact, it is possible that some winds are the symptom of the presence of the particles that cause sporadic-E. (It is difficult to understand how ionization concentration can be increased by wind shear -- however, the wind shear theory has been the preferred theory up until now).
2. ELECTRIC FIELD THEORY.
I think that it is highly likely that there are electric fields associated with sporadic-E. The fields are, I think, a consequence of the two phase flow. The positively charged solid particles follow dramatically different paths from the oppositely charged particles. Differently charged particles are directed to different locations in the ionosphere. The resulting charge separation leads to high electric fields possibly associated with coulomb level charge separation. Charge separation is probably a mechanism in aurora also. The comparison with aurora is interesting, in both cases the positively charged particle energy can be in the MeV range. There are other comparisons that are interesting but we do not have time to go into them here.
3. GRADIENT INSTABILITY THEORY.
Gradient instability is in all likelihood, simply another consequence of the underlying causative influence, namely, the particle clouds impacting the earth's atmosphere/ionosphere.
4. METEOR SHOWER THEORY
. Davies, in his 1969 book notes that contemporary thinking was that meteor particles were the cause of sporadic-E (K. Davies, p 39, Ionospheric Radio Waves, Blaisdell, 1969). If my understanding is correct, the chief reason for dismissing meteor trail material as the cause of sporadic-E was the absence of any correlation with known meteor trails. A quick glance at the tables shown earlier reveals the apparent paucity of data in the popular references. Evidently no-one has examined the facts sufficiently. In June, at least, there are lots of correlating meteor showers. The proof of sporadic-E date-specificity by the Pocock-Dyer data supports the contention that the cause of sporadic-E is meteoritic particles, i.e. cometary debris. I hope that my attention to the understanding of the Pocock-Dyer data will bring us back to the simpler and preferable interpretation of the cause of sporadic-E.
5. WEATHER THEORY.
The very well researched Great Sporadic-E event of 1987 was one during which no thunderstorms were in the areas below major sporadic-E clouds. We may discount thunderstorms as a cause of sporadic-E. However, tropospheric bending of the starting or finishing paths may increase the propagation path length in some cases. Ionospheric lightning caused by the earth's field-induced charge separation of particles at the ionosphere altitude is not ruled out.
6. AIRGLOW THEORY.
Airglow emission is to be expected in any high energy event. Halley's comet particles were found to be grains of inorganic silicaceous material surrounded by organic "C H O N" sheaths. This organic material could effectively catch fire upon heating to flash point levels. I need to inspect the optical emission spectra of the clouds to determine if there were evidence of such effects.
7. CHARGED PARTICLE PRECIPITATION THEORY.
Many new charged particle phenomena will be associated with the newly discovered meteoritic mechanisms reported on here. Charged particle precipitation may be among them.
8. F-REGION TRAVELING DISTURBANCE THEORY.
The meteoritic particles travel through the F- Region of the ionosphere on their way to lower altitudes. Without doubt, there will be traveling disturbances in the region due to the clouds of particles traveling through it at 25 - 75 km/s. Again, I suspect that the traveling F-Region disturbances are a symptom, not a causative initiator of the effect.
VERY SIMPLY, IF THE SPORADIC-E PEAK OCCURRENCES ARE DATE-SPECIFIC, AND OCCAM'S RAZOR DRIVES US TO THE THEORY WITH THE FEWEST, SIMPLEST ASSUMPTIONS. WE HAVE TO CONCLUDE THAT SPORADIC-E IS CAUSED BY METEORITIC MATERIAL.
============================
Slide 17: The May-August data of PD are revisited. Note particularly, the July 15 trough depth and the proximity and magnitude of the adjacent peaks at July 11 and 17. Slide 18: A schematic picture of two dozen cometary particle debris orbits intersecting the earth's orbit location in the June-July time period.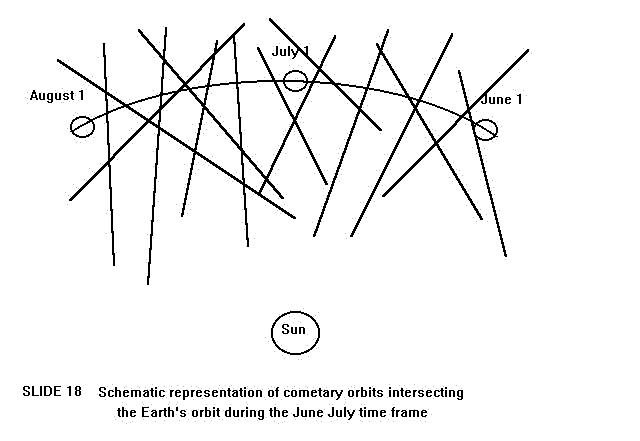 Slide 19: A schematic view of the way that particle tracks from comets envelop the earth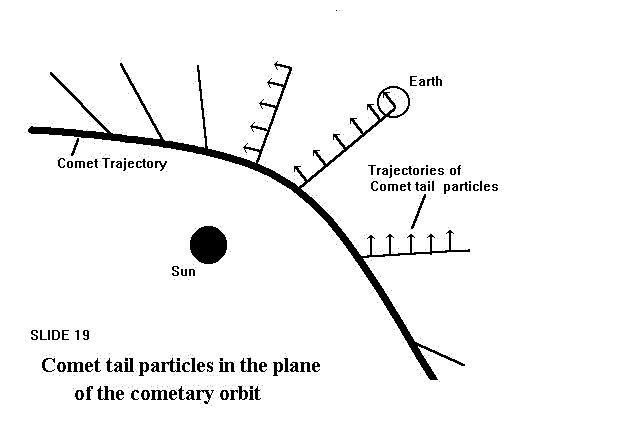 Slide 20: Sporadic-E has a meteoritic cause.
============================
CONCLUSION
<![if !supportEmptyParas]> <![endif]>
I have introduced you to the meteoritic particulates theory of sporadic-E. The theory fits key facts without the need for unusual assumptions. The particle theory has a unique potential to explain the hitherto unexplained facts. Existing sporadic-E theories do not have this potential. Charged particle track studies are a work in progress in which I am making tests to determine whether the theory leads to correct calculation of the observed diurnal, seasonal and northern/southern hemisphere effects.
The diurnal variation is almost certainly due to the rotation of the earth's magnetic poles which execute a whopping 24 degree angular change in the earth's orbital plane every 12 hours. I am using particle track modeling to predict the seasonal and latitude variations of sporadic-E.
I think that the observed summer/winter/equinoctial/northern-southern hemisphere variations are also due to the effect on the particle trajectories of the different orientation of the earth's magnetic poles. I expect the observed variations of the sporadic-E amounts at various times and at those places on earth and I expect this to be explained as a prediction of the particle track calculations. Weakness of night-time sporadic-E may is probably due to electron attachment to both particulates and molecular species to form negative ions. Electron attachment is the primary cause of the fade out of the absorption in the D-region at night.
The work continues but I will need help. Anyone interested in either assisting with data accumulation -- sporadic-E monitoring -- or with programming is invited to contact me. My e-mail address is nspokes@erols.com.
<![if !supportEmptyParas]> <![endif]>
Post-scripts added Feb 08 2003:  Reginald Hawkins (private communication) has noted that one should look for correlations between daytime meteor systems rather than night-time systems and a brief check indicated positive correlation between peaks in the daytime radar meteor frequency reflection peaks and the Pocock-Dyer Es probability peaks. 
<![if !supportEmptyParas]> <![endif]>
Also note that the particle size found by Dr. Jochen Kissell has been corrected from 10-16 g to 10-16g. 
<![if !supportEmptyParas]> <![endif]>
<![if !supportEmptyParas]> <![endif]>
SEND E-MAIL MESSAGE TO nspokes@yahoo.com

|==Back to the SPOKES OF THE WEB Home page==|
|==Biggest List of Ham Radio Internet Connections==|