General Information
Amateur Astronomers, Inc., centered at the William Miller Sperry Observatory on the Union County College campus, in Cranford, New Jersey, was founded in 1949 and continues to promote the interest of astronomy through its many educational programs. With about 400 active members, the club is one of the largest amateur astronomy organizations in the country.

AAI is organized into a number of special interest groups and service committees supporting a wide variety of areas of amateur astronomy for the membership as well as for the public. Some of these areas include: astrophotography, computers, telescope making, observing, celestial mechanics, solar eclipse chasing, to name a few.
Meetings
AAI holds its regular member meetings on the third Friday of the month, September through May, beginning at 8.00 p.m. in the Union County College auditorium on the college's Cranford Campus. Each meeting includes an invited speaker having an expertise in astronomy or a related field. After the meetings, all are invited to the observatory for refreshments and an informal social hour where guests and members can exchange ideas, interests and, if weather permits, view the sky. All meetings are open to the general public and are free.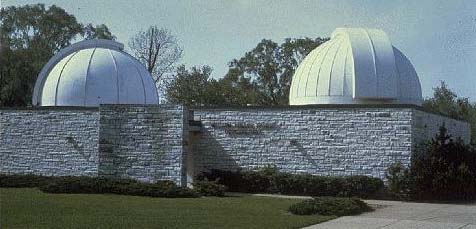 The William Miller Sperry Observatory houses two of the largest telescopes on
the east coast available for amateur use. The east 18-foot dome (right) houses
a 10-inch f/15 refractor built by the club members, while the west 20-foot Dome
(left) holds a 24-inch f/11 Cassegrain reflector purchased by AAI.
Activities
Sperry Observatory is open to the public every Friday evening. There is usually a short presentation on some aspect of astronomy, after which there is viewing of celestial objects from the observatory's 24-inch reflector and 10-inch refractor, weather permitting.

The club runs a public open-house and symposium on Astronomy Day each spring, and is planning to hold a forum in the fall, beginning 1998.

AAI also has a large contingent active at Stellafane, the annual telescope making convention held in August, in Springfield, Vermont.
How to get in touch
Write:

Amateur Astronomers, Inc.
P.O. Box 111,
Garwood, NJ 07027-0111

Phone:

Corr.Sec.: George Chaplenko (908) 549-0615

E-mail:

President: Tony Patti apatti7253@aol.com
Vice Pres.: Steve Clark icstars@erols.com
Corr.Sec.: George Chaplenko gchaplenko@aol.com

AAI maintains its own Astronomy Star Phone for sky information
(908) 276-STAR

as well as their own Website

Other Items of Interest
AAI is a member of the United Astronomy Clubs of New Jersey and is building an observatory at the Jenny Jump site. The club maintains a library of over 800 books and subscribes to many amateur and semi-professional astronomical journals which are all available to the membership. AAI also has a complete machine shop available to its members for fabricating and repairing astronomical equipment.
Maintained by BDM
njastro@erols.com
Page last updated 1/26/99