Urban Growth in the Twentieth Century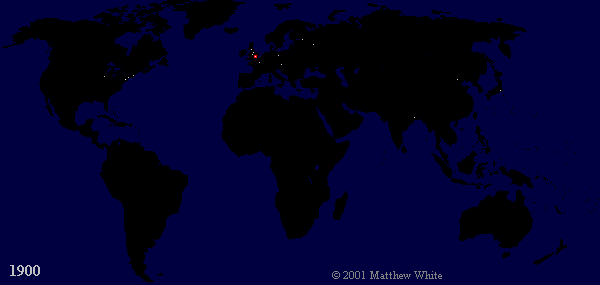 Each white dot indicates an urban area with a population of over a million.
Each red square indicates an urban population of over five million.
To stop the animation, click STOP.
To resume, click RELOAD or REFRESH.
---
Largest Cities

Growth Rates

NOTE: Throughout this atlas, whenever I talk about the population of a city, I am refering to the entire population cluster, not the legally defined administrative unit that goes by the specific name.
---
Contemporary Context:

---
Selected Sources:

Th. Brinkhoff: Principal Agglomerations and Cities of the World [http://www.citypopulation.de] 13.5.01
Chandler, Tertius: 3000 years of urban growth (1974)
1991 Info. Please
---
Last updated July 2001
Copyright © 2001 Matthew White