Most recent update to this page: April 27, 1999
This program does absolutely nothing, other than to offer a simulated GUI-based interface to a "smart house". It's what I put together as a project for a class (SWSE632) at George Mason University in the Spring 1999 semester.
If you download this package to check it out, do me a favor- send me an email to give me your comments. Thanks!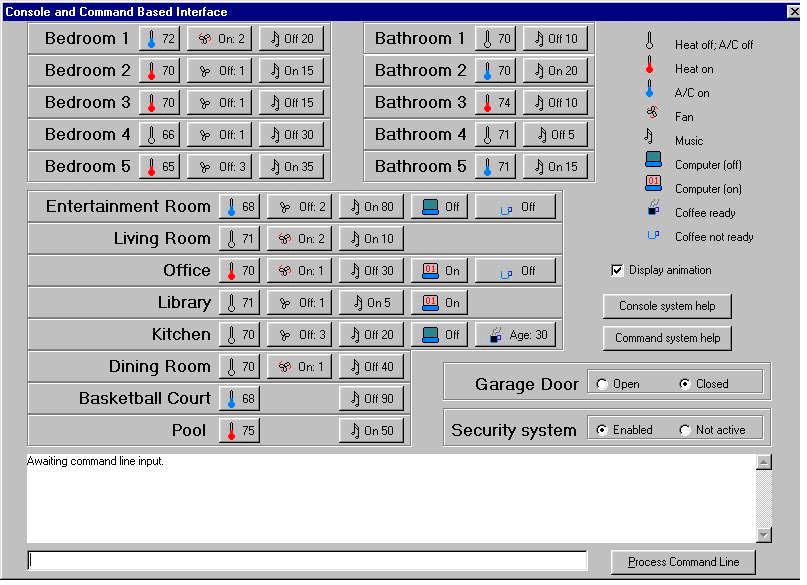 Screen dump of the program

The top 80% or so of the screen is a GUI-based interface; clicking on any of the buttons results in a (subsequent) pop-up screen to change system parameters. The bottom 20% is a command-based interface. Both interfaces have equal power and versatility. (The GUI interface actually implements state changes by feeding commands to the command interpreter. Likewise, any user entry in the command-based system results in immediate visual change to the GUI-based system. This makes it easier for a user to develop skills with one interface, based on previously learned skills with the other interface.)

This program requires a Windows 95 based computer (although it just might run under Windows 98 and/or NT; I can't yet confirm this either way.) The program was developed under Borland/Inprise Delphi 3.0. There are two ways you can download this program:

Both zip files include a brief instruction file in text format (missing the images which were in the original documentation file, but you'll figure it out.) In any event, start with the README.txt file.