<![if !vml]><![endif]>
ITADI K. BONNEY'S WEBSITE
Send E-mail to Itadi:

Click here to see more about:
---
Newest Album from Itadi K. Bonney and BAKULA: "Let's Dance"

<![if !vml]>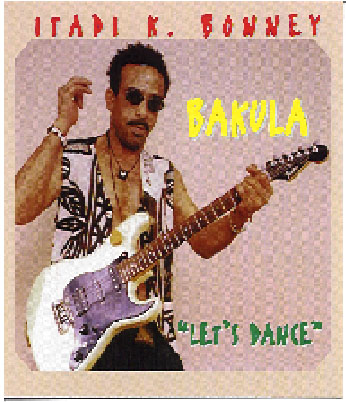 <![endif]>

Mark Jenkins, the Washington Post [Friday, May 21, 1999; Page N34], notes: "Bonney's 'Bakula (Let's Dance)' features West African pop's customary elements: jaunty rhythms, chiming, finger-picked guitar and exuberant call-and-response vocals." He continues: " Most of these 10 songs ... are ... infectious ... joyous" and "...such tunes as "Nadeke Ma Hia Wo O" ("You Shall Not Want") and "Aga Mimi" ("Poverty Is a Pain") are as fluid and upbeat as a protest song can be."

Click to hear a sound clip from "Let's Dance"[if your browser supports 'java' you're already hearing it]
Here's a second selection from "Let's Dance": Click to hear a sound clip

Previous releases include:
I Man

Mayi Africa
---
Who is Itadi K. Bonney? Itadi Bonney, a native of Togo, West Africa, is an international musician who is a composer, arranger, vocalist and guitarist. Itadi's music is a blend of Ghana's high life and Zaire's soukous to create a sparkling, undulating and emininently danceable weave of melodies and rhythms, punctuated by hot brass and layered with smooth vocals and harmonies. Itadi has toured France, Ghana, Benin, Ivory Coast, Nigeria and U.S. Itadi's lyrics are in English, French, and African dialects (Mina and Akposo).
Personal Comments from Itadi:
Oh man, I have such a headache [4th of July 1999]
---
Public Appearances
Currently appearing at various venues in the Washington DC area. Check the Washington Post "Weekend" section and WPFW radio FM 89.3 for the latest.
---
Contact

Phone: 202-269-3237
Address: 3004 20th St, N.E., Washington, DC 20002
---
Purchase

Itadi's releases are carried by Tower Records, Simba Records or can be obtained from him at the contact address listed above.
---