The Greater Washington Go Club
---
History
The Greater Washington Go Club was formed in the early 1950's to provide a central meeting site for DC area go players and to increase public awareness of this fascinating board game. The GWGC has sponsored numerous events over the years, including rated tournaments, demonstrations, and classes. It is a chapter club of the American Go Association (http://www.usgo.org/).
Meeting Site and Time
The GWGC meets every Friday evening, starting at , in room 15 of the basement of the Cedar Lane Unitarian Church, 9601 Cedar Lane, Bethesda, MD. Players of all strengths are welcome. Lessons for beginners and intermediate levels are available upon request.
Directions, Etc.
Take the Capital Beltway to the Connecticut Avenue exit. Proceed north towards Wheaton. Make a left onto Beach Drive (the first lighted intersection north of the Beltway exit). Then turn right at Cedar Lane (also a lighted intersection). The entrance to the church will be 100 yards on the right. The red star on the map marks the spot. The meeting room is #15 in the church basement, and you can find it by listening for the sound of clicking stones.
Regular membership dues are $20 annually. For seniors and students, the annual dues are $15. For more information, contact Haskell at 202-244-4764 / haskell@haskellsmall.com, or Ben at 301-384-4615.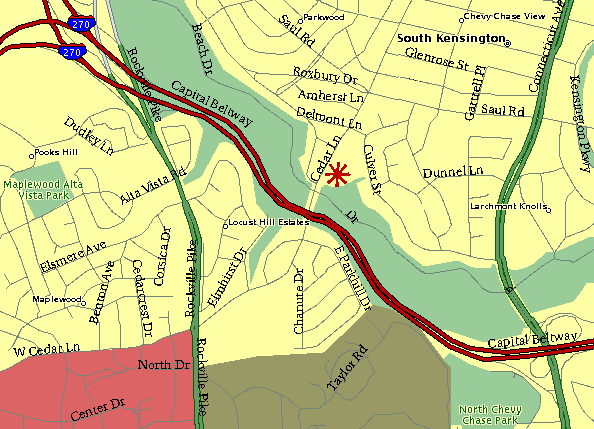 ---
For quality and value in Go equipment and books, please visit these suppliers…
---

---
---
Click here for DC and Baltimore Area Go Club links.
---
---
Created on Sept. 28, 1998. Updated on Oct. 3, 2012. Mail comments to spineyone@yahoo.com.
Number of visits

since Oct. 5, 1998.
---