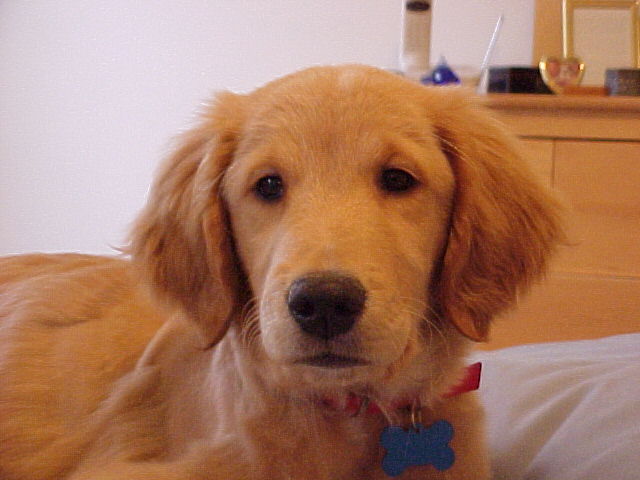 August 26, 2001 - April 11, 2011
Everyone misses you and loves you!
I had a dream, so the story goes...
On November 24th, 2001, my wife woke me up around eight in the morning. Eight in the morning is not that early unless you partied a bit too much the night before. The following is what transpired (words may not be exact, the the meaning is):
Shaggy: "What the hell are you doing waking me up this early?!?"
Jenny: "I had a dream!"
Shaggy: "What! You are waking me up this early to tell me you had a dream? What was it about?"
Jenny: "Chester."
Shaggy: "What about Chester?"
Jenny: "Chester told me it was time to get a puppy."
(Right here you may be thinking, "SO?" Let me give you some background first. We adopted a dog almost 3 years ago named Chester. He quickly became a huge part of our immediate family. Due to a very unfortunate occurance we had to put him to sleep on October 8, 2001. Since that time there has been something missing from our household but Jenny was not ready to "replace" Chester.)
Shaggy: "Huh?"
Jenny: "A puppy! Chester told me that we need to get up early and go get a puppy."
(A puppy is the only thing on my Christmas list this year, of course I am gonna listen to her. I just think she is making the dream thing up)
Shaggy: "Yea right! Chester told you. If he told you to get a puppy, what did he sound like"
Jenny: "Seinfeld"
(Of course I laughed at her, but I needed another dog and jumped right up. The rest is history, we purchased a curious little golden retreiver puppy later that morning. He is slowly becoming as much a part of our immediate family as Chester did.)
Below are some pictures of Scooby growing up. (click on the individual picture to see a larger view)
12 Weeks
16 Weeks
6 Months
7 Months
Scooby was diagnosed with cancer and died in April 2011. He was a few months shy of 10 years old. We can't imagine a dog that would be any better of a pet, family member, and best friend than Scooby was. We miss you and love you - rest in peace!