TRANQUILITY
Custom COLUMBIA 29 FT. Cutter (1965)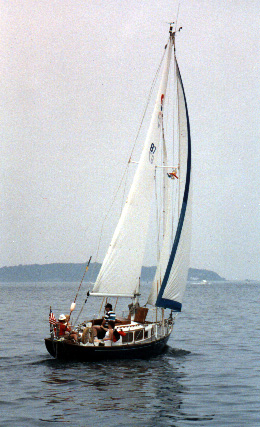 A Solid Offshore Cruiser. Has made two passages to Canada, seven passages to Bermuda, and one passage to and from the island of St. Croix in the Caribbean. Tranquility survived Hurricane Hugo that devastated St. Croix in 1989.
I owned this boat for 25 years and did some major enhancements to the boat for off-shore cruising.

Description -
Documented - 6 Tons
Dark Blue Hull, White Cabin Top, Gray Non-Skid, White Spars
Modified Full-Keel, Sparkman & Stephens Design
LOA = 28'6"
Beam = 8'
Draft = 4'
LWL = 22'6"
Rigged as a Cutter
The Sail Plan and cutter modifications were designed by Eric Sponberg, N.A., Newport, RI, and done by me in 1986. The details of the modifications were featured in an article in the August, 1996, issue of "Ocean Navigator" magazine.
Side Galley Model with Dinette
Mahogany interior
Sleeps 5 in V-Berth, Dinette, and Quarter Berth
Windows are Tinted Lexan, 1986, w/Teak and Mahogany Trim
Beckson Opening Ports in Main Cabin
Beckson Stainless Flo-Vents in forward and main cabins
Head (new 1991) w/Flexible Holding Tank (new 1992)
Hanging Locker
30 hp Atomic Four gasoline engine (Rebuilt 1978 model, installed 1992)
2-Bladed, 13" Prop (1983), new cutless bearing
Las-Drop Shaft Seals on Prop and Steering shafts (1988)
Edson pedestal steering system (1986)
Engine controls
Leather covered wheel
Richie SP-5 Compass (1988)
Blue Sunbrella Dodger (1989)
Lifelines w/gates, Bow pulpit, Stern rail
16# Bruce Anchor in Bow Roller (primary) 250' Nylon & chain Rode
13# Danforth Anchor (secondary) 200' Nylon & chain Rode
2 new Batteries (with GUEST Selector Switch and Charge Meter)
New Guest 15Amp Battery Charger
New Navico S/S Shore Power Connector and 50' Shore Power cord
Aqua Signal Navigation Lights and Foredeck light (1986)
2 Bilge Pumps, Electric in Bilge and Emergency Manual, Deck Mount
Navigation Equipment -
King Marine VHF radio (1986)
King Marine Loran (1986)
Datamarine Depth Sounder (1988)
Ray-Jefferson Wind Instruments (Mast Head Sender lost in Hugo)
Fleming Stainless Steel Self Steering Gear (1986)
AutoHelm ST3000 Electric AutoPilot (1993)
Plastimo 4-Man Offshore Life Raft (Certified 1989)
Sail Gear -
Battenless Main sail (1989) with 2 Deep Reef Points
Blue Sunbrella Sail cover (1992)
Hood Line Drive roller furling system(New 1991)
Furling 110% Genoa
Furling 150% Genoa, w/Blue Sunbrella cover (1989)
Stay Sail, w/Blue Sunbrella cover (1989)
Cruising Spinnaker (with Never-Used Chute Scoop)
Storm Jib
Internal Halyards
Jiffy Reefing with internal Boom Reefing Lines
Lazy Jacks
Miscellaneous Equipment -
2 - Blue Sunbrella Cockpit Cushions (Airex Foam)
2 - Emergency Flare Kits
2 - Fire Extinguisher
8 - Life vests, throwable horseshoe
Man-Overboard Pole
Galley Seat Belt
Air horn
Chrome bell
---