The Washington Times November

2003


DRUM! Magazine November

2000




Washington Jewish Week

February

2005




The Daily Press - Virginia

December

2003


THE TAKOMA VOICE November

2000


THE TAKOMA VOICE March

2000


SCENE MAGAZINE July

1996


QUIRKS December

1995


The Baltimore SUN October 1,

1994



---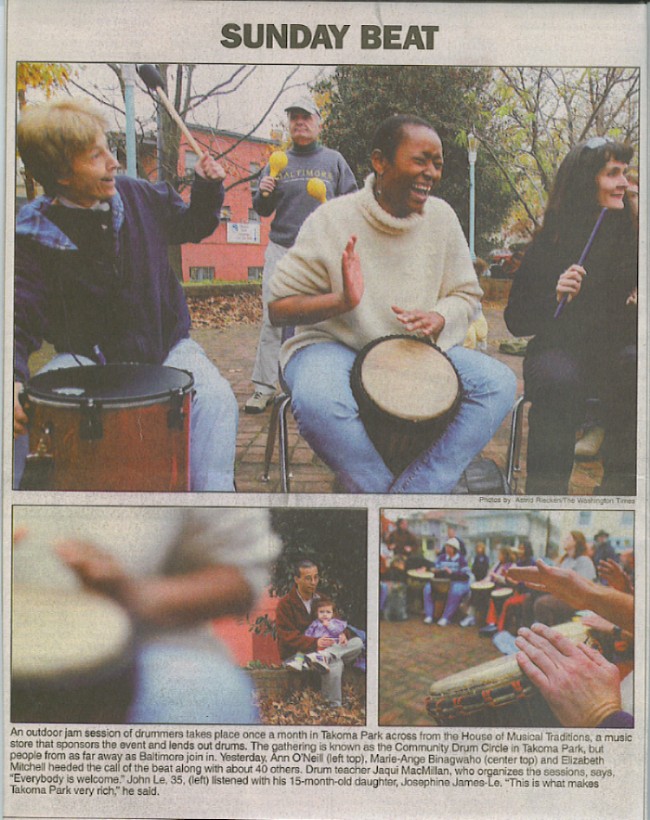 The Washington Times
Monday, November 17, 2003 Text:
An outdoor jam session of drummers takes place once a month in Takoma Park across from the House of Musical Traditions, a music store that sponsors the event and lends out drums. The gathering is known as the Community Drum Circle in Takoma Park, but people from as far away as Baltimore join in. Yesterday, Ann O'Neill (left top), Marie-Ange Binagwaho (center top) and Elizabeth Mitchell heeded the call of the beat along with about 40 others. Drum teacher Jaqui MacMillan, who organizes the sessions, says, "Everybody is welcome." John Le, 35, (left) listened with his 15-month-old daughter, Josephine James-Le. "This is what makes Takoma Park very rich," he said.
______________________________________________________________________________________________________________________________________________


DRUM! Magazine


November 2000



JAQUI MACMILLAN


Doing it All in DC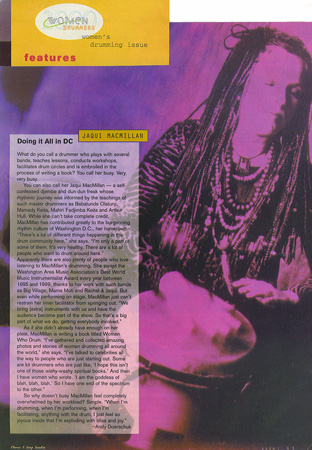 by Andy Doerschuk

What do you call a drummer who plays with several bands, teaches lessons, conducts workshops, facilitates drum circles and is embroiled in the process of writing a book? You call her busy. Very, very busy.

You can also call her Jaqui MacMillan - a self-confessed djembe and dun-nun freak whose rhythmic journey was informed by the teachings of such master drummers as Babatunde Olatunji, Mamady Keita, Mahiri Fadjimba Keita and Arthur Hull. While she won't take complete credit, MacMillan has contributed greatly to the burgeoning rhythm culture of Washington D.C., her hometown. "There's a lot of different things happening in the drum community here," she says. "I'm only a part of some of them. It's very healthy. There are a lot of people who want to drum around here."

Apparently there are also plenty of people who love listneing to MacMillan's drumming. She swept the Washington Area Music Association's 'Best World Music Instrumentalist' Award every year between 1995 and 1999, thanks to her work with such bands as Big Village, Mama Muti and Rachel & Jaqui. But even while performing on stage, MacMillan just can't restrain her inner facilitator from springing out. "We bring [extra] instruments with us and have the audience become part of the show. So that's a big part of what we do, getting everybody involved."

As if she didn't already have enough on her plate, MacMillan is writing a book titled 'Women Who Drum'. "I've gathered and collected amazing photos and stories of women drumming all around the world," she says. "I've talked to celebrities all the way to people who are just starting out. Some are kit drummers who are just like, 'I hope this isn't one of those wishy-washy spiritual books.' And then I have women who wrote, 'I am the goddess of...etc.etc.etc.' So I have one end of the spectrum to the other."

So why doesn't busy MacMillan feel completely overwhelmed by her workload? Simple. "When I'm drumming, when I'm performing, when I'm facilitating, anything with the drum, I just feel so joyous inside that I'm exploding with bliss and joy."

DRUM! page 43
_________________________________________________________________________________________________
Washington Jewish Week
Thursday, February 24th, 2005



They've Got Rhythm




Jewish Drum Circles Help Build Community


by Lisa Traiger

"Praise God with drum and dance, with flute and strings. Praise God with clashing cymbals; With resounding cymbals sing praises."

From a living room in Aspen Hill, a coffeehouse in Silver Spring, a community center classroom in Northwest Washington, the peals of drums, the rattle of maracas, the clang of zils -- finger cymbals -- are forming a syncopated chorus of praise and spirituality that's brought together Jews and Jewish seekers of all types.
Under the rubric of Jewish drum circles, Jews are beating out God-worthy tributes reminiscent of biblical psalms like Psalm 150, chanted in traditional daily prayer, that detail the glorious noise of ancient ritual Temple worship.
Jewish drum circles are coming of age in Washington. In recent months, at small, home-based gatherings and at large-scale community events, Jews have brought themselves and their percussive instruments -- dumbeks, congas, djembes, Indian hand drums, buffalo drums, cowbells, tambourines, shakers of every type, rainsticks, and more -- to make beautiful music together.
"Drumming allows us to tap into an ancient energy and our roots in a potent way. Drumming and chanting are primary practices for me," explains Holly Taya Shere, 28, a Jewish renewal educator from Silver Spring, who picked up a drum years before she reconnected with Judaism.
Cradling her hand-painted dumbek, a Middle Eastern hand drum, she says, "For me drumming feels like a very powerful Jewish practice. My favorite line in the Torah is when Miriam takes up her timbrels."
"With drumming, you just need to feel a rhythm," Josh Milner, 31, points out as he straightens the knitted kippah clipped to his hair. He continues, "There's something unique about that. The rhythm just flows right through you. It gets your body attuned to the people around you. What's unique about a drum circle is you need to be aware of the other people around you and you're working together to let those rhythms move around."
Milner, a pediatric allergist and immunologist at the National Institutes of Health in Bethesda, like many Jewish drum-circle participants, is self-taught, though his sister has performed as a professional percussionist.
Drum circles have been around since the 1960s, but in recent years, more people have taken the call of the drum seriously.
Jaqui MacMillan, a drummer and drum teacher for over 10 years, has been facilitating drum circles and bringing rhythm into educational, corporate and geriatric settings, where she has watched participants experience profound changes physically and emotionally simply through participating in the act of beating out a rhythmic pulse on a drum.
MacMillan, credits San Diegan Arthur Hull, frequently called the father of drum circles, with showing her the efficacy of drawing people into a circle to share rhythms.
"Drum circles are used for so many different purposes that are not just for fun," says the District resident. "They're therapeutic. I've been in hospitals and juvenile detention centers. I also lead corporate team building with the metaphor being we can work together to build something using drumming."
While MacMillan is not Jewish, she has instructed many Jewish students over the years, who have incorporated drumming techniques either into their worship and cantorial practices or as a means of relaxation and personal growth.
One chilly February weeknight, 60 people crowded into a side room at Mayorga, the Silver Spring coffeehouse, to drum and chant. The 90-minute drum circle, facilitated by Milner, a member of Ohev Sholom Talmud Torah Congregation in the District's Shepherd Park neighborhood, was planned as open-ended program to celebrate Rosh Chodesh, the coming of the new Hebrew month.
Additional drums and shakers, rattles and tambourines were available for drumless participants who ranged in age from Milner's toddler, Moed Sperling-Milner, banging fiercely on his FisherPrice drum set, to senior citizens joyfully shaking hand-held rattles in their first drum circle experience.
Bethesda's Mark Suresh Schlanger has become the Pied Piper of Jewish drum circles in the D.C. area, leading a group at the Washington DC Jewish Community Center and supporting other burgeoning circles. A yoga and drum teacher, he gently encourages all to find joy and healing in the pulsating rhythms.
"Let's begin with a conversation in rhythm," he says to the group. Each person taps, bangs or pounds out a syncopated phrase -- a rhythmic name of sorts -- and soon the crowd of novices and experienced drummers, friends and strangers, becomes one mass of percussive music.
Milner, who uses a Native American drum with a pair of mallets, leads the group in a chant in honor of the new month.
"My take on the drumming," Schlanger explains, "is that when you have to sing and chant at the same time, you can really go more deeply into the music because that much more of your psyche, body, flesh is involved. I used the word holographic when you embrace it É it gets you closer to the spirit."
Ohev Sholom's Rabbi Shmuel Herzfeld, 30, had never picked up a drum before he joined the Mayorga circle.
"I think it's a great way for people to connect spiritually," Herzfeld says. "I recognize that not everyone connects through liturgy and this is an opportunity for those who have difficulty connecting through the liturgy to also connect to God through the tunes and through the power of music."
While Herzfeld won't use drums during formal worship services because of Jewish legal prohibitions, a drum circle celebrating Rosh Chodesh poses no halachic problems in his mind. In fact, he sees a great similarity in drumming and chasidic nigunim, wordless melodies.
"The singing kumsitz [campfire] style and the drumming -- just allowing the melody to transport us in the way that sometimes words can't -- it was very inspiring."
For many years drumming has been incorporated into Jewish renewal movement activities, explains Debra Kolodny, executive director of Aleph, the Alliance for Jewish Renewal, pointing out that drums and music were part of ancient Jewish worship in the Temples.
"Now it's a part of services, it's a part celebrations, it's a part of holidays," she says. "People have drum, will travel."
Eric Marks, a member of Aleph-affiliated Am Kolel for the past two years, has been drumming for the better part of his adult life. An associate dean at Uniformed Services University in Bethesda, Marks, 56, created a way to integrate drumming into his Jewish practice by hosting Kol Tupim, an Am Kolel drum circle that incorporates Hebrew chanting, drumming and even a little text study.
"I needed a different spiritual approach. I needed something that was less ritualistic," he says of the informal living-room gatherings he and his wife, Janeane, host every month or two in their Aspen Hill home.
While Marks and a core group of about six to eight Am Kolel drummers sometimes accompany Am Kolel's worship services, the drum circle he sponsors, "provides people with an opportunity to engage themselves religiously in a spiritual way."
"There are many Jews who drum," he allows, "but not many who seek a Jewish connection. The idea is not to teach you how to drum, but to recognize the innate ability to drum that is within all of us."
At the DCJCC, where Schlanger, 50, leads a Thursday evening drum circle class, Joani Schnitzer of Bethesda Jewish Congregation seeks the healing power of the drums.
"Drumming and chanting," she points out, "are both channels that can be utilized for healing. They hold the possibilities of reaching into yourself and connecting into your soul so that healing can take place."
For Schnitzer, who once taught hypnosis, the repetitive nature of the drumming and chanting serves as a doorway into the subconscious.
Rabbi Tamara Miller, spiritual leader of Capital Kehillah, recently showed up at a drum circle with a brand-new instrument. She terms drumming the "up and coming new Jewish tradition."
Miller, who leads monthly services at the Sixth & I Historic Synagogue in the District, was attracted to both the musical feeling and the tribal connection she gets when she's part of a rhythmic chorus drumming and chanting Hebrew psalms of glory.
"In Psalm 150," she explains, "God says for us to sing with our bodies and with our voices. Almost anybody can do it. You don't have to practice, it's accessible, it builds community and you can learn Hebrew words and chants while you're at it."
Drumming will be included as part of Capital Kehillah's Seeking the Light: A Jewish Spiritual Practice Retreat, to be held this Sunday at Sixth & I.
Fran Kritz, a health-care reporter, brought her son, Matthew, and his friend Eli Bookstaber, both 10, to the recent Mayorga drum circle.
"It's a real expansion in how to observe your Judaism," said Kritz, who lives in Silver Spring's Kemp Mill.
Her neighbor, Allan Topolosky, a member of the Kemp Mill Synagogue, couldn't resist the vigorous rhythms: "My wife, Nancy, and I both walked in exhausted from the day and now we're energized."
Topolosky looks around the room at the children and their parents getting ready to leave, the young men still wearing ties, loosened after a day at the office, the teens in tie-dye and torn denim, and the older Orthodox women in modest skirts and blouses, and sees community.
"We need to have more of these programs that are open to all and that are able to open up Judaism to everyone."
---
Daily Press (Virginia, Front page - LIFE section)
Saturday, December 20, 2003

Drumming to Their Own Beat
Women gather to unleash the rhythmic thunder of life
by Kerrie Frisinger / DAILY PRESS

This ladies' night has a few unwritten rules:
No men. No flash photography. No wallflowers.
It's a place where women sing about being women at the top of their lungs and let shivers run down their spines as they read "Medicine Woman" tarot cards. Where women pound goatskin drums under soft candlelight because mood matters. Where everyone is expected to leave with reddened palms and nourished souls.
For the last 10 years, Hampton Roads women have been gathering one Saturday evening a month at the Unitarian Universalist Fellowship of the Peninsula in Newport News for an all-female drumming circle. Many are not members of the fellowship and some drive an hour to participate. The drums and the rhythms come from as far away as Haiti, Cuba, Africa and the Middle East.
Many of the women are novices. Only a couple play professionally. But nearly all come seeking a very physical doorway to the spiritual.
Connie, a 75-year-old in a tie-dyed T-shirt and orthopedic shoes who preferred to give only her first name, said she comes home from the sessions so energized she sometimes struggles to fall asleep.
"You go home and you're feeling all this and thinking all that," she said.


Over the course of a decade, Washington, D.C., based drumming teacher, Jaqui MacMillan has worked with more female drumming circles than she can count - a number somewhere in the hundreds, she figures - including, occasionally, the Peninsula group. She's licensed throught the Drum Circle Facilitators Guild, an accrediting institution for drumming facilitators.




"There are women all over the world doing this," MacMillan said. "It's growing and growing. When women are together with just women, they feel like they're in a safe space. Especially with something like drumming, women feel less intimidated."


During a recent gathering in Newport News, eight women and one girl - a considerably smaller group than the dozens who often come - sat down for a potluck dinner and impromptu tarot card reading. They asked each other about jobs, families and personal projects.
And then, abruptly, came the cue: "OK, ladies, let's hit it!"
This was from another Connie - Connie Ralston-Roberts - who serves as the group's unofficial organizer, although she shies away from such titles. She's a petite, soft-looking woman in her mid-50's with shoulder-length hair the color of pure silver. She wore a flowing dress and dangling earrings and spoke in soothing tones about the focus of the drumming circle: openness, inclusiveness and recognizing that everyone has something to contribute.
As the women moved into the fellowship's small chapel, a few took shoes from feet and slid rings from fingers. They encircled a cluster of drums - short and squat like gourds or tall and looming, and nearly all belonging to Ralston-Roberts. At last count, she estimated she'd amassed a collection of 65 drums from around the world.
"Everyone collects something," said Ralston-Roberts, who also plays professionally at schools, libraries and with a local performance group, Beleza. "I collect drums. That means Santa Claus knows what to bring every year."
Ralston-Roberts suggested the group start with a song called "Spirit of the Wind."
"We're making a quiet wind," Ralston-Roberts wispered.
The women traced their fingers in soft circles on the taut drumskins to produce an airy, scratchy sound. In unison, they repeated a cappella, "Spirit of the wind, carry me home to myself," until one of the drummers started a slow, thumping bass beat. Others began to strike their palms against their instruments and the beat swelled to a tribal crescendo. The women hummed in unison, many with eyes closed and lips curled into placid smiles.
Minutes into the song, Ralston-Roberts counted almost inaudibly down to 1 and the drumming stopped, plunging the room into synchronized silence.
"There's more sense of people listening to each other," Chesapeake resident Katherine Rickett, 54, said later that evening. "Sometimes in the mixed group it's hard to hear the people leading it."
The fellowship also host a coed group, the Groundhog DrUUmers, once a month. Norfolk resident, Jo Thiele, who plays with both the women's circle and Beleza, calls mixed groups "testosterone drumming," because they're often a contest of who can hit hardest.
"This is like meditation and therapy," said Thiele, 52. "Being with women, just the healing power of it, you always feel good."


Jaqui MacMillan has spent the past five years collecting stories for a book about women and drums. She heard from one woman who claimed to have overcome debilitating grief with drumming and another who said it helped send her cancer into remission, MacMillan said.




"Everything we do is rhythmic," MacMillan explained - walking, talking, breathing. The cadences of drumming, she said, can bring people closer in touch with their own heartbeats and biorhythms.




Both MacMillan and Ralston-Roberts have given drumming lessons in nursing homes and hospitals.

Some clinical research on connections between the mind and body has been inconclusive, but a recent study by the American Psychological Association suggests that chronic stress can interfere with immune function, while strong social support can improve health.
Later that same night, the group played a piece mimicking the sounds of woodland animals, a powerful, free-for-all jam and a song meant to radiate healing powers out of their small circle.
They finished by holding hands and belting out a song praising womanhood. The youngest member of that night's gathering, lanky 11-year-old Ada VanTine, was still more girl than woman, but she sang along happily.
"I think it's great for Ada to be around a group of women," Ada's mother, Lucy, said. "It's empowering."
Ralston-Roberts grew up in a small, homogenous community that she said made her feel limited. She suffered from polio as a child, which also made her very shy. She started drumming about 15 years ago, when she attended a women's retreat.
"There's all kinds of stuff back then that made me not want to be the center of attention," Ralston-Roberts said. "And then came drumming. It's a powerful thing to play something loud and thunderous. My picture of the possibilities of who I can be is broader."

___________________________________________________________________________________________________________________________


THE TAKOMA VOICE


November 2000

Beating Around the Tree
by Carolyn Feola

On certain Takoma Saturday nights, when the moon has waxed to its fullest, there is an unmistakable pulse in the air. Follow it through Old Town, down Carroll, onto Maple. It will be coming from the Liz Lerman Dance Exchange.
Swing open the door and the pulsing becomes thunder. Walk in further, lsiten closer, and within the primal pounding there will be notes high and resonant. The sounds intensify with every step beyond the lobby ... and finally, there is the epicenter: a grand circle of percussion, filling a cavernous studio with sound and energy. Everywhere are exotic drums and sparkling strings of light and rhythm toys in all manner of design.
Gliding around the circle's interior is a barefoot conductor. She herself is jingly with ankle chimes and a joyous spirit, and her eyes sparkle in the room's amber light. She can't stop beaming as she moves from drummer to drummer, telling each to start vocalizing something instead of pounding. One by one the beats drop out and the chants begin, and the room sounds completely different from one measure to the next.
"Louder!" she yells, barely above the din.
She urges them onward, with spirited gestures and arm movements and nods, until she finally shouts "one, two, three, AND..." They slam back into one gigantic beat, and every heart in the house leaps.
Making hearts leap is what this group, the Village Tree, is all about. Jaqui MacMillan and her co-facilitator, Marcus Tilman Sims, are professional drummers and percussionists who have spent years leading people in making joyful noise.
They believe that group playing and dancing can strengthen both individuals and communities, so in May 1999 they created the Village Tree to provide that kind of growth environment to the people of Takoma Park.
"The idea was to have a place to come together for music and movement," Marcus explains about the Village Tree's roots. "What I'm interested in is having people connect, which of course is what community is all about - to have people connect through music and the space. With music you become more than an individual, you become part of a collective."
He says the group's name and inspiration came from a traditional symbol of togetherness.
"The image for me was the African village. Often there's a baobab tree in the center of the village, and that's where community celebrations take place, or drummers come to play."
In the corner at each Village Tree gathering there stands a real tree, lighted and decorated and draped, which just adds to the enchanting atmosphere these two friends create.
"Marcus and I come from different areas of the DC drumming community, and we had always talked about collaborating," Jaqui says. "Marcus specializes in movement, and I am trained in facilitating community rhythm circles -- there's actually a course in that! So we said, 'Let's invent a dance / drum / movement place for the communtiy, where they can come back regularly.'"
The Village Tree is generally held once a month - "whenever we can fit it into our crazy schedules," Jaqui says with a smile. "And it always ends up near a full moon!"
The next Village Tree is scheduled for Saturday, November 11, and Jaqui hopes it will be bigger than ever.
We'd love to see it grow, and have more regulars involved," she says. "Most people come back, and they say 'I'm going to bring all my friends back with me!' That works for us -- word-of-mouth."
Jaqui and Marcus took what they learned from dozens of workshops and countless drumming jam sessions to create something halfway between the two -- a set program that's built around individual expression.
The evening begins with a game where people introduce themselves by singing their names. Then, Marcus leads a movement exercise to relax everyone into feeling "body-centered." As they move about, gradually people begin to pick up percussion instruments, which segues into the drumming circle. That's when Jaqui takes over, coaxing all the individual rhythms into a whole sound.
"Each person feels their part is just as important as everyone else's," she says. "Everyone is a key piece to the circle." All those unique pieces are what make the dynamic --Jaqui stays out of the way and lets everything emerge naturally.
"My job is not to control the circle," she says. "It's to help people bring the music to higher levels; to guide them to a place where they're using their full potential. That's what facilitating is about."
After a short break, the group reconvenes for the "boomwhacker" portion of the evening - toying with long, multi-colored sound tubes that remind everyone to be playful with their noisemaking. They usually will sing songs after that, which might add to the silliness or take things in a quieter direction.
"Some songs are calmer; beautiful and serious; then sometimes people sing Gilligan's Island!" Jaqui laughs. "We often go from one extreme to the other."
Finally, Marcus brings out his mandolin to guide the group through a song he composed about the ocean.
"It's not quite a round," he says, "but it's a chant that has six different vocal lines. It's easy to get into; all you need to learn is the first line. Once you get the chant going, there's a lot of space for improvisations and self-experession."
Slowed by layers of vocals and lulling sounds, the evening draws to a close.
"Everyone is using shakers and whoosing like water; it just brings the energy right down," Jaqui says. "It's a magical space ... people leave there feeling high."
Even though they always follow the same program, Jaqui says the Village Tree is a delightfully unpredictable experience. The individual contributions and the natural spontaneity are all part of the fun.
"People ask me, 'what's it like?' And I'll say, 'I can't tell you; it's different every time. Just know you'll have a good time.'"
The Village Tree meets on Saturday, November 11, 7:30 to 11p.m. at Liz Lerman Dance Exchange, 7117 Maple Avenue in Takoma Park. Admission is $15 in advance and $18 at the door, with discounts for students and seniors. Bring the tots - kids six and under are free. Use one of the Village Tree's drums or bring your own. For more information, visit Jaqui's website (www.erols.com/jaqui), and to reserve a spot, call (202) 332-5337 or (301) 754-2166.

---
Takoma Voice
March 2000

Rachel & Jaqui Leave the Village,Explore Their Own Territory
by Carolyn Feola


It has been said that when you let yourself shine, you silently tell others to do the same. Perhaps this explains a little bit about Jaqui MacMillan and Rachel-Ann Cross. As a musical diva-duo, Rachel & Jaqui have an enthusiasm that spills across a stage and draws audiences out of their seats and onto their feet. As individuals, they live for artistic expression in all its forms, sharing their talents here and there and all around Takoma Park. And as encouraging teachers, they invite everyone to participate in music-making—they bring along a melange of fruit-shaped shakers to every performance, for anyone who wants to play along.

Jaqui and Rachel are shining examples of how joyous life becomes when the creative soul is given permission to pirouette. The two have simply moved out of the way and let their inner artists direct the flow of their lives.

Both women have visual arts degrees, and are exquisitely talented in multiple media—in fact, Jaqui's paintings are part of the face of Old Town Takoma. That's her beautiful sign outside S & A Beads, and she did the charming mural that brightens Now & Then's south wall.

But it's the music that resonates most with Jaqui and with Rachel. Rachel figured that out while attending art school in Paris. "I would play guitar on the trains there," Rachel recalls. "It was way better than going to school! What an education, with all those people from around the world."

Jaqui had a similar awakening while in art school. "I don't know what happened," she laughs, "but drums came into my life, and I got into world music in the early 80s. I had no idea I'd end up in music, though; in my wildest dreams, I never imagined the music would take over."

Jaqui has since become a Wammie-award-winning drummer, and Rachel too has been lauded as an instrumentalist and songwriter. For ten years they played together and continued to win Wammies in the well-known local ensemble Big Village, before working together as a duo. "Big Village was a great thing, but we were ready for change," says Rachel. "Last fall we started doing duets, and decided it was time to move on."

Rachel & Jaqui's sound is a catchy blend of world beat, roots, and contemporary folk music, featuring Rachel on acoustic guitar and lead vocals, and Jaqui on djembe (West African drum) and harmony vocals. Most of their songs are written by Rachel, with some traditional African songs newly arranged by Jaqui. Each woman has added to the other's skills, though, and they are full of praise for each other.

"I never used to sing," Jaqui admits, "but Rachel brought my voice out. I do still feel like I'm a vocalist in training, but people come up to me and say 'you have such a beautiful voice'."

"You do have a beautiful voice," Rachel tells her. High praise indeed from such an accomplished vocalist, but Rachel is ever-humble, and gracious to her friend. "Jaqui got me to play a djembe in public!" she laughs.

Learning is a continual process for them both, even with all of their successes and experience. Every year, Rachel heads to North Carolina for the Swannanoa Gathering, which she says changed her life as a musician. "You can attend songwriting workshops and guitar workshops at the same time; I highly recommend it to anybody. You don't get any sleep," she winks, "but it's great."

Rachel also takes guitar lessons with Takoma Park musician Al Petteway, and Jaqui is a drumming student at the Tam Tam Mandingue school. "Our studies never stop," Jaqui says. "Learning keeps it exciting and challenging."

Both women are channels for knowledge, too—Rachel teaches guitar, songwriting, and visual arts, and Jaqui gives drumming lessons through the House of Musical Traditions. She also co-facilitates a monthly program called the Village Tree, an all-ages evening of drumming, singing, and dancing at the Liz Lerman Dance Exchange in Takoma Park.

When they are not studying or teaching, Rachel & Jaqui perform all over the area, from the Kennedy Center Millennium Stage to the 9:30 Club to courtyard cafés. Their joy infuses every performance, whether the venue is large or small, because these are two people who love what they do. They have bet on themselves, their talents, and their dreams, and they are winning, every time they step onstage.

"It's almost like you have to reprogram your mind to do it," Jaqui says thoughtfully, "but once you've lived this way, and made that leap of faith into it, you can't imagine doing anything else. Look at our jobs! Look at what we do! We have SO much fun."

"It's not just a living," Rachel says with a smile. "It's a life!"

On Monday, March 6, at 8 p.m, the Institute of Musical Traditions Concert Series welcomes Rachel & Jaqui to the Paint Branch Unitarian Universalist Church in Adelphi. For tickets and further information, contact IMT at 301-263-0600, or visit the House of Musical Traditions in Old Town Takoma Park, 7040 Carroll Avenue.

To read more about Rachel & Jaqui, or to just say hello, visit their website at http://users.erols.com/jaqui/rachelandjaquibio.html, or send an email to jaqui@erols.com or cross@tidalwave.net.

---
Scene Magazine

- (cover story)
July 1996



Dreaming and Drumming with Jaqui of Big Village


by Sueraya Shaheen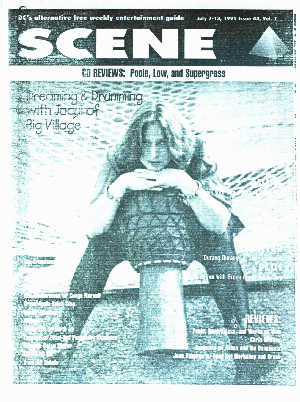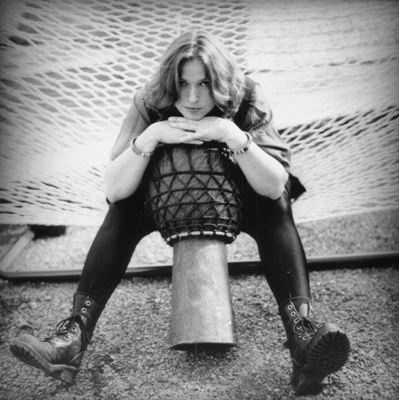 (Cover of Scene Magazine, Washington DC)

Photos and text by Sueraya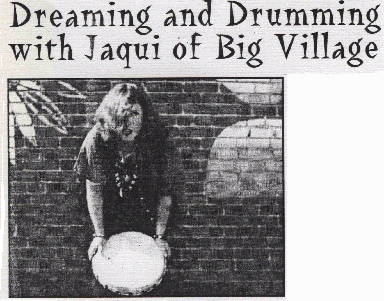 Last summer I was psyched about being hired to photograph an upcoming ad campaign featuring local talent. I had just graduated and completed my thesis doing portraits, so I felt it would be a piece of cake, not to mention fine art ... By the time I got together with Henry Cross of the DC pop band Big Village, the concept had changed, and I ended up taking photos of people eating tacos ... pretentious as I was a month out of art school, I was pouting as I was introduced to Henry, who had the biggest smile and was so damn cheerful. After the shoot. I had to tell him he was the happiest man in the world ... but he said no! there's someone else who's an even happier person. "Come with me." he said... and that's how I met Jaqui. She's the percussionist for Big Village."
Being around the two happiest people in the world when you are sulking is ... never mind. I just sat there and didn't say a word. But in that house I felt like I'd traveled into another world. It wasn't until a year later when I came back to do a portrait of Jaqui (for a series I'm working on) that I managed to really talk with her and ask her ...
Scene: What got you into drumming?
Jaqui: I've wanted to drum since I was a kid, but I had to choose between piano or guitar lessons. I took guitar, then quit. When I went to college in 1980, I met a bunch of really cool artists. poets, and musicians. We started meeting on a weekly basis to just go into the woods and jam. We had no instruments, we'd just bang on logs and rocks and sing crazy songs. Then we all started to buy percussion instruments, including drums, and the "jams" became more serious. I took it very seriously and continued to pursue more outlets for drumming.
Scene: When and how did you end up in a band here?
Jaqui: In 1988, Henry Cross called and said he heard about me through the grapevine and was looking for a percussionist for his band [Big Village]. I met him and his wife, Rachel [the lead singer], in Paris, because we just happened to be traveling there at the same time! Well, I passed. the audition and have been the percussionist for Big Village ever since. At that time I was scared stiff to be in a band because I thought I didn't know enough about drumming...so I sought out teachers. I am so lucky to have found some of the greatest teachers. I met, and have become good friends with, Babatunde Olatunji--that was in 1989. I took workshops from him, and fell in love with one of his drummers, Shina Durosinmi-Etti, who later became my fiancé. I studied with Shina for a few years and we worked together with the drums a lot. Shina tragically died in 1991, and I had an even stronger need after that to keep the drumming alive. I started some intense training with master drummer Carlos Moore, from Trinidad, in 1992, and I still study with him today on a weekly basis. He kicks my butt! I owe a lot to him for where I am with my drumming today.
Scene: Tell me about what kind of drumming you do.
Jaqui: The drum I've concentrated on most is the djembe, from Mali / Guinea in West Africa - that's my "specialty". I plan to go to Senegal either in October or January to meet Ngalla Samb, a drum maker (he's going to make a djembe for me while I watch!) and to study with Baaba Maal's percussionist, Bada Seck .... the guys in Baaba Maal and I have become great friends. I feel so blessed to have met so many amazing and famous drummers since I made the choice to follow my drumming dream. I have to drum, they've been calling me my whole life.
Scene: We've all heard what women should and shouldn't do. You've gotten shit about being a drummer, and anyway, how do you feel about women drumming?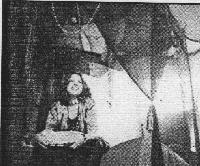 Jaqui: Women and drumming...I think women are naturally rhythmic people. Our bodies function in rhythms and patterns. I believe that women should drum more. We make very sensitive, yet strong drummers; it's less of a competition than it is with men - it's more like a communion. Don't get me wrong, I've met some wonderfully sensitive male drummers too, but I've also met too many "macho drummers". When I say "sensitive," I don't mean "weak." I know a lot of powerful drummers, and one of the things that makes them so powerful is their sensitivity.
Scene: Do you drum with anyone else besides Big Village?
Jaqui: Big Village is my main gig, but I do a lot of outside stuff. I also drum for Peggy "Abena" Disroe and Voices With Vision when I can; she's a performance poet. I've played with a lot of different dance groups and music groups over the years and do some solo performances for Dagger Productions. I've worked in the studio, too, with different groups ... I definitely overbook myself! ... but I love it.
Scene: Do you teach?
Jaqui: I teach beginning drum workshops, mostly to women and sometimes for children, and I have a few private students. I'll be teaching the drum workshops at the Twin Oaks Women's Gathering this year, in August. I'm real excited about that.
Scene: What other things do you do besides drumming?
Jaqui: Besides drumming, I'm also a polymer clay artist and a painter. I make things out of Sculpey! Mostly beads and jewelry, but also boxes and masks. Some of my work was recently published in a national calendar, and I have some stuff in two different books that are coming out next year. Rachel [from Big Village] and I are going to have a show at Market 5 Gallery in September; it's going to be all masks. I love creating and doing art, but my heart is really in the drums. The other thing I LOVE do is work with kids. I teach both bead making and drumming at several elementary schools when school is in session. Kids are the greatest people to work with.
Scene: With so many different directions in your life, what dreams do you have?
Jaqui: I think I will always be trying new things, always moving ... I can't see myself ever settling down, whatever, that means ... I can see being a student of the drums for as long as my body can move! I will definitely drum forever. I really believe in excellence and I want to get there. I want to inspire people and be a strong role model for kids. I think we need more POWERFUL WOMEN role models in this world. Another big issue with me is racism ... I hate it! I want to help, possibly through the music, in any way that I can to break down those walls. Those are some of my biggest goals. I also want to make a lot of money so I can adopt a whole bunch of kids and help them get on with their dreams.

---
Quirks
Exploring Montgomery County, MD and the World Beyond
December 1995

Jaqui MacMillan: Creativity, Hands Down
By Cathy Grubman
Photo by Michael Stewart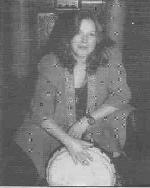 (1995) You can tell a lot about a person by watching her hands.
Spend a day with Jaqui MacMillan and you might see them moving fast and furious as they pound a set of congas. Or, they could be painting an outdoor sign for a friend's store. On Nov. 7, they were accepting a Wammie award from the Washington Area Music Association. (She won "Best Instrumentalist for World Music.") The very next day she was using them to mold an intricate design in clay as she prepared for an upcoming show of her art work.
One look and you'll see that Jaqui MacMillan labors hand over fist to live and work in a world full of art and music. "I couldn't do it any other way," says Jaqui, a resident of Washington, D.C., who calls Takoma Park, MD., her "creative home."
When she talks about drumming, her eyes get bright and she smiles broadly. She cradles her djembe (a West African drum, pronouned "jembay") like a pround mother. As she's playing, she moves and sings with a working-hard-yet-having-a-good-time intensity. She's one-fifth of Big Village, a culturally and racially diverse band whose music combines African, Eastern and Indian rhythms in a danceable, funky amalgamation. MacMillan, who grew up in the suburbs of New Jersey, fits right in.
She came south 16 years ago to live in Mount Airy, MD. "My parents moved down here during my last year of high school," she recalls. "Here I was, a girl from a metropolitan city area...Out of nowhere I was uprooted and brought to a cornfield."
In retrospect, MacMillan, says it was the best thing that ever happened to her. "I gained an appreciation for country life. And, if I hadn't moved here, I wouldn't be in the band. I wouldn't have gone to the University of Maryland [she graduated in 1985 with a degree in advertising design] or subsequently been exposed to so many kinds of music there. I wouldn't have met, well, all the great people I know."
She would not have met Shina Durosinmi-Etti, who, along with African drummer Babatunde Olatunji, were important inspirations in her early drumming career. "I just started playing and experimenting [with the drumming]. I knew that I needed to develop my skill and I started studying with master drummers."
Shina (to whom MacMillan eventually became engaged) died tragically in 1991, which gave her "an even stronger need to keep the drumming alive."
Today, Big Village performs nearly every weekend at local clubs and festivals. The band is composed of MacMillan, husband-and-wife duo Henry (bass guitar/vocals) and Rachel Cross (lead vocals),Neeta Ragoowansi (keyboard/back-up vocals) and James McDonald (trap drummer). The Crosses do most of the songwriting. Most of the band members live in Takoma Park.
The Wammie award, as well as another recent first-place win in the 12th Annual Mid-Atlantic Song Contest for Big Village's "Go Girlfriend," proves that the band is on its way to reaching a wider audience. "And the award came at a perfect time," says MacMillan. "We won eight hours of studio time at Hit and Run [a production studio in Maryland]. We were working on new material and saving our money to go into the studio to record. Now, we've got some free recording time. We are ecstatic."
When she is not performing, MacMillan is practicing, taking lessons from Carlos Moore (a master drummer from Trinidad) and teaching drumming.
Her creative impulses are not limited to sound, however. It's just as common to find her giving instructions in polymer clay beadmaking and sculpting, another source of income. "I also do some graphic work and outdoor signs," she says. "Certainly, it all helps to pay the bills, but I love all of it."
MacMillan sells her artistic designs at local bead stores, such as S&A Beads in Takoma Park, and at holiday art fairs. She creates her bead patterns--and builds boxes and masks--from Sculpey clay. Her designs have been featured in "The Polymer Clay Calendar" and in a upcoming national art book that's being published by North Carolina's Altamont Press.
What does the future hold for MacMillan? "A little of everything. I know I'm going to be doing the drumming thing forever. I want to make my own tape sometime and I've written a whole bunch of songs for percussion. I see doing more teaching--I love working with children. I'll always do some type of art. I want to inspire people, especially women, and be a strong role model for kids."

Big Village's CDs and cassettes are available at the House of Musical Traditions and Tower Records. Polymer works by MacMillan will be at the University of Maryland Student Union in a Holday Craft Fair on Dec. 4, 5 and 6, 1995, from 10 AM to 5:30 PM. The Big Village Women will play from 10:30 AM to noon on Dec. 4 and 5, 1995, at the fair. Big Village will play Dec. 31, 1995 at First Night Montgomery, a family-oriented New Year's Eve celebration in Silver Spring.
---
THE SUN (Baltimore)
Today
SATURDAY, OCTOBER 1, 1994

For these women, the beat goes on
By Stephanie Shapiro
Sun Staff Writer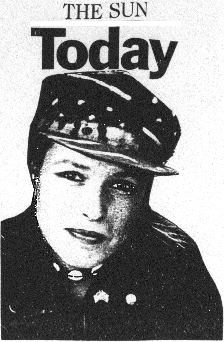 A woman known simply as Piel bitterly remembers when her Junior high music teacher reneged on a promise to give her drum lessons.
For the 40-year-old interpreter for the deaf, other instruments would not suffice. "I was pent up with music," she says.
Robbye Apperson, a writer, was thwarted at home. "I always wanted to play the drums." says Ms. Appersen, 39, "and my parents bought me a flute."
Joanne Riley grew up playing the piano and became an accomplished musician. But no keyboard "has grabbed me the way percussion has," she says.
As members of Girls Just Want to Have Drums, a women's drumming circle formed in Baltimore two years ago, the three now play with syncopated abandon, in gleeful defiance of parents and teachers.
And they like to share their groove: Tomorrow, at the Fells Point Fun Festival, Girls Just Want in Have Drums will perform a set of hypnotically powerful songs guaranteed to make you move.
"We all feel we were born to drum," says Ms. Riley, 39, a computer specialist and the unofficial leader of the group. " All of us would have given anything to do this when we were kids." But girls didn't play the drums.
The "Girls," whose size ranges from eight to 10 members, are making up for lost time by making exuberant music with goblet-shaped djmbe drums. gourd shakers, claves, agogo bells, rain sticks, tambourines, congas and other percussion instruments. They perform at women's festivals. drum retreats,
church basements, galleries and bookstores -- part of a wave of women's drumming across the country.
Long ago, women percussionists were an integral part of community life says John Millan, a Baltimore drum craftsman and scholar.
"Before the advent of Christianity, women were very much empowered and involved in ritual ceremonies involving drums," he says. Gradually, however, drumming as a means of prayer and communication became largely the purview of men.
Now women are reclaiming their unique sense of rhythm. says Mr. Millen, who suggests women are born to drum in a way men are not. "They have an innate sensitivity to cycles and rhythms that men are less sensitive to," he says.
"They certainly play differently than men," says Jaqui MacMillan, an acclaimed drummer and teacher in Washington who has studied mainly with men. For "a lot of men I play with, it's a competition. It really is like a test of strength; who plays the longest, loudest, hardest, fastest."
While her rigorous apprenticeships have served her well, she enjoys playing drums with women.
"I love it." says Ms. MacMillan, percussionist for a popular world beat group called Big Village.'You go in the circle and it's like going into open arms."
At a Wednesday evening rehearsal of Girls Just Want to Have Drums, 12 women ranging from their 20s to their 60s have gathered at Toby Rivken's Lauraville home. Sweat shirts and other protective coverings are removed from djembes and congas. Soon the orchestra is deep into a mesmerizing song called "Fire."
With a sure hand, Ms. Riley conducts the players, urging them on with body language, beat counts and well-placed grunts. When the band peaks, it plays in crisp unison. while allowing certain members to lace the music with polyrhythms, emphatic slaps and the spicy clang of two toned agago bells.
Drawn from the African diaspora, the bombas, rumbas and spiritual incantations the band plays have been filtered through the drummers' own experience as American women. "What we're building here is a North American tradition. We're not trying to be Africa," Ms. Riley says.
Among those playing is Dee Kinsey, 51, a psychotherapist and one of the few members who persuaded her parents to let her play drums as a girl -- not easy for the daughter of conservative Midwestern Republicans.
There's Natilie Towles, 37, who has recently formed Iona Productions with sister member Cindy Bauer to bring drum masters to Baltimore. Ms. Rivken, a French and Spanish teacher, has been inspired by her drumming community to make clay and goatskin drums in the North African style. She calls her fledgling business Conundrums.
The band practices intensively for two hours, and then players call it a night. Colorful T-shirts and whimsical hats are distributed for Sunday' s concert. The women pack their drums and go home.
But before she leaves, conga player Maya Reid, who is to her 60s, ably sums up the group's source of vitality and joy: "We're all very diverse and it's a lot of fun to share this."

BACK TO JAQUI'S HOMEPAGE

CLICK!