Mama Muti
Medicine Through Music
INTRODUCTION...
Mama means Mother, Muti is from South Africa and means medicine. As the name suggests, the group Mama Muti is a compilation of rich sounds, various cultures, and Mother medicine stories gathered together and presented by two women in a seriously dynamic fashion. With Jaqui MacMillan and Amikaeyla Proudfoot Gaston both on vocals and percussion, the harmonies and rhythms created by this organic duo blend, shapeshift, and invoke a power and purpose from deep within the listener. Mama Muti creates music as medicine for the Earth, Body, Mind and Spirit; healing with sound. Amikaeyla Proudfoot Gaston is currently studying the effects of music and sound in healing for her Doctorate degree in Alternative Medicine. And through her many years of study in African drumming and percussion, Jaqui MacMillan adds authentic healing rhythms to the mix. Amikaeyla and Jaqui - Mama Muti, believe that this type of music is crucial to the well being of the planet and all of it's living creatures. At this time of major transition, the world is in a delicate balance...where the positive and negative energies are "running neck in neck" ...Mama Muti wants to help in tipping the scales toward the positive. The world needs more beautiful music.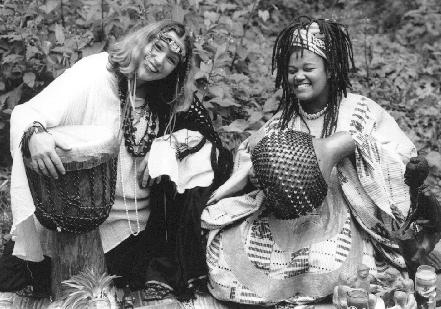 photo by Shakira Washington


"I , (along with countless audiences for whom we have performed), am eternally grateful for the energetically colorful, joyful womanly bravado of Jaqui MacMillan and Amikaeyla Gaston. Their Mama Muti music brings everyone alive, while effectively invoking the Ancestors, Spirit-forces and Gods with whom we need to conspire to create a more lovingly ingenious world at this dreadful and beautiful time." -Caroline W. Casey, author Making The Gods Work For You, radio personality KPFA 94.1 FM San Francisco -The Visionary Activist Show

Mama Muti was nominated for a 1998, 1999, 2000 & 2001 Washington Area Music Award (WAMMIE), in the category of "Best New Age Duo"


Mama Muti was nominated for a 2000 Washington Area Music Award (WAMMIE), in the category of "Best New Age Recording"

Mama Muti can be heard on Caroline Casey's audiobook Making the Gods Work For You , on Sounds True Audio and in the opening music for Caroline's radio show on KPFA 94.1FM San Francisco, The Visionary Activist Show.
E-mail us

Jaqui's home page

click!