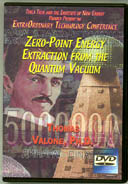 ZERO-POINT ENERGY EXTRACTION FROM QUANTUM VACUUM DVD
Illustrated 90-minute conference presentation (2004)
explaining zero-point energy and the results of a one year-long
Feasibility Study of the Extraction of Zero-Point Energy
from the Quantum Vacuum for the Performance of Useful Work
(available download from IRI News site). Detailed findings in this lively
presentation are easy-to-understand, many also have references.
Audience response was very enthusiastic.