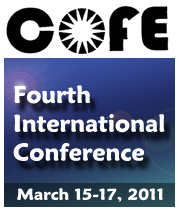 Integrity Research Institute is committed to the revitalizing work of securing our future by investigating and documenting emerging energy technology. Part of our mission is to educate the public with reports on alternative energy developments, lectures at scientific conferences often with our traveling exhibit booth, provide talk show interviews, publish energy books and articles, CDs, audio/video tapes, provide consulting services for authors & movie producers, and offer a Future Energy eNewsletter. Your tax-deductible assistance is invited.
The Institute's goal is to implement a new energy infrastructure that provides local, on-site electrical power and offers clean possibilities for transporting people and products. IRI also has plans for a research center with a lab and classrooms offering training courses for the public. We have received recognition from Temple University's Center for Frontier Sciences, the Foundation for the Future, the Department of Energy, and other organizations for our programs and services.
What We Do:
...research breakthrough energy and antigravity technologies
...mediate collaboration between energy inventors and investors
...host future energy conferences and seminars
...publish books, papers and audiovideo reports on energy and propulsion technologies
...create public energy & transportation exhibits for museums, libraries, and conferences
...work with congressional leaders concerning energy developments and inventors

Through either a membership or donation, you help us meet our goals.