SPY-1D Phased Array Radar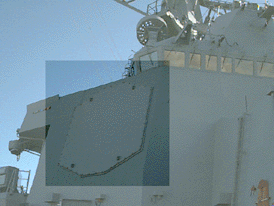 The backbone of the AEGIS Weapons System is the SPY-1D phased array radar. SPY-1D is the most technologically advanced radar in the world, able to track marble-sized targets in excess of 100 miles. All the targets tracked by the SPY radar are monitored by the ship's Command and Decision system. If a target is determined to be a threat, the ship's crew can issue orders through the Weapons Control System, and engage the target with missiles, guns, and/or CIWS.Significant funding is being allocated by the US Navy to upgrade or modify existing SPY-1D Aegis systems aboard the US Navy's CG-47 guided missile cruisers and DDG-51 destroyers to accomplish the TBMD function to meet US Navy requirements. These upgrades to the Aegis system consist of improved or new missiles, improved and new radars, and significant modifications to the software. SPY-1D is the only radar being considered by the US Navy today for upgrade to accommodate a TBMD capability.

---
Sensors
The primary sensor for naval TBMD active defense will be the Aegis SPY radar. Its TBM-tracking capabilities are being explored and expanded through the use of new computer software that will produce a TBMD-capable Aegis system. Thus altered, SPY radars have "demonstrated the ability to track TBMs at ranges well in excess of 500km."
As with any radar, tracking range is highly dependent on the radar cross-section (RCS) of the target, and SPY autonomous ranges against TBMs with challengingly small cross-sections will decrease accordingly. Here, battlespace (i.e., distance, and therefore time) can be regained through cooperative tracking by two Aegis ships: the forward "picket" transmits track data to a consort downrange until the second ship can acquire the target. This capability has been demonstrated in several TBMD Extended Tracking Exercises, including Joint Task Force (JTF 95) demonstrations of the new "cooperative engagement capability," the present-day precursor to the "joint fire control network" postulated for 2005.
Cooperative tracking against low-RCS targets can also be improved by not stationing ships directly under the threat trajectory. The TBM is thus illuminated from several angles by the SPY radars of more than one ship. What might be a very small target head-on may give a useful return from the side. The composite data shared via cooperative engagement takes advantage of this phenomenon and thus provides all platforms in the network the best possible track of the target.
Battlespace can be increased not only through sharing track data between radars but also by using the transmitted energy of any given radar more efficiently. The SPY must search for and detect a TBM before the Aegis system can compute a track. If radar waveforms and anticipated search volumes can be "fine-tuned" early for TBM detection, SPY can acquire and Aegis can track the target much faster, thus gaining all-important time.