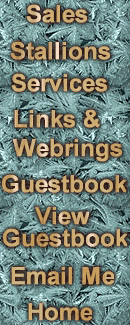 Phone: (703)753-0670 | Fax:(703)753-0791 | Email: frazeri@erols.com

---

Established in 1985, specializing in Buckskin Color Pinto and
Solid Sport Horses. Ranging in ages from 1999 newborns to
4 year old's currently under saddle.

MASQUERAIDE
Buckskin & White Tobiano Pinto. Thrown an
amazing 100% buckskin tobiano's. His solid babies are
dramatic as well, 80% solid buckskins
18% solid bays and 2% cremello.

| | | |
| --- | --- | --- |
| | Introducing | |

BRILLIANT INTUITEN
98' Buckskin registered TB Colt. "Brillo" is big,
solid thoroughbred colt with an incredible future.
"Brillo" is one to keep your eye on for your
Sport Horse Mare in the future.

HALL DECKED OUT
Get "HALL DECKED OUT" for the Millenium.
An ISR/Old Premium colt as a weanling. He has
matured true to his rating. If you want color, classic
looks, cool quiet temperament with show
hunter style : Stand out in a crowd "HALL DECKED OUT"

Phone: (703)753-0670 | Fax:(703)753-0791 | Email:frazeri@erols.com

Web site maintained and created by Rich Radcliffe Jr.
Contact me for comments or suggestions.